''Their lot forbad''. Thomas Gray's Elegy written in a Country Churchyard
Literary analysis of Elegy written in a Country Churchyard, written by English poet Thomas Gray between 1742 and 1750. The work contains a short description of the period, a short biography of the poet, a comparison between the Elegy and the poem I Sepolcri by Italian 18th century poet Ugo foscolo and a short analysis of William Blake's illustrations to the Elegy.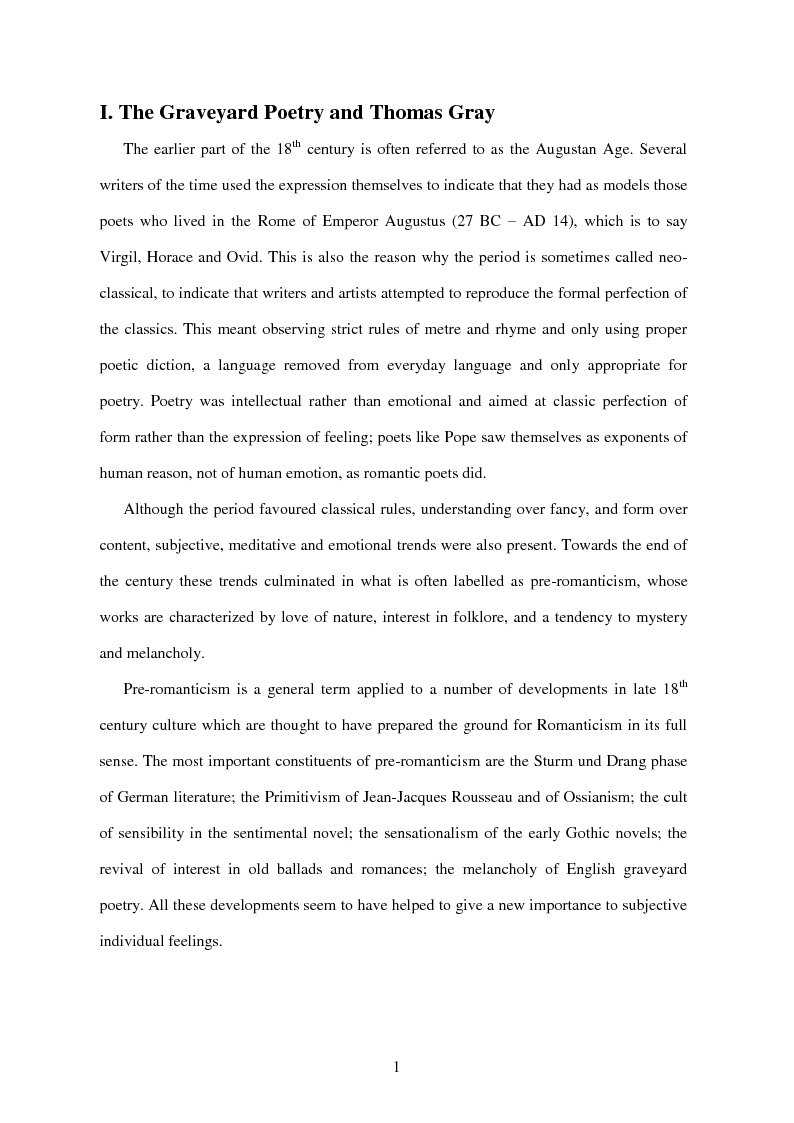 Mostra/Nascondi contenuto.
1 I. The Graveyard Poetry and Thomas Gray The earlier part of the 18th century is often referred to as the Augustan Age. Several writers of the time used the expression themselves to indicate that they had as models those poets who lived in the Rome of Emperor Augustus (27 BC – AD 14), which is to say Virgil, Horace and Ovid. This is also the reason why the period is sometimes called neo- classical, to indicate that writers and artists attempted to reproduce the formal perfection of the classics. This meant observing strict rules of metre and rhyme and only using proper poetic diction, a language removed from everyday language and only appropriate for poetry. Poetry was intellectual rather than emotional and aimed at classic perfection of form rather than the expression of feeling; poets like Pope saw themselves as exponents of human reason, not of human emotion, as romantic poets did. Although the period favoured classical rules, understanding over fancy, and form over content, subjective, meditative and emotional trends were also present. Towards the end of the century these trends culminated in what is often labelled as pre-romanticism, whose works are characterized by love of nature, interest in folklore, and a tendency to mystery and melancholy. Pre-romanticism is a general term applied to a number of developments in late 18th century culture which are thought to have prepared the ground for Romanticism in its full sense. The most important constituents of pre-romanticism are the Sturm und Drang phase of German literature; the Primitivism of Jean-Jacques Rousseau and of Ossianism; the cult of sensibility in the sentimental novel; the sensationalism of the early Gothic novels; the revival of interest in old ballads and romances; the melancholy of English graveyard poetry. All these developments seem to have helped to give a new importance to subjective individual feelings.
Laurea liv.I
Facoltà: Lingue Letterature e Culture Moderne
Autore: Giorgia Maria Righi Contatta »
Composta da 64 pagine.
Questa tesi ha raggiunto 603 click dal 02/11/2010.
Disponibile in PDF, la consultazione è esclusivamente in formato digitale.