Miranda July Meets Cindy Sherman: Negotiating Self-Representation and Female Identity
Influenced by feminist theories regarding the performativity of female identity and its effect on self-representation, Miranda July's and Cindy Sherman's work, as artists and filmmakers, questions on the one hand the standards of autobiographical representations and, on the other hand, the conventions of representations of women in the arts. This thesis focuses on analyzing the female protagonists of July's film Me and You and Everyone We Know and Sherman's Office Killer in order to demonstrate that, through the presentation of abjection in Sherman's and de-familiarization in July's film, the two characters challenge traditional female representations and unveil the mechanisms of the masquerade.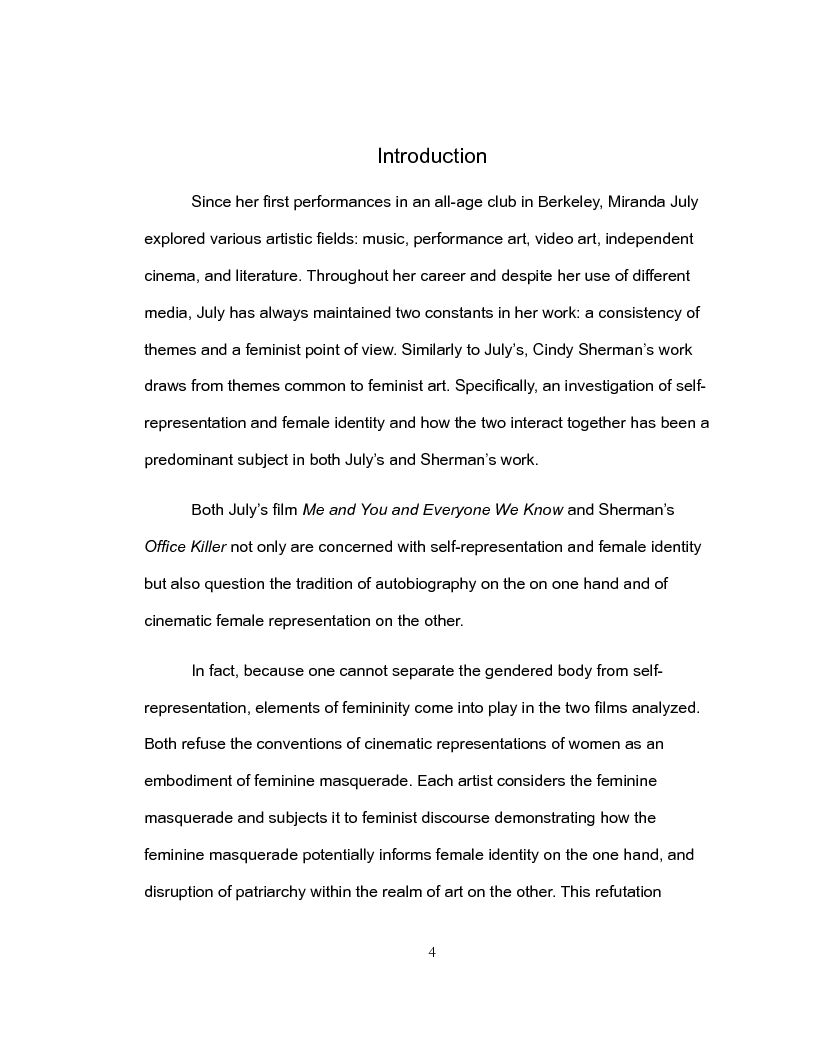 Mostra/Nascondi contenuto.
Introduction Since her first performances in an all-age club in Berkeley, Miranda July explored various artistic fields: music, performance art, video art, independent cinema, and literature. Throughout her career and despite her use of different media, July has always maintained two constants in her work: a consistency of themes and a feminist point of view. Similarly to July's, Cindy Sherman's work draws from themes common to feminist art. Specifically, an investigation of self- representation and female identity and how the two interact together has been a predominant subject in both July's and Sherman's work. Both July's film Me and You and Everyone We Know and Sherman's Office Killer not only are concerned with self-representation and female identity but also question the tradition of autobiography on the on one hand and of cinematic female representation on the other. In fact, because one cannot separate the gendered body from self- representation, elements of femininity come into play in the two films analyzed. Both refuse the conventions of cinematic representations of women as an embodiment of feminine masquerade. Each artist considers the feminine masquerade and subjects it to feminist discourse demonstrating how the feminine masquerade potentially informs female identity on the one hand, and disruption of patriarchy within the realm of art on the other. This refutation 4
Tesi di Master
Autore: Laura Costantino Contatta »
Composta da 29 pagine.
Questa tesi ha raggiunto 148 click dal 04/11/2010.
Disponibile in PDF, la consultazione è esclusivamente in formato digitale.