Debating Mulids Having Fun. Serious Prodies, Bittersweet Fun and Egyptian Saints-Day Festivals
This paper focuses on Egyptian Muslim saints days festivals as intricate sites where opposing discourses about piety are played out in ambiguous and contradictory ways. Through the pursuit of fun, mulid‐goers formulate complex recontextualisations of sufi aesthetic experiences that comment on the highly debated nature of the ritual and on their own precarious existences. Through the application of bakhtinanderived theories of parody, the paper makes sense of the complex interaction between revivalist, Islamising pressures and people's quest for morally legitimate practices of fun, consonant with their personal taste and thereby complicates our understanding of contemporary Muslim life in Egypt. In fact, mulids offer spaces for the instantiation of ambiguous moral dispositions that defy modernist approaches to piety and resist the pressure of an increasingly Islamising public sphere. The nondiscursive nature of mulid fun embodies radically dichotomising debated notions of religion, bearing witness to how the oppositional nature of discursively constructed representations is overcome into ritual performances and complex kinaesthetic experiences. The 2009 mulid ban and recent state authorities' breakdowns on shrines, as well as further research on the social life of saints‐cults and sufi turuq, must be thought of under the light of thes findings.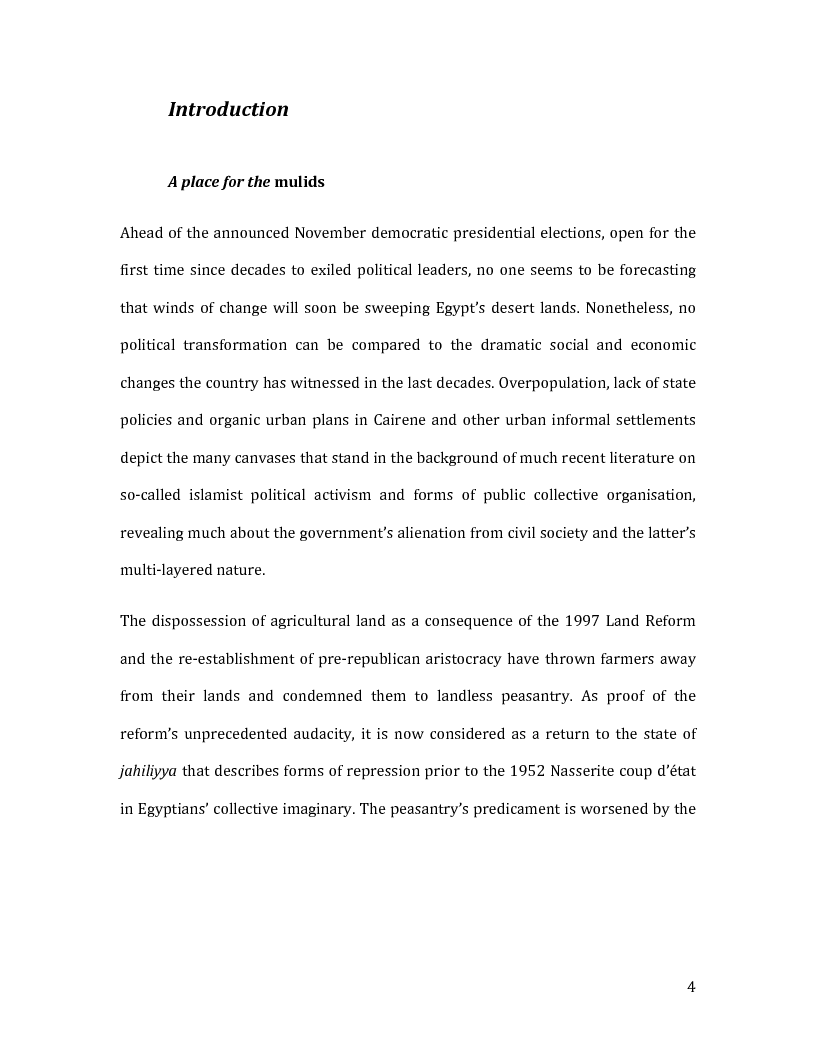 Mostra/Nascondi contenuto.

 4
 In t r o d u c t i o n 
 
 A
place
for
the
 mulids 
 Ahead
 of
 the
 announced
November
 democratic
presidential
elections,
open
 for
 the
 first
time
 since
decades
 to
exiled
 political
 leaders,
no
one
 seems
 to
be
 forecas ting
 that
 winds
 of
 change
will
soon
be
 sweeping
 Egypt's
 desert
 lands.
 Nonetheless,
 no
 political
 transformation
 can
be
 compared 
 to
 the
 dramatic
social
 and
 economic
 changes
the
 country
 has
witnessed
 in
the
 last
 decades.
Overpopulation,
 lack
 of
 state
 policies 
 and
organic
 urban
plans
in
Cairene
and
other
 urban
informal
 settlements
 depict
 the
 many
 canvases
 that
 stand
i n
 the
 background
 of
 much
 recent
 literature
on
 so‐ called
islamist
political
 activism
and
 forms
 of
public
collective
 organisation,
 revealing 
 much
 ab out
the
 government's
 alienation
 from
civil
 society
 and
the
 latter's
 multi‐ layered
nature.
 The
 dispossession
of
 agricultural
 land
as
a
consequence
 of
 the
 1997
 Land
 Reform
 an d
 the
 re‐ establishment
 of 
 pre ‐ republican
 aristocracy
 have
thrown
 farmers
away
 from
 their
 lands
and
 condemned
 them
 to
 landless
peasantry.
 As
 proof
of
the
 reform's
 unprecedented
 audacity,
it
is
now
 considered
 as
a
return
 to
the
 state
 of
 jahiliyya 
 that
 describes
 forms
of
 repression
 prior
to
the
 1952
 Na sserite
 coup
 d'état
 in
Egyptians'
 collec tive
imaginary.
 The 
 peasantry's
 predicament
 is
worsened
 by
 the

Tesi di Master
Autore: Davide Morandini Contatta »
Composta da 62 pagine.
Questa tesi ha raggiunto 86 click dal 22/02/2011.
Disponibile in PDF, la consultazione è esclusivamente in formato digitale.