KISS the Brochure. The impact of tourism on promotional materials and the easy way to write a brochure.
Tourism is one of the most important businesses in the world and tourism discourse has become one of the most common public discourses, with millions of people taking part in its formation when entering a myriad of communicative situations. However tourism language is a highly encoded system which employs many devices to exchange information. Therefore, just as leisure becomes a code, we may define the Language of Tourism as the language of modernity and promotion. The language used in tourism is a specific kind of language, fulfilling multiple functions that correspond to the specific position of tourism in the current society. A discourse community includes both producers and receivers of texts, with their contributions both being influenced by the established order of discourse and influencing the future development of the given discourse. According to Swales (1990: 24 -27) a discourse community is constituted if it meets several requirements:

• it follows the recognized public goals;
• it has a communication mechanism among its members that includes not only the provision of information but also the provision of feedback;
• its communication mechanism is secured via one or more genres;
• it has developed specific vocabulary;
• it has a perspective of acquiring new membership.

Considering those given criteria, tourism discourse community can be recognized as an ample community representing the reality via a communicative loop described above.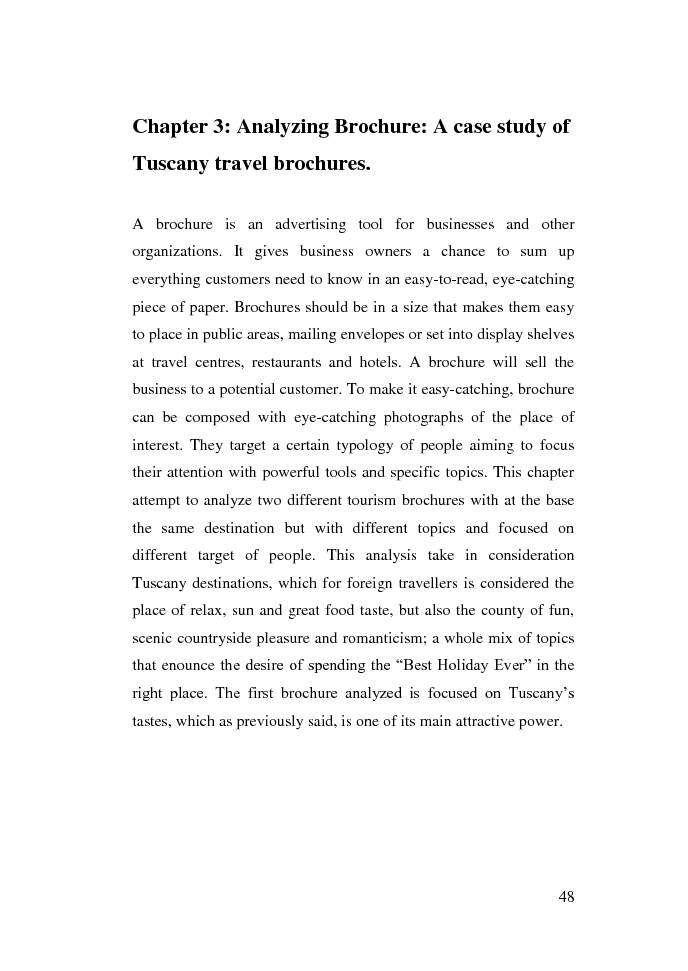 Mostra/Nascondi contenuto.
48 Chapter 3: Analyzing Brochure: A case study of Tuscany travel brochures. A brochure is an advertising tool for businesses and other organizations. It gives business owners a chance to sum up everything customers need to know in an easy-to-read, eye-catching piece of paper. Brochures should be in a size that makes them easy to place in public areas, mailing envelopes or set into display shelves at travel centres, restaurants and hotels. A brochure will sell the business to a potential customer. To make it easy-catching, brochure can be composed with eye-catching photographs of the place of interest. They target a certain typology of people aiming to focus their attention with powerful tools and specific topics. This chapter attempt to analyze two different tourism brochures with at the base the same destination but with different topics and focused on different target of people. This analysis take in consideration Tuscany destinations, which for foreign travellers is considered the place of relax, sun and great food taste, but also the county of fun, scenic countryside pleasure and romanticism; a whole mix of topics that enounce the desire of spending the "Best Holiday Ever" in the right place. The first brochure analyzed is focused on Tuscany"s tastes, which as previously said, is one of its main attractive power.
Laurea liv.I
Facoltà: Economia
Autore: Gino Purcaro Contatta »
Composta da 78 pagine.
Questa tesi ha raggiunto 311 click dal 05/04/2011.
Consultata integralmente una volta.
Disponibile in PDF, la consultazione è esclusivamente in formato digitale.