Short Selling Restrictions and Stock Market Liquidity: Evidence from the 2010 German Ban
The work analyzes the effects that short selling restrictions have on market liquidity. The BaFin imposed in May 2010 restrictions that prevented short selling. Through statistical procedures (Panel Regression Analysis, Matching Analysis), i show that the restrictions on short sales imposed by the BaFin has been particularly detrimental for the German market liquidity.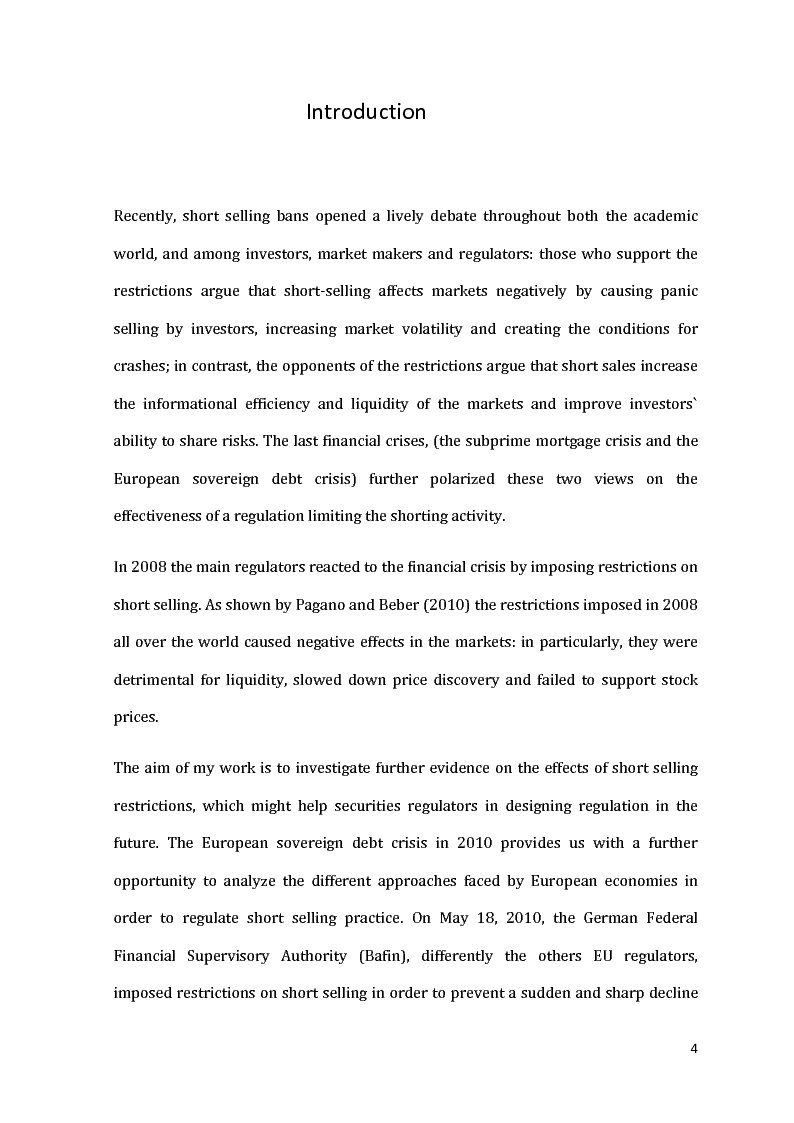 Mostra/Nascondi contenuto.
4 Introduction Recently, short selling bans opened a lively debate throughout both the academic world, and among investors, market makers and regulators: those who support the restrictions argue that short-selling affects markets negatively by causing panic selling by investors, increasing market volatility and creating the conditions for crashes; in contrast, the opponents of the restrictions argue that short sales increase the informational efficiency and liquidity of the markets and improve investors` ability to share risks. The last financial crises, (the subprime mortgage crisis and the European sovereign debt crisis) further polarized these two views on the effectiveness of a regulation limiting the shorting activity. In 2008 the main regulators reacted to the financial crisis by imposing restrictions on short selling. As shown by Pagano and Beber (2010) the restrictions imposed in 2008 all over the world caused negative effects in the markets: in particularly, they were detrimental for liquidity, slowed down price discovery and failed to support stock prices. The aim of my work is to investigate further evidence on the effects of short selling restrictions, which might help securities regulators in designing regulation in the future. The European sovereign debt crisis in 2010 provides us with a further opportunity to analyze the different approaches faced by European economies in order to regulate short selling practice. On May 18, 2010, the German Federal Financial Supervisory Authority (Bafin), differently the others EU regulators, imposed restrictions on short selling in order to prevent a sudden and sharp decline
Tesi di Laurea Magistrale
Facoltà: Economia
Autore: Luigi Califano Contatta »
Composta da 89 pagine.
Questa tesi ha raggiunto 160 click dal 01/03/2011.
Disponibile in PDF, la consultazione è esclusivamente in formato digitale.