Aerodynamic noise in aero-engine LP turbines - Application of CFD techniques
The thesis, developed at the R&D department of Avio, S.p.A., Turin, Italy, aimed at gaining a deeper insight into the aerodynamic noise phenomenon in modern low-pressure turbines for aero-engines applications. Both noise generation and propagation phenomena were investigated by means of non-commercial CFD steady and unsteady codes, respectively TRAF and LARS.
Different operative conditions were investigated, namely Approach, Cut-back, Sideline, that are taken into account for certication purposes. Rotor-stator aerodynamic interaction was found to be the predominant source of noise generation. In particular, viscous wake interaction noise resulted predominant over the potential interaction one. Nowadays, noise issue is becoming more and more vital due to the fact that aircraft noise regulations are becoming stricter and stricter. Hence, this thesis subject achieves great importance not only in a research context, but also in an industrial one.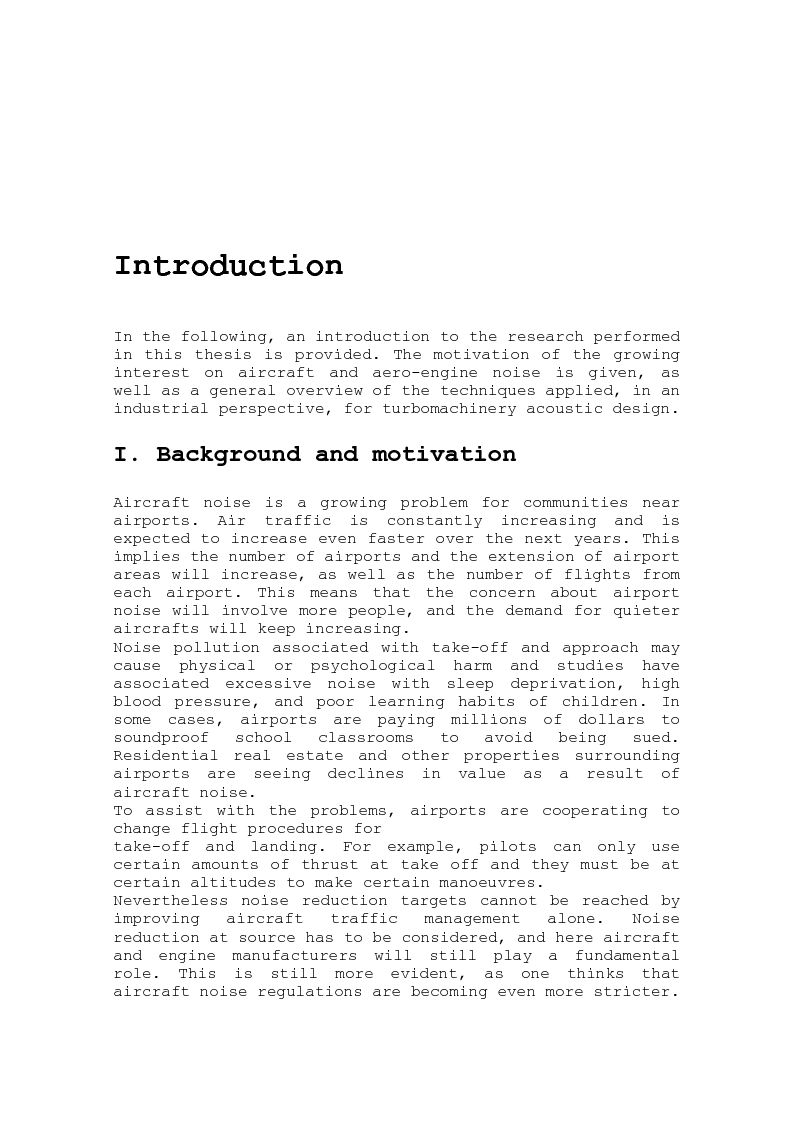 Mostra/Nascondi contenuto.
Introduction In the following, an introduction to the research performed in this thesis is provided. The motivation of the growing interest on aircraft and aero-engine noise is given, as well as a general overview of the techniques applied, in an industrial perspective, for turbomachinery acoustic design. I. Background and motivation Aircraft noise is a growing problem for communities near airports. Air traffic is constantly increasing and is expected to increase even faster over the next years. This implies the number of airports and the extension of airport areas will increase, as well as the number of flights from each airport. This means that the concern about airport noise will involve more people, and the demand for quieter aircrafts will keep increasing. Noise pollution associated with take-off and approach may cause physical or psychological harm and studies have associated excessive noise with sleep deprivation, high blood pressure, and poor learning habits of children. In some cases, airports are paying millions of dollars to soundproof school classrooms to avoid being sued. Residential real estate and other properties surrounding airports are seeing declines in value as a result of aircraft noise. To assist with the problems, airports are cooperating to change flight procedures for take-off and landing. For example, pilots can only use certain amounts of thrust at take off and they must be at certain altitudes to make certain manoeuvres. Nevertheless noise reduction targets cannot be reached by improving aircraft traffic management alone. Noise reduction at source has to be considered, and here aircraft and engine manufacturers will still play a fundamental role. This is still more evident, as one thinks that aircraft noise regulations are becoming even more stricter.
Laurea liv.II (specialistica)
Facoltà: Ingegneria
Autore: Claudio Comis Contatta »
Composta da 146 pagine.
Questa tesi ha raggiunto 84 click dal 25/05/2011.
Disponibile in PDF, la consultazione è esclusivamente in formato digitale.