The problem of culturally-specific references in the Italian version of Woody Allen's 1977 film "Annie Hall, A Nervous Romance"
This paper will examine how culturally-specific items are treated in film translation, using as a case study Woody Allen's 1977 film "Annie Hall, A Nervous Romance". Before going to the core of the analysis, a brief historical introduction on how screen translation has evolved over time is in order so as to better comprehend what the situation is today in the "dubbing countries" and especially in Italy, one of the most active in this practice, where screen translation itself originated as a sort of xenophobic cultural guardian during the years of Fascism. Then, after a general overview of the technical issues involved in audiovisual translation coupled with strategies to overcome them, the paper will deal with some of the culturally-specific items encountered in Allen's film. These items have been defined according to different categories in order to obtain a clearer view of which groups create the greatest moments of resistance for the act of translation, how much is lost in the passage to another language and to what extent language transfer is possible.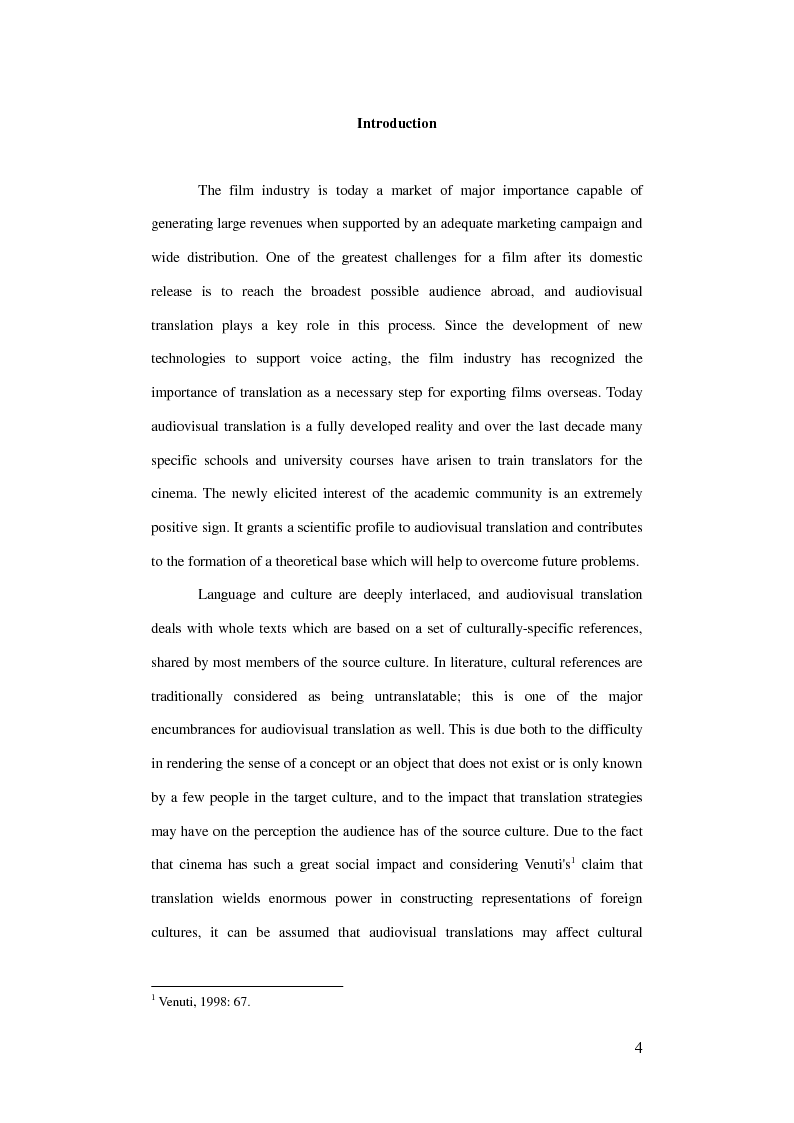 Mostra/Nascondi contenuto.
4 Introduction The film industry is today a market of major importance capable of generating large revenues when supported by an adequate marketing campaign and wide distribution. One of the greatest challenges for a film after its domestic release is to reach the broadest possible audience abroad, and audiovisual translation plays a key role in this process. Since the development of new technologies to support voice acting, the film industry has recognized the importance of translation as a necessary step for exporting films overseas. Today audiovisual translation is a fully developed reality and over the last decade many specific schools and university courses have arisen to train translators for the cinema. The newly elicited interest of the academic community is an extremely positive sign. It grants a scientific profile to audiovisual translation and contributes to the formation of a theoretical base which will help to overcome future problems. Language and culture are deeply interlaced, and audiovisual translation deals with whole texts which are based on a set of culturally-specific references, shared by most members of the source culture. In literature, cultural references are traditionally considered as being untranslatable; this is one of the major encumbrances for audiovisual translation as well. This is due both to the difficulty in rendering the sense of a concept or an object that does not exist or is only known by a few people in the target culture, and to the impact that translation strategies may have on the perception the audience has of the source culture. Due to the fact that cinema has such a great social impact and considering Venuti's 1 claim that translation wields enormous power in constructing representations of foreign cultures, it can be assumed that audiovisual translations may affect cultural 1 Venuti, 1998: 67.
Laurea liv.I
Facoltà: Lettere e Filosofia
Autore: Francesco Innocenti Contatta »
Composta da 58 pagine.
Questa tesi ha raggiunto 858 click dal 09/05/2011.
Consultata integralmente 5 volte.
Disponibile in PDF, la consultazione è esclusivamente in formato digitale.