The Carbon Fooprint of the Stone Barns Center for Food and Agriculture
An analysis of carbon dioxide emissions for the year 2009 has been assessed for Stone Barns Center for Food and Agriculture in Pocantico Hills, New York. The analysis took into account electricity, fuel consumption of the center, and fuel consumption of the visitors, fuel consumption from employees' habits, waste production, agricultural practices, and livestock practices.
Its purpose is to give a basis of evaluation for future assessments. The comparison with the value that this project wants to assess can be a reasonable comparison and estimation means for the following year and help the overall management of all the practices adopted at the center. My aim is to provide an evaluation the most representative to the actual (2009) situation and provide a useful tool for an organization whose intent is to maintain sustainable practices and demonstrate their practicability.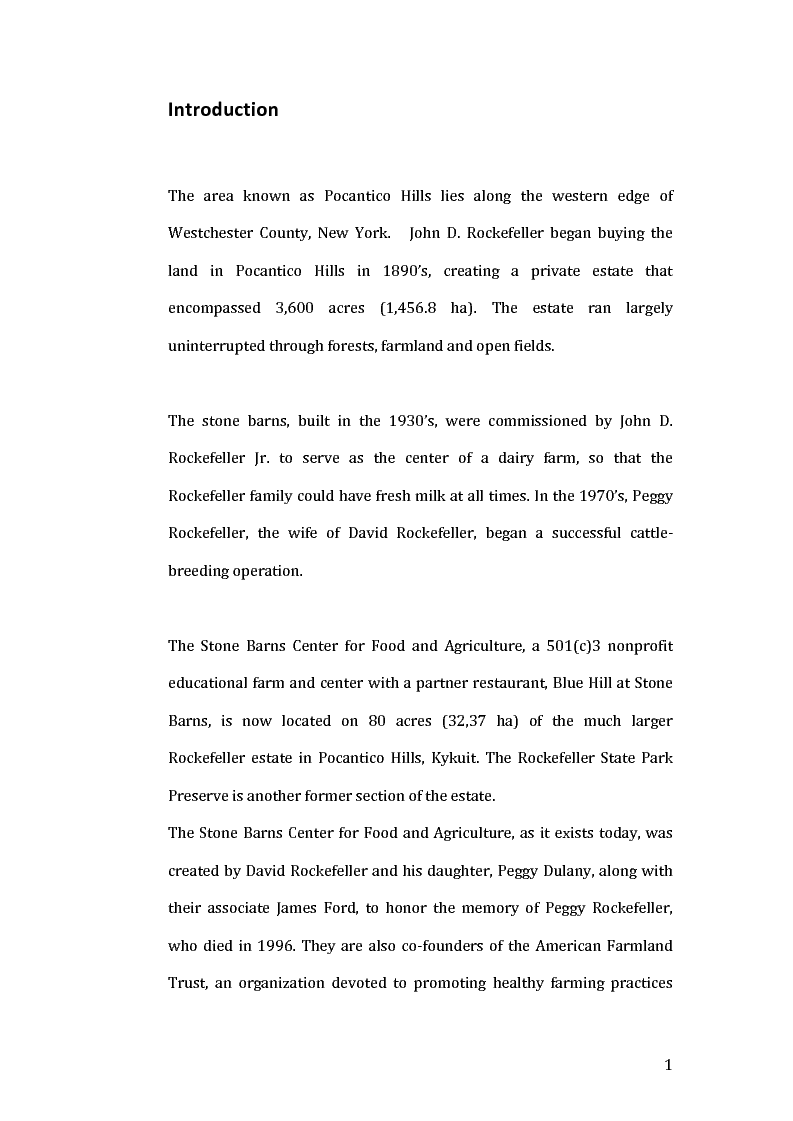 Mostra/Nascondi contenuto.
1 Introduction The area known as Pocantico Hills lies along the western edge of Westchester County, New York. John D. Rockefeller began buying the land in Pocantico Hills in 1890's, creating a private estate that encompassed 3,600 acres (1,456.8 ha). The estate ran largely uninterrupted through forests, farmland and open fields. The stone barns, built in the 1930's, were commissioned by John D. Rockefeller Jr. to serve as the center of a dairy farm, so that the Rockefeller family could have fresh milk at all times. In the 1970's, Peggy Rockefeller, the wife of David Rockefeller, began a successful cattle- breeding operation. The Stone Barns Center for Food and Agriculture, a 501(c)3 nonprofit educational farm and center with a partner restaurant, Blue Hill at Stone Barns, is now located on 80 acres (32,37 ha) of the much larger Rockefeller estate in Pocantico Hills, Kykuit. The Rockefeller State Park Preserve is another former section of the estate. The Stone Barns Center for Food and Agriculture, as it exists today, was created by David Rockefeller and his daughter, Peggy Dulany, along with their associate James Ford, to honor the memory of Peggy Rockefeller, who died in 1996. They are also co-founders of the American Farmland Trust, an organization devoted to promoting healthy farming practices
Tesi di Laurea Magistrale
Facoltà: Agraria
Autore: Francesco Russo Contatta »
Composta da 49 pagine.
Questa tesi ha raggiunto 57 click dal 28/07/2011.
Disponibile in PDF, la consultazione è esclusivamente in formato digitale.