Determinism and uncertainly in the physical and social sciences
I show the conflict between Marx determinism and neo-classical economy. Next I analyze the connections between mathematics and economy, with similar references to the physics and biology. It exists a positive feed-back around the different matters. I do a mathematical approach before traditional, next more modern. I pose the question of the consent in the actual society in relation to the differences between the Usa case and Europe case. The use of social models of complex type allows on contrary a return to the traditional behaviours.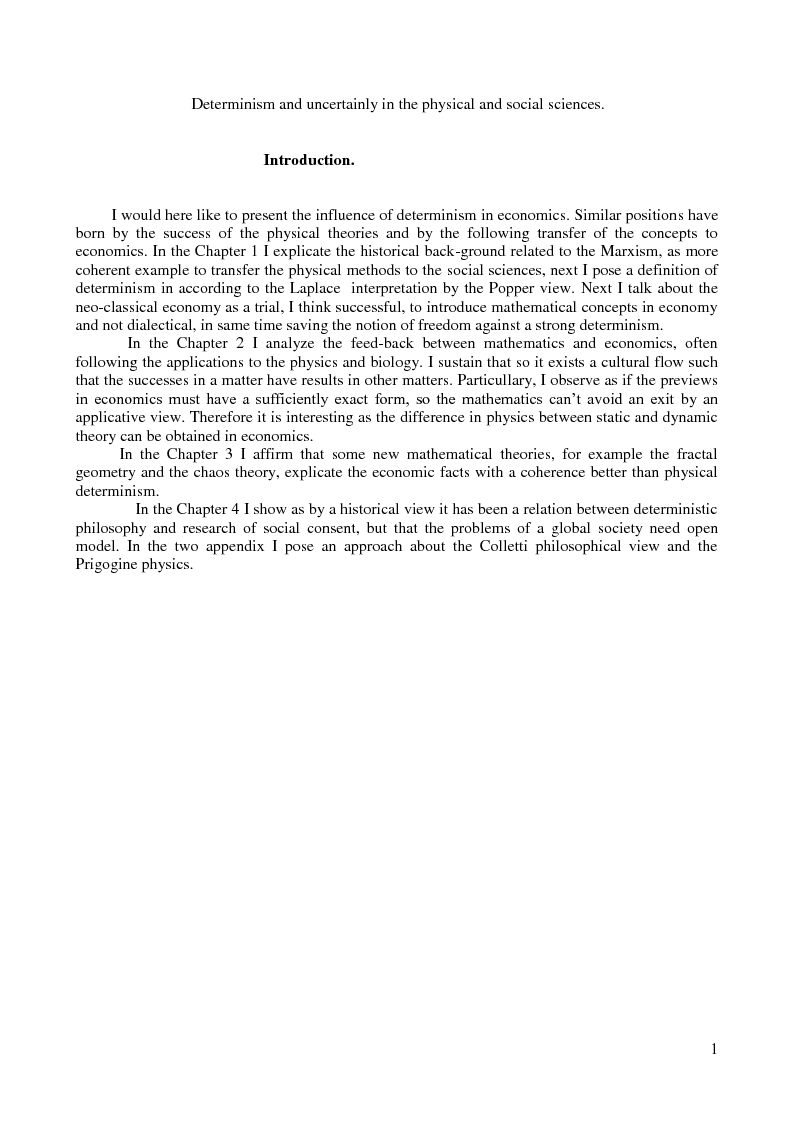 Mostra/Nascondi contenuto.
1 Determinism and uncertainly in the physical and social sciences. Introduction. I would here like to present the influence of determinism in economics. Similar positions have born by the success of the physical theories and by the following transfer of the concepts to economics. In the Chapter 1 I explicate the historical back-ground related to the Marxism, as more coherent example to transfer the physical methods to the social sciences, next I pose a definition of determinism in according to the Laplace interpretation by the Popper view. Next I talk about the neo-classical economy as a trial, I think successful, to introduce mathematical concepts in economy and not dialectical, in same time saving the notion of freedom against a strong determinism. In the Chapter 2 I analyze the feed-back between mathematics and economics, often following the applications to the physics and biology. I sustain that so it exists a cultural flow such that the successes in a matter have results in other matters. Particullary, I observe as if the previews in economics must have a sufficiently exact form, so the mathematics can't avoid an exit by an applicative view. Therefore it is interesting as the difference in physics between static and dynamic theory can be obtained in economics. In the Chapter 3 I affirm that some new mathematical theories, for example the fractal geometry and the chaos theory, explicate the economic facts with a coherence better than physical determinism. In the Chapter 4 I show as by a historical view it has been a relation between deterministic philosophy and research of social consent, but that the problems of a global society need open model. In the two appendix I pose an approach about the Colletti philosophical view and the Prigogine physics.
Traduzione
Facoltà: Scienze Sociali
Traduttore: Edoardo Angeloni Contatta »
Composta da 24 pagine.
Questa tesi ha raggiunto 66 click dal 13/06/2011.
Disponibile in PDF, la consultazione è esclusivamente in formato digitale.