AIRSPEAK - The Importance of Effective Communication in Flight Safety
Aviation has generally been considered as one of the best models for studying the communication process and its inherent flaws. Nowhere else is indeed the effectiveness of information exchange more important than in flight operations, since it may fatally affect safety.
Starting from a reflection on the basis and on the need for the adoption of a coded and standard aviation language - the so-called "Airspeak" -, easily understandable beyond linguistic and cultural barriers, this paper attempts to examine various Air Traffic Controllers (ATC)-pilots communication problems and failures, especially when they involve the use of English as non-native language.
Moreover, a focus on the impact of linguistic, paralinguistic, cultural, environmental, psychological and hierarchical barriers affecting the communication process in aviation cannot help but point out a great criticality directly linked to the human factor.
A further analysis of the sequence of circumstances that occurred in several sadly well-known air accidents will show concretely how the lack of adequate proficiency in English and of many other communicative skills often led to communication breakdowns and miscommunication that eventually resulted in fatal consequences. Such an insight and an attempt to explain what went wrong and why in those episodes will then develop a reflection on the possible solutions to prevent similar disasters from ever happening again.
Finally, a focus on the Crew Resource Management will demonstrate how the concept of flight safety must necessarily be created starting from accurate training on interpersonal communication, effective teamwork and decision-making processes by the crew.
Only adequate management of crew's responsibilities, together with a better awareness of importance of a good proficiency in English and the use of proper aviation phraseology will perhaps reduce the potential for disasters due to miscommunication and - at the same time - maximise safety.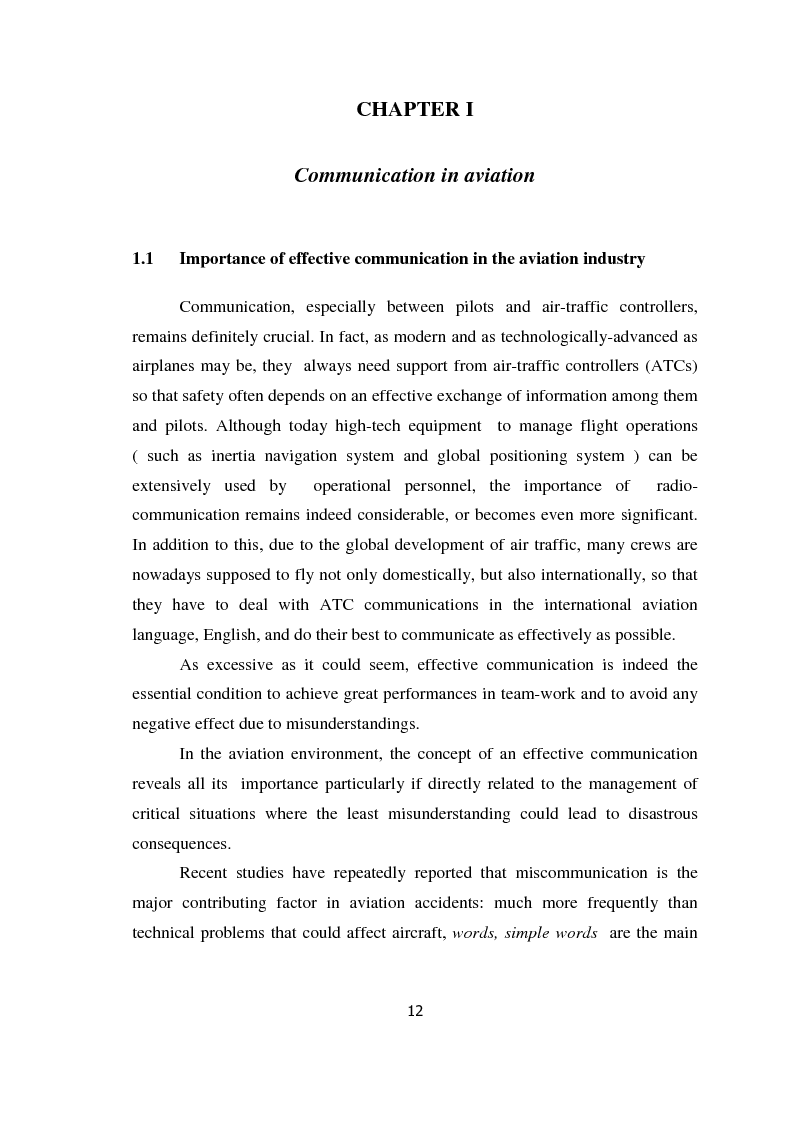 Mostra/Nascondi contenuto.
12 CHAPTER I Communication in aviation 1.1 Importance of effective communication in the aviation industry Communication, especially between pilots and air-traffic controllers, remains definitely crucial. In fact, as modern and as technologically-advanced as airplanes may be, they always need support from air-traffic controllers (ATCs) so that safety often depends on an effective exchange of information among them and pilots. Although today high-tech equipment to manage flight operations ( such as inertia navigation system and global positioning system ) can be extensively used by operational personnel, the importance of radio- communication remains indeed considerable, or becomes even more significant. In addition to this, due to the global development of air traffic, many crews are nowadays supposed to fly not only domestically, but also internationally, so that they have to deal with ATC communications in the international aviation language, English, and do their best to communicate as effectively as possible. As excessive as it could seem, effective communication is indeed the essential condition to achieve great performances in team-work and to avoid any negative effect due to misunderstandings. In the aviation environment, the concept of an effective communication reveals all its importance particularly if directly related to the management of critical situations where the least misunderstanding could lead to disastrous consequences. Recent studies have repeatedly reported that miscommunication is the major contributing factor in aviation accidents: much more frequently than technical problems that could affect aircraft, words, simple words are the main
Laurea liv.II (specialistica)
Facoltà: Lingue e Letterature Straniere
Autore: Francesca Licitra Contatta »
Composta da 152 pagine.
Questa tesi ha raggiunto 1150 click dal 01/07/2011.
Consultata integralmente 4 volte.
Disponibile in PDF, la consultazione è esclusivamente in formato digitale.