Power from Pulpits to Pueblos - Manifesto for a new kind of artistic, grassroots politics
My senior project is a thesis that explores the techniques of Theatre of the Oppressed as a new way to approach the issues of politics and power in a society. It draws parallels between the possibility that audiences have to participate in the making of a play and the intrinsic power that people have to participate in the political sphere of their society. It focuses on a discourse of the words politics and power, on a discussion of catharsis as a method to silence the audience both in theatre and in cinematography and on possibilities of liberation through theatre and conscientization.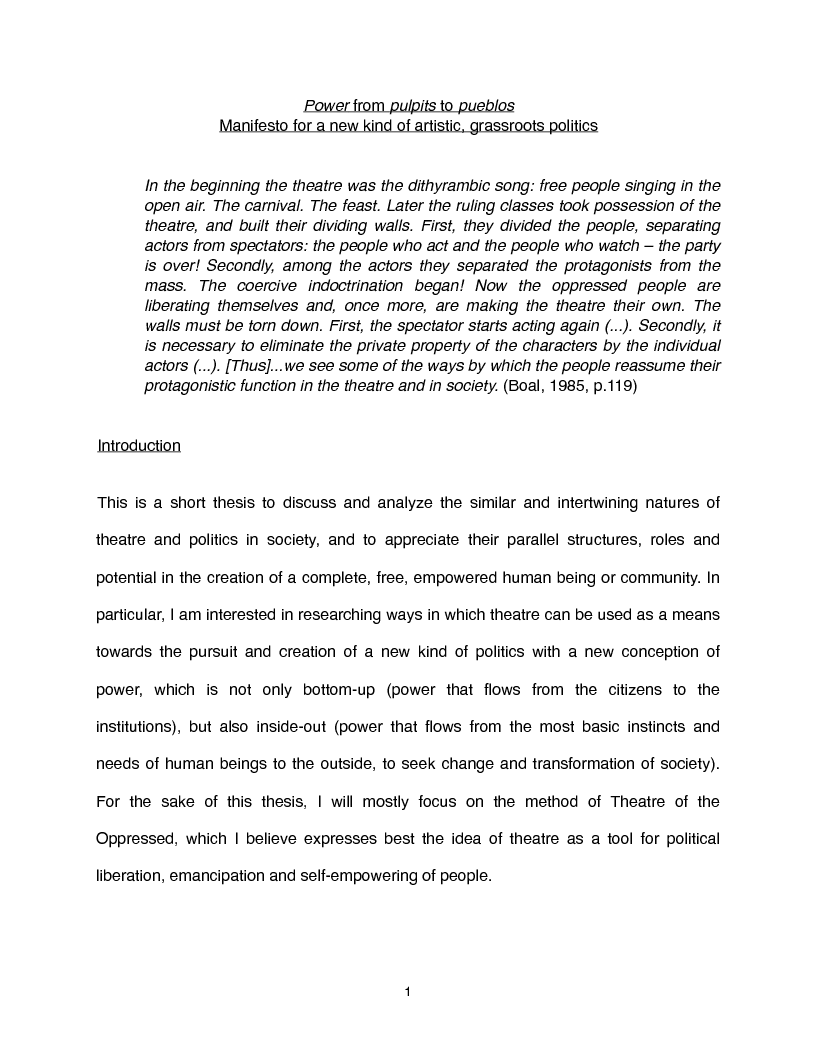 Mostra/Nascondi contenuto.
Power from pulpits to pueblos Manifesto for a new kind of artistic, grassroots politics In the beginning the theatre was the dithyrambic song: free people singing in the open air. The carnival. The feast. Later the ruling classes took possession of the theatre, and built their dividing walls. First, they divided the people, separating actors from spectators: the people who act and the people who watch – the party is over! Secondly, among the actors they separated the protagonists from the mass. The coercive indoctrination began! Now the oppressed people are liberating themselves and, once more, are making the theatre their own. The walls must be torn down. First, the spectator starts acting again (...). Secondly, it is necessary to eliminate the private property of the characters by the individual actors (...). [Thus]...we see some of the ways by which the people reassume their protagonistic function in the theatre and in society. (Boal, 1985, p.119) Introduction This is a short thesis to discuss and analyze the similar and intertwining natures of theatre and politics in society, and to appreciate their parallel structures, roles and potential in the creation of a complete, free, empowered human being or community. In particular, I am interested in researching ways in which theatre can be used as a means towards the pursuit and creation of a new kind of politics with a new conception of power, which is not only bottom-up (power that flows from the citizens to the institutions), but also inside-out (power that flows from the most basic instincts and needs of human beings to the outside, to seek change and transformation of society). For the sake of this thesis, I will mostly focus on the method of Theatre of the Oppressed, which I believe expresses best the idea of theatre as a tool for political liberation, emancipation and self-empowering of people. 1
Laurea liv.I
Facoltà: Human Ecology
Autore: Stefania Marchese Contatta »
Composta da 50 pagine.
Questa tesi ha raggiunto 53 click dal 27/07/2011.
Disponibile in PDF, la consultazione è esclusivamente in formato digitale.