"Two nations divided by a common language": British and American English today
The main aim of this dissertation is to explain the diversity between the two variations of the English language, British and American English. American English is considered by many to be a sort of corruption or dialect of the official English language, but the concept, as I will try to explain in my work, is much more complicated. Nowadays, especially in the world of translation, choosing between the two variations of the English language is very important, not only from a grammatical and lexical point of view, but also because of the importance of the cultural and historical backgrounds. The best way to understand what the differences between two varieties of a language are, is obviously to live in the countries were those languages are spoken. But, when this is not possible there are many other ways to learn more about them, there are dictionaries, corpora, journals and useful Internet sources.

My dissertation is directed especially to all the students and teachers, who want to be aware and understand the differences present in today British and American English. Nowadays, it is very important to be able to distinguish these two varieties of English, because they are used as worldwide languages in many fields, as in politics and economy, but usually they are addressed to a specific audience. In fact, when one needs to communicate with the Far East market (Japan, Korea), the best language to use is American English, but when referring to the European or Asiatic market (China), it is better to use British English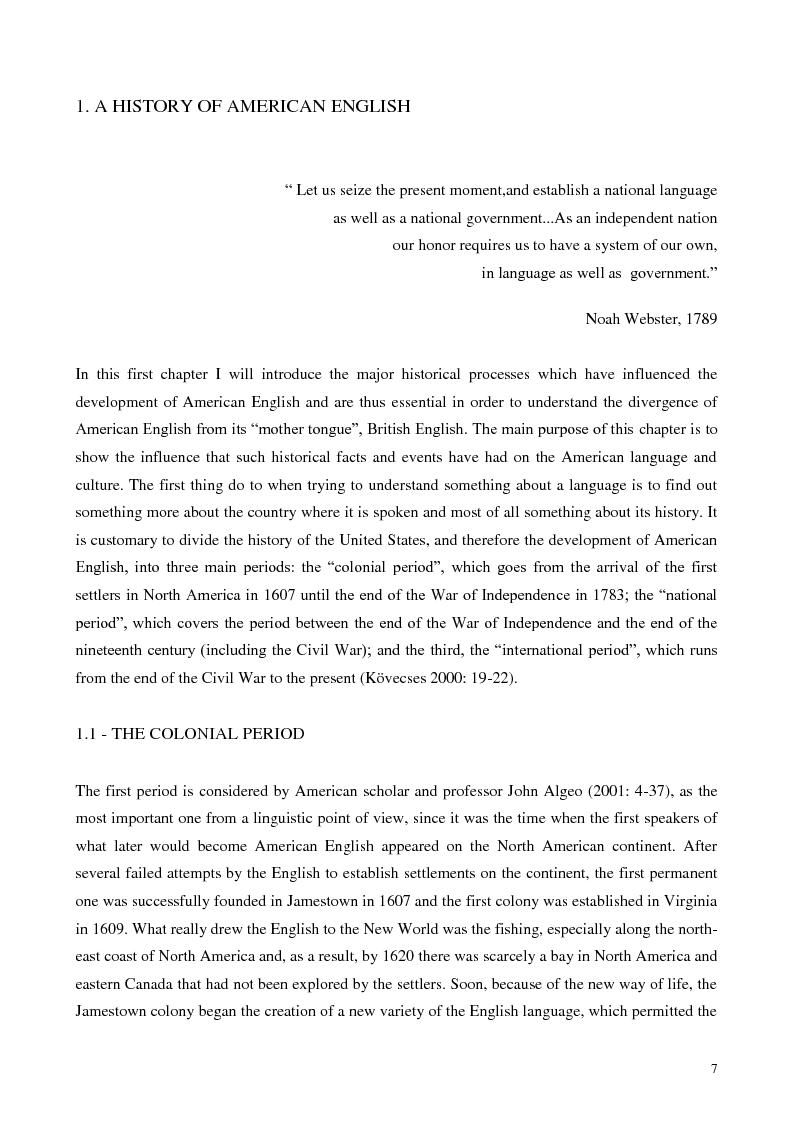 Mostra/Nascondi contenuto.
7 1. A HISTORY OF AMERICAN ENGLISH " Let us seize the present moment,and establish a national language as well as a national government...As an independent nation our honor requires us to have a system of our own, in language as well as government." Noah Webster, 1789 In this first chapter I will introduce the major historical processes which have influenced the development of American English and are thus essential in order to understand the divergence of American English from its "mother tongue", British English. The main purpose of this chapter is to show the influence that such historical facts and events have had on the American language and culture. The first thing do to when trying to understand something about a language is to find out something more about the country where it is spoken and most of all something about its history. It is customary to divide the history of the United States, and therefore the development of American English, into three main periods: the "colonial period", which goes from the arrival of the first settlers in North America in 1607 until the end of the War of Independence in 1783; the "national period", which covers the period between the end of the War of Independence and the end of the nineteenth century (including the Civil War); and the third, the "international period", which runs from the end of the Civil War to the present (Kövecses 2000: 19-22). 1.1 - THE COLONIAL PERIOD The first period is considered by American scholar and professor John Algeo (2001: 4-37), as the most important one from a linguistic point of view, since it was the time when the first speakers of what later would become American English appeared on the North American continent. After several failed attempts by the English to establish settlements on the continent, the first permanent one was successfully founded in Jamestown in 1607 and the first colony was established in Virginia in 1609. What really drew the English to the New World was the fishing, especially along the north- east coast of North America and, as a result, by 1620 there was scarcely a bay in North America and eastern Canada that had not been explored by the settlers. Soon, because of the new way of life, the Jamestown colony began the creation of a new variety of the English language, which permitted the
Laurea liv.I
Facoltà: Discipline della Mediazione Linguistica e Culturale
Autore: Giulia Capraro Contatta »
Composta da 83 pagine.
Questa tesi ha raggiunto 529 click dal 30/08/2011.
Consultata integralmente 3 volte.
Disponibile in PDF, la consultazione è esclusivamente in formato digitale.