Cloud Computing and Service Level Management: an investigation on the state of art
Cloud Computing (CC) is emerging as a new technological buzzword that proposes itself as an paradigm shift where IT is changing from a purchased product, that implies an investment, to a service over the Internet that is pay-per-use. Furthermore, Cloud Computing can offer better performances through an improved utilization of virtually unlimited resources. Although CC is at its early stage, most enterprises are beginning to adopt it. In this context Service Level Agreements (SLA) between customers and providers emerge as an issue, because, due to the dynamic characteristics of CC, a new, powerful Service Level Management (SLM) is necessary. Furthermore, the necessity to monitor real-time performance and the huge amount of variables involved makes this task really complex. This research intends to provide an accurate snapshot of the state of the art of CC, from an academic point of view, by a Systematic Literature Review (SLR), and, also, from a corporate point of view, by a worldwide survey. Afterwards, we consider the current frameworks for Service Level Management, and we address their effectiveness in cloud environments. As a result of this analysis we propose some best practices that extend the functionality of ESLAM (Extended Service Level Management Analysis Method), a framework for the quality of service management developed in the Services Engineering Laboratory, that met interest from the scientific community.
Finally, the research presents a test on a private cloud platform stating the management issues and highlighting the limits that service providers and load balancers have in the assurance of quality of service.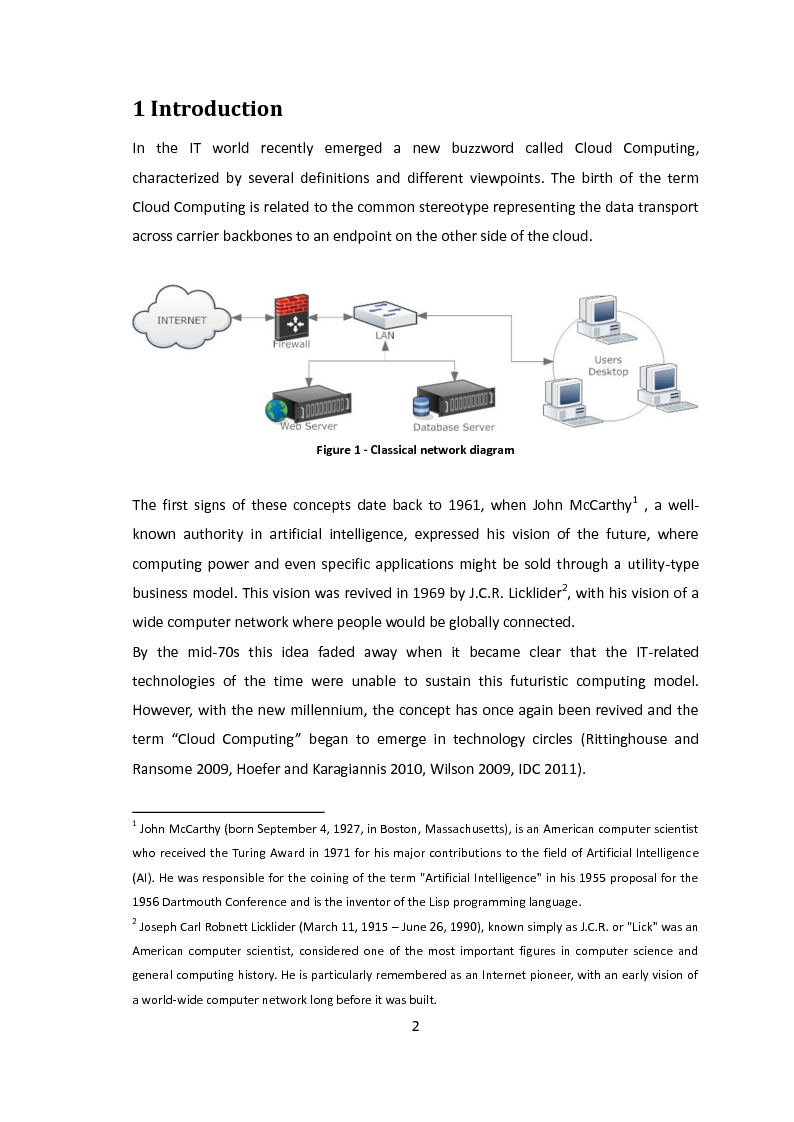 Mostra/Nascondi contenuto.
2 1 Introduction In the IT world recently emerged a new buzzword called Cloud Computing, characterized by several definitions and different viewpoints. The birth of the term Cloud Computing is related to the common stereotype representing the data transport across carrier backbones to an endpoint on the other side of the cloud. Figure 1 - Classical network diagram The first signs of these concepts date back to 1961, when John McCarthy 1 , a well- known authority in artificial intelligence, expressed his vision of the future, where computing power and even specific applications might be sold through a utility-type business model. This vision was revived in 1969 by J.C.R. Licklider 2 , with his vision of a wide computer network where people would be globally connected. By the mid-70s this idea faded away when it became clear that the IT-related technologies of the time were unable to sustain this futuristic computing model. However, with the new millennium, the concept has once again been revived and the term "Cloud Computing" began to emerge in technology circles (Rittinghouse and Ransome 2009, Hoefer and Karagiannis 2010, Wilson 2009, IDC 2011). 1 John McCarthy (born September 4, 1927, in Boston, Massachusetts), is an American computer scientist who received the Turing Award in 1971 for his major contributions to the field of Artificial Intelligence (AI). He was responsible for the coining of the term "Artificial Intelligence" in his 1955 proposal for the 1956 Dartmouth Conference and is the inventor of the Lisp programming language. 2 Joseph Carl Robnett Licklider (March 11, 1915 – June 26, 1990), known simply as J.C.R. or "Lick" was an American computer scientist, considered one of the most important figures in computer science and general computing history. He is particularly remembered as an Internet pioneer, with an early vision of a world-wide computer network long before it was built.
Laurea liv.II (specialistica)
Facoltà: Ingegneria
Autore: Nicola Sfondrini Contatta »
Composta da 200 pagine.
Questa tesi ha raggiunto 249 click dal 14/12/2011.
Disponibile in PDF, la consultazione è esclusivamente in formato digitale.