Creating a web radio
In this paper the world of web radios is depicted. The analysis follows two different paths: a technological one and a strategical one. In addition, in the first part a general description of the phenomenon, its history and potentially required licenses can be found. Then, the most popular software available on the Web to create a radio station are cited. Finally, the business model of this medium is analyzed, according to its creator and promoter.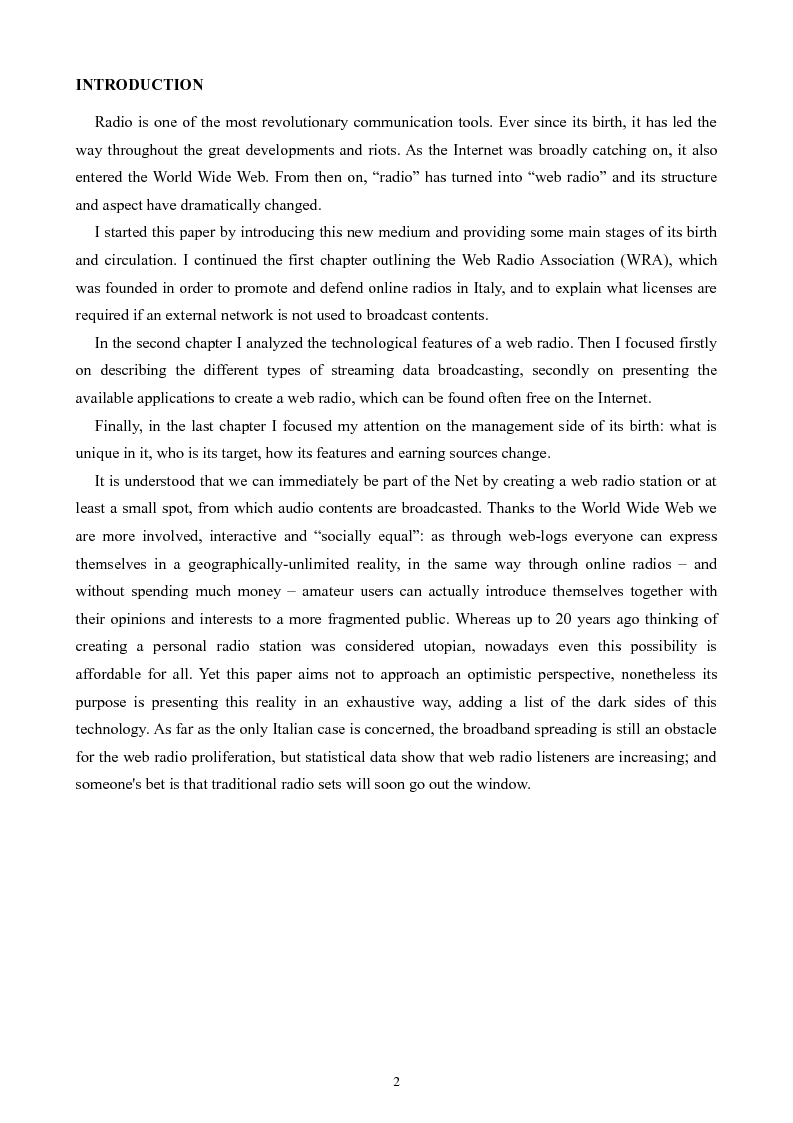 Mostra/Nascondi contenuto.
INTRODUCTION Radio is one of the most revolutionary communication tools. Ever since its birth, it has led the way throughout the great developments and riots. As the Internet was broadly catching on, it also entered the World Wide Web. From then on, "radio" has turned into "web radio" and its structure and aspect have dramatically changed. I started this paper by introducing this new medium and providing some main stages of its birth and circulation. I continued the first chapter outlining the Web Radio Association (WRA), which was founded in order to promote and defend online radios in Italy, and to explain what licenses are required if an external network is not used to broadcast contents. In the second chapter I analyzed the technological features of a web radio. Then I focused firstly on describing the different types of streaming data broadcasting, secondly on presenting the available applications to create a web radio, which can be found often free on the Internet. Finally, in the last chapter I focused my attention on the management side of its birth: what is unique in it, who is its target, how its features and earning sources change. It is understood that we can immediately be part of the Net by creating a web radio station or at least a small spot, from which audio contents are broadcasted. Thanks to the World Wide Web we are more involved, interactive and "socially equal": as through web-logs everyone can express themselves in a geographically-unlimited reality, in the same way through online radios – and without spending much money – amateur users can actually introduce themselves together with their opinions and interests to a more fragmented public. Whereas up to 20 years ago thinking of creating a personal radio station was considered utopian, nowadays even this possibility is affordable for all. Yet this paper aims not to approach an optimistic perspective, nonetheless its purpose is presenting this reality in an exhaustive way, adding a list of the dark sides of this technology. As far as the only Italian case is concerned, the broadband spreading is still an obstacle for the web radio proliferation, but statistical data show that web radio listeners are increasing; and someone's bet is that traditional radio sets will soon go out the window. 2
Traduzione
Facoltà: Ingegneria
Traduttore: Marco Ceriotti Contatta »
Composta da 23 pagine.
Questa tesi ha raggiunto 90 click dal 11/01/2012.
Disponibile in PDF, la consultazione è esclusivamente in formato digitale.