A Contextual Analysis of I Promessi Sposi in English Translation
My dissertation is a qualitative comparison of the three 20th century English translations of Manzoni's novel based on a pragmatic and functional approach on language. After an overview of the work in its historical and literary context (I ch.) I tackled questions of genre and style (romantic novel with instructive, humorous and theatrical traits) (II ch.). Finally, I assessed ​the degree of efficacy of the three translations in regard to three typical text types (mock-heroic language, historical excursus, comic dialogue), in this following Juliane House's model (III ch.).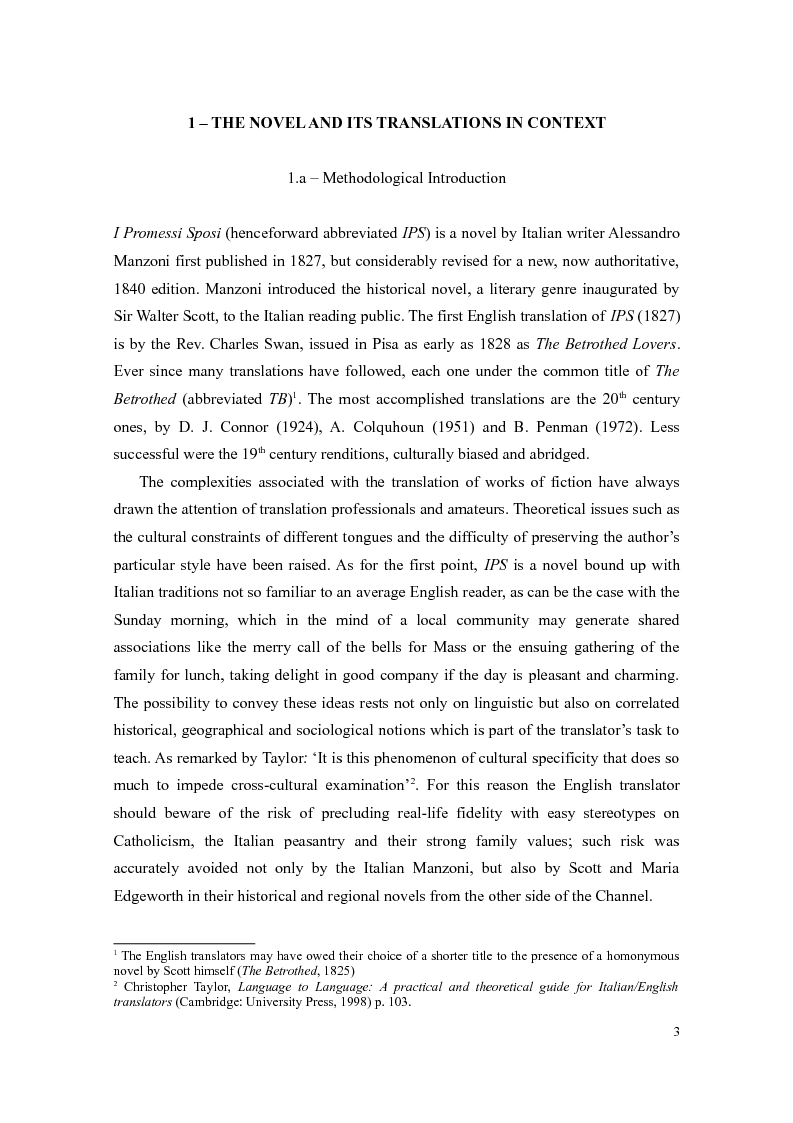 Mostra/Nascondi contenuto.
1 – THE NOVEL AND ITS TRANSLATIONS IN CONTEXT 1.a – Methodological Introduction I Promessi Sposi (henceforward abbreviated IPS ) is a novel by Italian writer Alessandro Manzoni first published in 1827, but considerably revised for a new, now authoritative, 1840 edition. Manzoni introduced the historical novel, a literary genre inaugurated by Sir Walter Scott, to the Italian reading public. The first English translation of IPS (1827) is by the Rev. Charles Swan, issued in Pisa as early as 1828 as The Betrothed Lovers . Ever since many translations have followed, each one under the common title of The Betrothed (abbreviated TB ) 1 . The most accomplished translations are the 20 th century ones, by D. J. Connor (1924), A. Colquhoun (1951) and B. Penman (1972). Less successful were the 19 th century renditions, culturally biased and abridged. The complexities associated with the translation of works of fiction have always drawn the attention of translation professionals and amateurs. Theoretical issues such as the cultural constraints of different tongues and the difficulty of preserving the author's particular style have been raised. As for the first point, IPS is a novel bound up with Italian traditions not so familiar to an average English reader, as can be the case with the Sunday morning, which in the mind of a local community may generate shared associations like the merry call of the bells for Mass or the ensuing gathering of the family for lunch, taking delight in good company if the day is pleasant and charming. The possibility to convey these ideas rests not only on linguistic but also on correlated historical, geographical and sociological notions which is part of the translator's task to teach. As remarked by Taylor: 'It is this phenomenon of cultural specificity that does so much to impede cross-cultural examination' 2 . For this reason the English translator should beware of the risk of precluding real-life fidelity with easy stereotypes on Catholicism, the Italian peasantry and their strong family values; such risk was accurately avoided not only by the Italian Manzoni, but also by Scott and Maria Edgeworth in their historical and regional novels from the other side of the Channel. 1 The English translators may have owed their choice of a shorter title to the presence of a homonymous novel by Scott himself ( The Betrothed , 1825) 2 Christopher Taylor, Language to Language: A practical and theoretical guide for Italian/English translators (Cambridge: University Press, 1998) p. 103. 3
Laurea liv.II (specialistica)
Facoltà: Lettere e Filosofia
Autore: Nicola Busetto Contatta »
Composta da 113 pagine.
Questa tesi ha raggiunto 126 click dal 15/03/2012.
Consultata integralmente una volta.
Disponibile in PDF, la consultazione è esclusivamente in formato digitale.