Response Surface Methods for High Dimensional Structural Design Problems
Design and structural optimization of a coordinate measurement machine in composite materials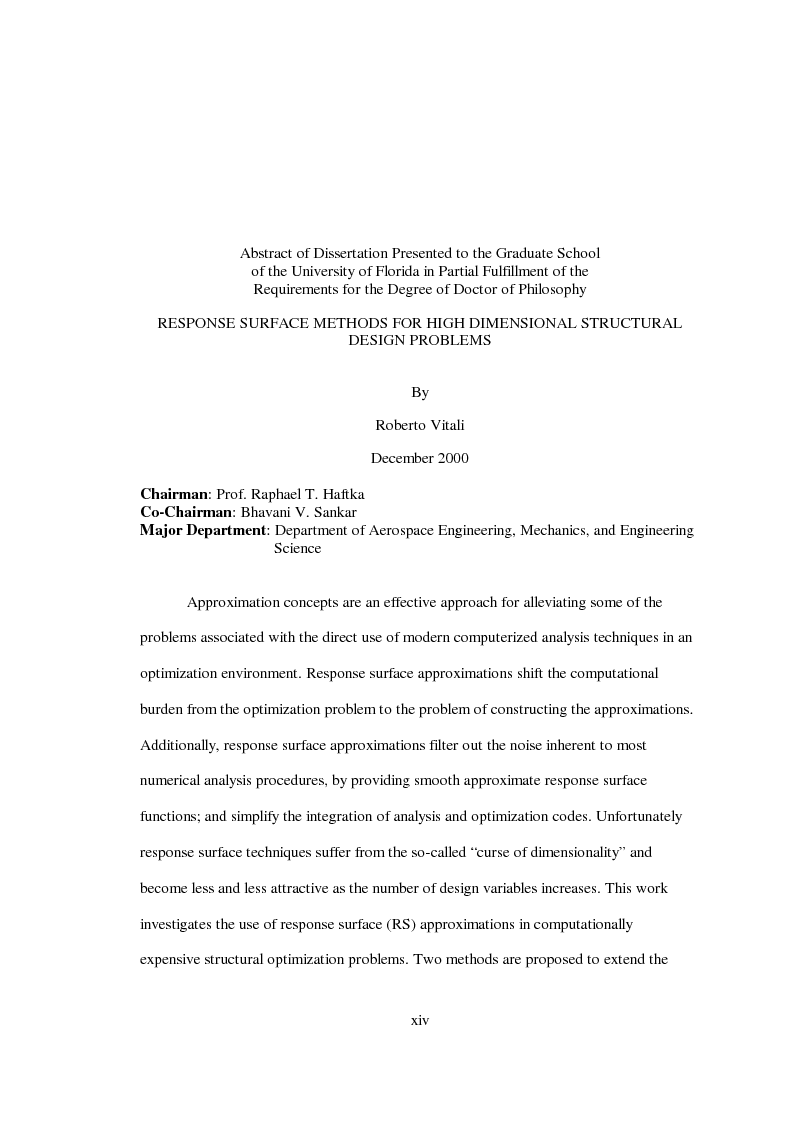 Mostra/Nascondi contenuto.
xiv Abstract of Dissertation Presented to the Graduate School of the University of Florida in Partial Fulfillment of the Requirements for the Degree of Doctor of Philosophy RESPONSE SURFACE METHODS FOR HIGH DIMENSIONAL STRUCTURAL DESIGN PROBLEMS By Roberto Vitali December 2000 Chairman: Prof. Raphael T. Haftka Co-Chairman: Bhavani V. Sankar Major Department: Department of Aerospace Engineering, Mechanics, and Engineering Science Approximation concepts are an effective approach for alleviating some of the problems associated with the direct use of modern computerized analysis techniques in an optimization environment. Response surface approximations shift the computational burden from the optimization problem to the problem of constructing the approximations. Additionally, response surface approximations filter out the noise inherent to most numerical analysis procedures, by providing smooth approximate response surface functions; and simplify the integration of analysis and optimization codes. Unfortunately response surface techniques suffer from the so-called curse of dimensionality and become less and less attractive as the number of design variables increases. This work investigates the use of response surface (RS) approximations in computationally expensive structural optimization problems. Two methods are proposed to extend the
Tesi di Dottorato
Dipartimento: Philosophy
Autore: Roberto Vitali Contatta »
Composta da 189 pagine.
Questa tesi ha raggiunto 513 click dal 07/01/2005.
Consultata integralmente 2 volte.
Disponibile in PDF, la consultazione è esclusivamente in formato digitale.