Revolutionary Road: A Crack in the Mirror. Analysis of Richard Yates's Novel and its Time
Starting from a general portrait of the historical context in which the novel is set, I will then analyze all the issues that I have presented in this introduction through a more literary approach. It could also be interesting to see how far into Realism Yates has gone, and if the genre of this novel has effectively to be considered Realism, or not. I will also try to analyze the cinematographic version of Revolutionary Road directed by Sam Mendes, because I think that it offers an interesting
point of view on Yates 's novel and on the ways in which it is possible to translate literature into cinema.
Tennessee Williams said about this novel: " Here is more than fine writing; here is what, added to fine writing, makes a book come immediately, intensely, and brilliantly alive. If more is needed to make a masterpiece in modern American fiction, I am sure I don't know what it is."
The aim of this thesis is to find what is the element that made Revolutionary Road such a literary masterpiece and, if possible, to give it the consideration that it deserves.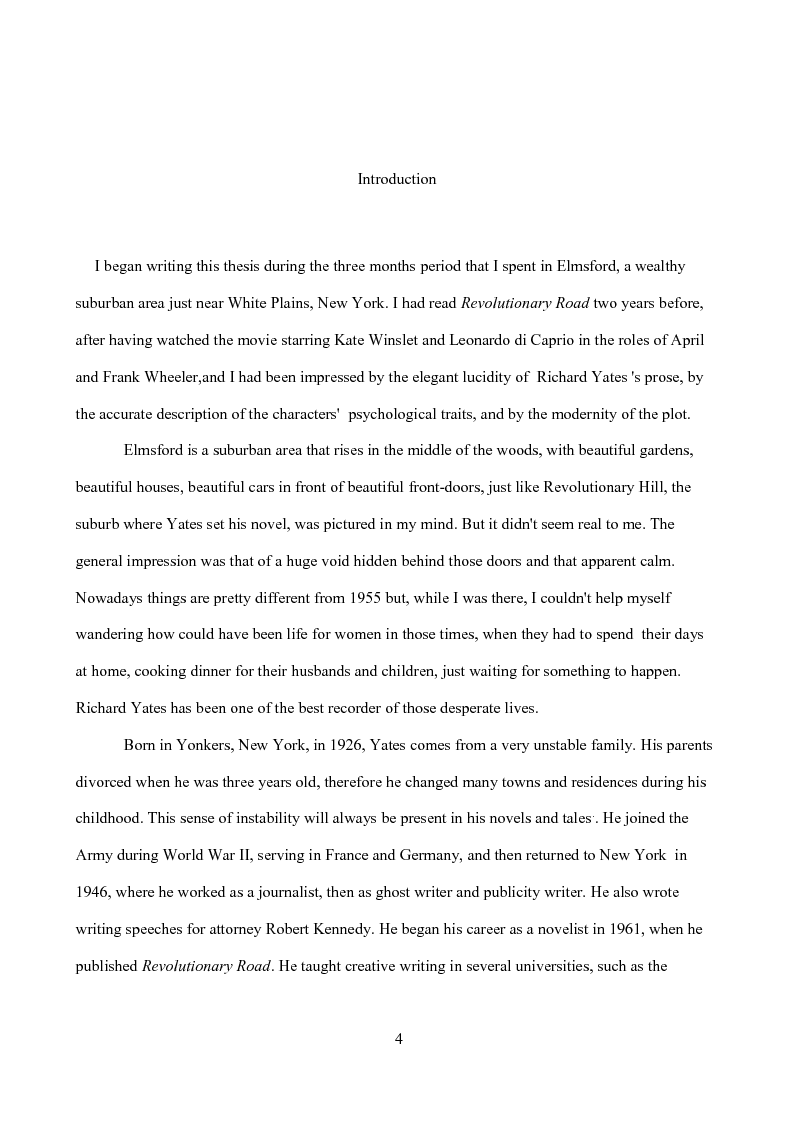 Mostra/Nascondi contenuto.
Introduction I began writing this thesis during the three months period that I spent in Elmsford, a wealthy suburban area just near White Plains, New York. I had read Revolutionary Road two years before, after having watched the movie starring Kate Winslet and Leonardo di Caprio in the roles of April and Frank Wheeler,and I had been impressed by the elegant lucidity of Richard Yates 's prose, by the accurate description of the characters' psychological traits, and by the modernity of the plot. Elmsford is a suburban area that rises in the middle of the woods, with beautiful gardens, beautiful houses, beautiful cars in front of beautiful front-doors, just like Revolutionary Hill, the suburb where Yates set his novel, was pictured in my mind. But it didn't seem real to me. The general impression was that of a huge void hidden behind those doors and that apparent calm. Nowadays things are pretty different from 1955 but, while I was there, I couldn't help myself wandering how could have been life for women in those times, when they had to spend their days at home, cooking dinner for their husbands and children, just waiting for something to happen. Richard Yates has been one of the best recorder of those desperate lives. Born in Yonkers, New York, in 1926, Yates comes from a very unstable family. His parents divorced when he was three years old, therefore he changed many towns and residences during his childhood. This sense of instability will always be present in his novels and tales . . He joined the Army during World War II, serving in France and Germany, and then returned to New York in 1946, where he worked as a journalist, then as ghost writer and publicity writer. He also wrote writing speeches for attorney Robert Kennedy. He began his career as a novelist in 1961, when he published Revolutionary Road. He taught creative writing in several universities, such as the 4
Laurea liv.II (specialistica)
Facoltà: Lingue e Letterature Straniere Moderne
Autore: Irene Nasi Contatta »
Composta da 128 pagine.
Questa tesi ha raggiunto 1200 click dal 28/08/2012.
Consultata integralmente 3 volte.
Disponibile in PDF, la consultazione è esclusivamente in formato digitale.