The Democratic Deficit in the European Union and the June 1999 European Parliament Elections
The democratic deficit within Europe's borders is one of the most salient problems. In this paper we will highlight the main characteristics of this problem, with a special emphasis on the role and weaknesses of the European Parliament as a function of lack of legitimacy of the European Union, and the last of Europarties during the last EP elections of June 13, 1999.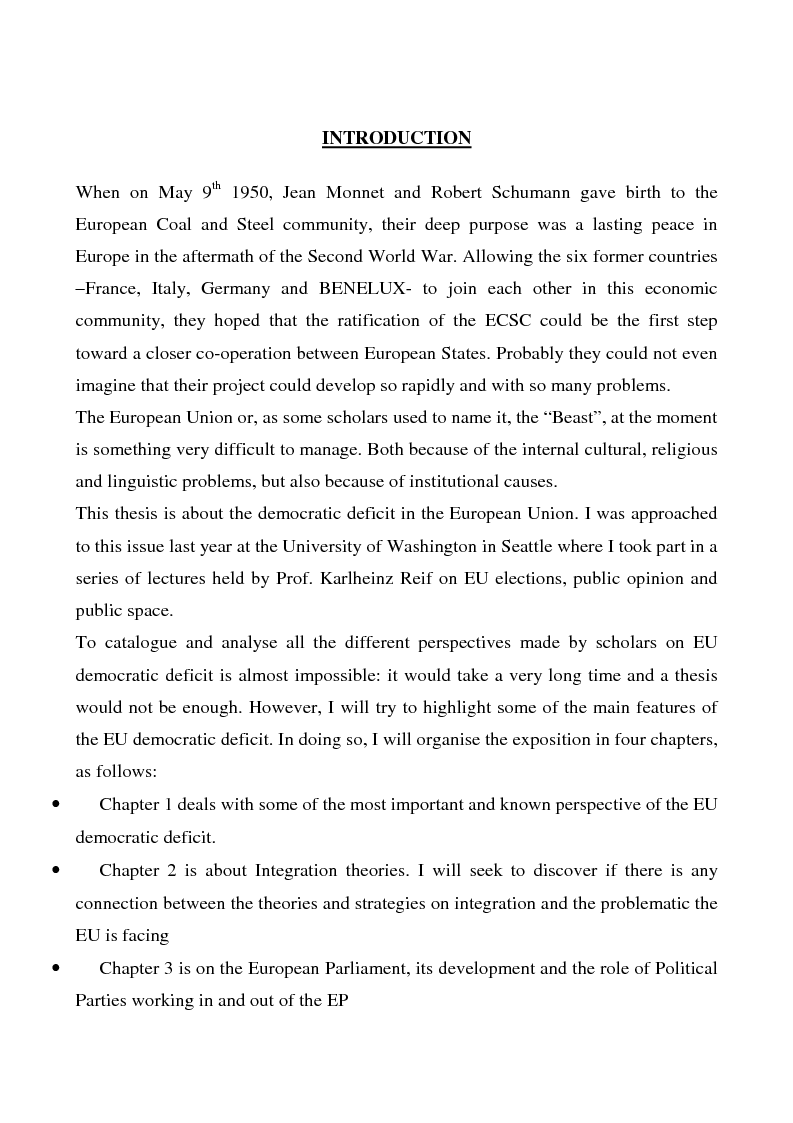 Mostra/Nascondi contenuto.
INTRODUCTION When on May 9 th 1950, Jean Monnet and Robert Schumann gave birth to the European Coal and Steel community, their deep purpose was a lasting peace in Europe in the aftermath of the Second World War. Allowing the six former countries –France, Italy, Germany and BENELUX- to join each other in this economic community, they hoped that the ratification of the ECSC could be the first step toward a closer co-operation between European States. Probably they could not even imagine that their project could develop so rapidly and with so many problems. The European Union or, as some scholars used to name it, the "Beast", at the moment is something very difficult to manage. Both because of the internal cultural, religious and linguistic problems, but also because of institutional causes. This thesis is about the democratic deficit in the European Union. I was approached to this issue last year at the University of Washington in Seattle where I took part in a series of lectures held by Prof. Karlheinz Reif on EU elections, public opinion and public space. To catalogue and analyse all the different perspectives made by scholars on EU democratic deficit is almost impossible: it would take a very long time and a thesis would not be enough. However, I will try to highlight some of the main features of the EU democratic deficit. In doing so, I will organise the exposition in four chapters, as follows: • Chapter 1 deals with some of the most important and known perspective of the EU democratic deficit. • Chapter 2 is about Integration theories. I will seek to discover if there is any connection between the theories and strategies on integration and the problematic the EU is facing • Chapter 3 is on the European Parliament, its development and the role of Political Parties working in and out of the EP
Tesi di Laurea
Facoltà: Scienze Politiche
Autore: Filippo Iarrera Contatta »
Composta da 116 pagine.
Questa tesi ha raggiunto 959 click dal 20/03/2004.
Consultata integralmente 9 volte.
Disponibile in PDF, la consultazione è esclusivamente in formato digitale.