How the "smart city" model matches equity issues. A comparative study of Stcokholm and Torino.
The Aim of the study is basically to provide an articulated definition of what a smart city is supposed to be and show how social inequalities interact within the smart city model, articulating disparate social problems.
Equity and affordability are fundamental dimensions of smart city policies, in order to avoid the spread of growing social inequalities in European countries. Even in Sweden, which has long been regarded as the model of the welfare state, what is most evident now is a growing polarization between households at a residential area level.
Our attention will be dedicated to two different, and still similar, cities: Stockholm and Torino within the context of globalization and its contradictions, with specific concern to the "urbanization of poverty" and the greater social inequality.

In the first chapter we will introduce the topic by providing a rapid picture of the social and historical background within the context of post-fordism, globalization and the knowledge economy.
The second chapter is aimed at analyzing what we mean when we talk about social inequality and different way to measure it, according literature.
In the third chapter we pay attention to how the smar city model has been defined according to its 6 dimensions (economy, people, living, mobility, environment,
governance); we will be selecting variables and indicators for each dimension and the two towns of Stockholm and Torino will be taken as studying subjects.
The fourth chapter will contain a reflection about how rendering each dimension "smarter" than it is, in both the cites, can actually affect (and how) social inequalities.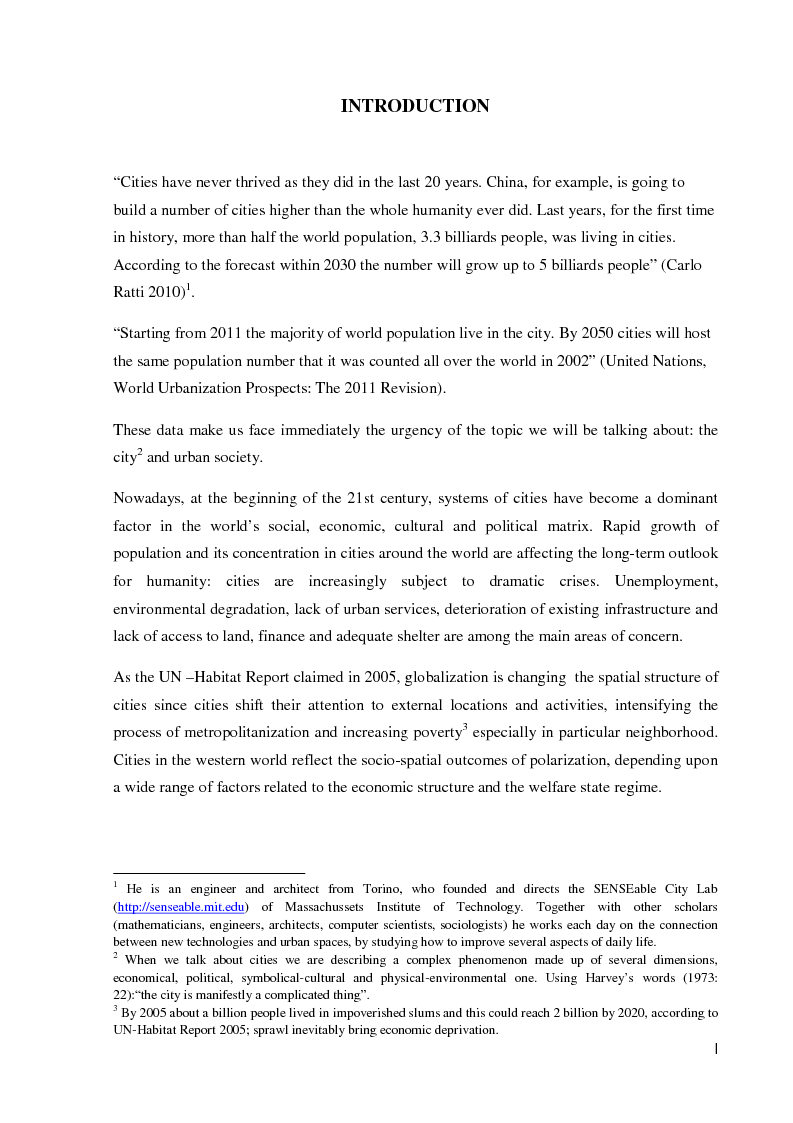 Mostra/Nascondi contenuto.
I INTRODUCTION "Cities have never thrived as they did in the last 20 years. China, for example, is going to build a number of cities higher than the whole humanity ever did. Last years, for the first time in history, more than half the world population, 3.3 billiards people, was living in cities. According to the forecast within 2030 the number will grow up to 5 billiards people" (Carlo Ratti 2010) 1 . "Starting from 2011 the majority of world population live in the city. By 2050 cities will host the same population number that it was counted all over the world in 2002" (United Nations, World Urbanization Prospects: The 2011 Revision). These data make us face immediately the urgency of the topic we will be talking about: the city 2 and urban society. Nowadays, at the beginning of the 21st century, systems of cities have become a dominant factor in the world's social, economic, cultural and political matrix. Rapid growth of population and its concentration in cities around the world are affecting the long-term outlook for humanity: cities are increasingly subject to dramatic crises. Unemployment, environmental degradation, lack of urban services, deterioration of existing infrastructure and lack of access to land, finance and adequate shelter are among the main areas of concern. As the UN –Habitat Report claimed in 2005, globalization is changing the spatial structure of cities since cities shift their attention to external locations and activities, intensifying the process of metropolitanization and increasing poverty 3 especially in particular neighborhood. Cities in the western world reflect the socio-spatial outcomes of polarization, depending upon a wide range of factors related to the economic structure and the welfare state regime. 1 He is an engineer and architect from Torino, who founded and directs the SENSEable City Lab (http://senseable.mit.edu) of Massachussets Institute of Technology. Together with other scholars (mathematicians, engineers, architects, computer scientists, sociologists) he works each day on the connection between new technologies and urban spaces, by studying how to improve several aspects of daily life. 2 When we talk about cities we are describing a complex phenomenon made up of several dimensions, economical, political, symbolical-cultural and physical-environmental one. Using Harvey's words (1973: 22):"the city is manifestly a complicated thing". 3 By 2005 about a billion people lived in impoverished slums and this could reach 2 billion by 2020, according to UN-Habitat Report 2005; sprawl inevitably bring economic deprivation.
Laurea liv.II (specialistica)
Facoltà: Sociologia
Autore: Claudia Coletta Contatta »
Composta da 131 pagine.
Questa tesi ha raggiunto 653 click dal 07/11/2012.
Consultata integralmente 2 volte.
Disponibile in PDF, la consultazione è esclusivamente in formato digitale.