Development of a Windows Based Active Noise Control System
The research undertaken in this work lays the foundations for the creation of computer programs for audio processing that can run on an average Windows based PC.
This thesis concentrates on the creation of a Windows Application that allows communication with the sound card. The communication consists of data acquisition and playback in real time. Although the original plan was to develop a live audio processing program, the task has proven to big to be completed within these eight months alone. The ultimate goal of this research however, is to perform Active Noise Control.
Based on the research that has taken place at the University of Huddersfield, the work undertaken in this project is aimed at creating new tools for the research on Noise Cancellation. These new tools should have a better functionality and Graphic User Interface (GUI).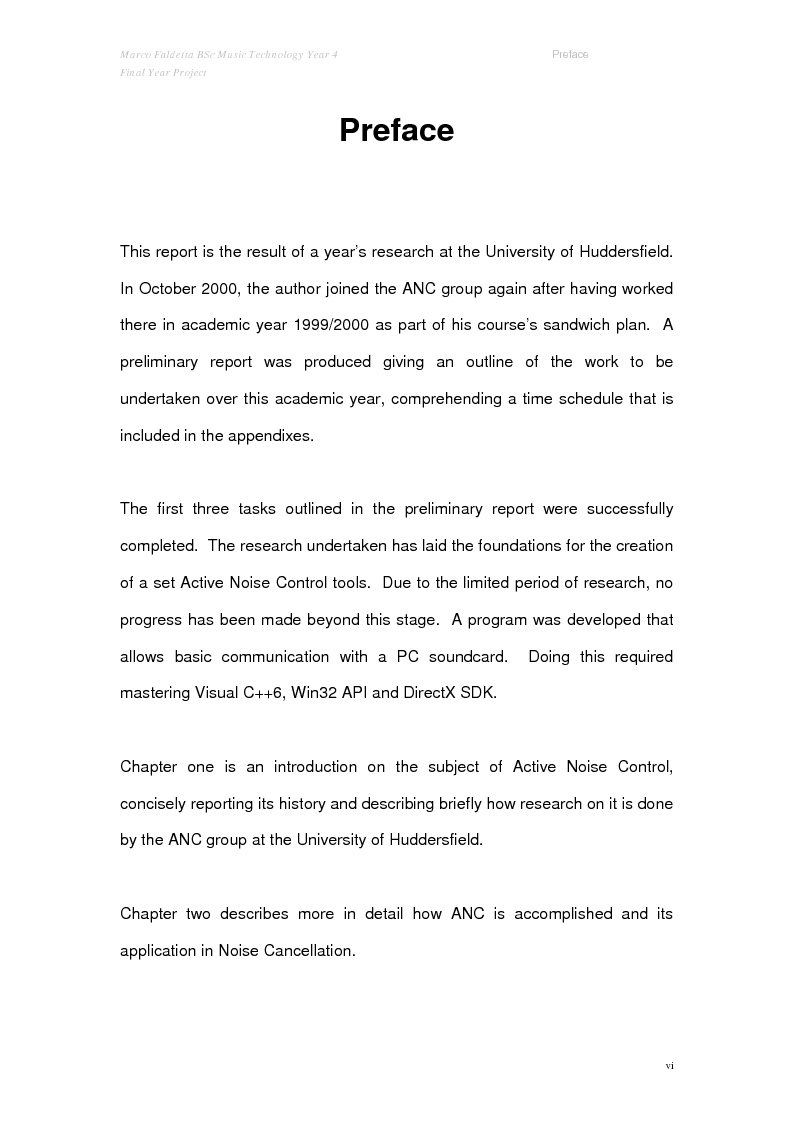 Mostra/Nascondi contenuto.
Marco Faldetta BSc Music Technology Year 4 Preface Final Year Project vi Preface This report is the result of a year's research at the University of Huddersfield. In October 2000, the author joined the ANC group again after having worked there in academic year 1999/2000 as part of his course's sandwich plan. A preliminary report was produced giving an outline of the work to be undertaken over this academic year, comprehending a time schedule that is included in the appendixes. The first three tasks outlined in the preliminary report were successfully completed. The research undertaken has laid the foundations for the creation of a set Active Noise Control tools. Due to the limited period of research, no progress has been made beyond this stage. A program was developed that allows basic communication with a PC soundcard. Doing this required mastering Visual C++6, Win32 API and DirectX SDK. Chapter one is an introduction on the subject of Active Noise Control, concisely reporting its history and describing briefly how research on it is done by the ANC group at the University of Huddersfield. Chapter two describes more in detail how ANC is accomplished and its application in Noise Cancellation.
Tesi di Laurea
Facoltà: Ingegneria
Autore: Marco Faldetta Contatta »
Composta da 86 pagine.
Questa tesi ha raggiunto 765 click dal 20/03/2004.
Consultata integralmente 2 volte.
Disponibile in PDF, la consultazione è esclusivamente in formato digitale.