Yield and Quality of Green Leafy Vegetables in Postharvest
The present PhD Thesis estimates the biochemical answers of 4 green leafy vegetables minimally processed.
The first chapter reports the behaviour of the "friariello campano" grown in a floating system and upon different N:S ratio in the nutrition solution and its preservation in darkness and in a light storage.
The second chapter concerns the biochemical answer to salt stress of rocket (Diplotaxis tenuifolia L.) upon exogenous leafy proline applications and its preservation in darkness and in a light storage.
In the third chapter the course in postharvest of two cultivar of sweet basil cultivated upon salinitation was observed.
In the fourth chapter the enzymatic browning in ready-to-eat spinach was estimated.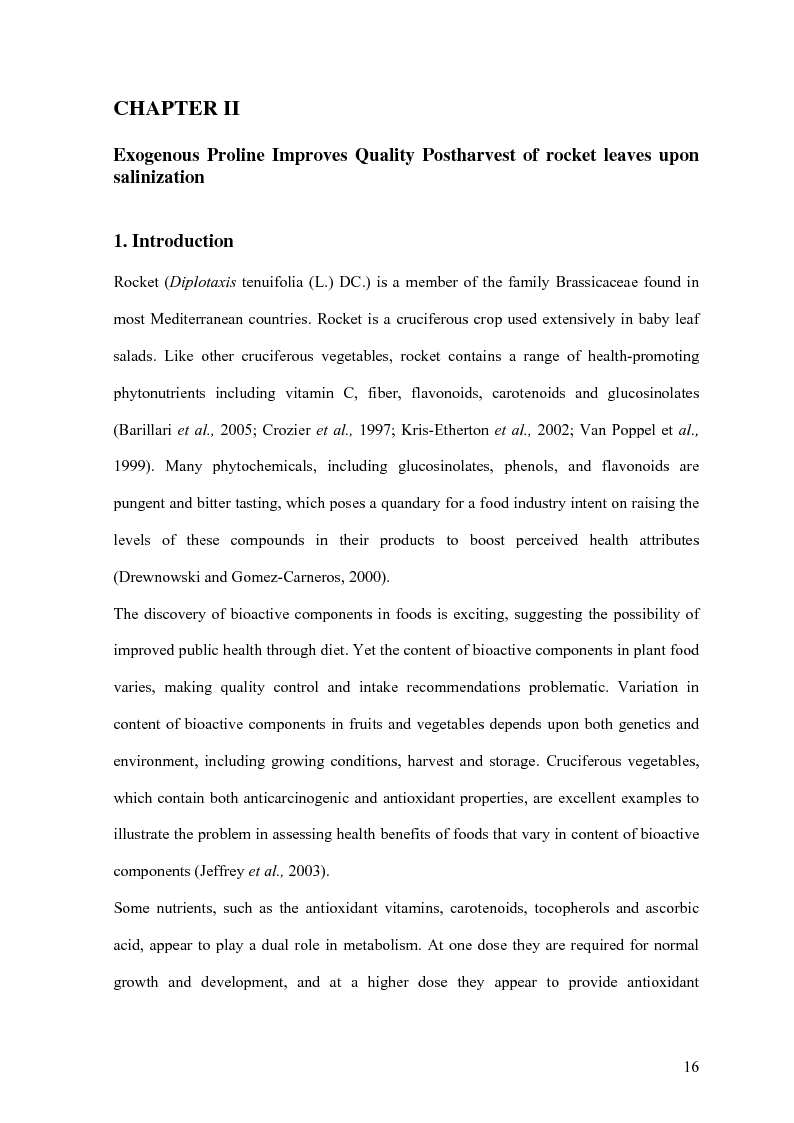 Mostra/Nascondi contenuto.
CHAPTER II Exogenous Proline Improves Quality Postharvest of rocket leaves upon salinization 1. Introduction Rocket (Diplotaxis tenuifolia (L.) DC.) is a member of the family Brassicaceae found in most Mediterranean countries. Rocket is a cruciferous crop used extensively in baby leaf salads. Like other cruciferous vegetables, rocket contains a range of health-promoting phytonutrients including vitamin C, fiber, flavonoids, carotenoids and glucosinolates (Barillari et al., 2005; Crozier et al., 1997; Kris-Etherton et al., 2002; Van Poppel et al., 1999). Many phytochemicals, including glucosinolates, phenols, and flavonoids are pungent and bitter tasting, which poses a quandary for a food industry intent on raising the levels of these compounds in their products to boost perceived health attributes (Drewnowski and Gomez-Carneros, 2000). The discovery of bioactive components in foods is exciting, suggesting the possibility of improved public health through diet. Yet the content of bioactive components in plant food varies, making quality control and intake recommendations problematic. Variation in content of bioactive components in fruits and vegetables depends upon both genetics and environment, including growing conditions, harvest and storage. Cruciferous vegetables, which contain both anticarcinogenic and antioxidant properties, are excellent examples to illustrate the problem in assessing health benefits of foods that vary in content of bioactive components (Jeffrey et al., 2003). Some nutrients, such as the antioxidant vitamins, carotenoids, tocopherols and ascorbic acid, appear to play a dual role in metabolism. At one dose they are required for normal growth and development, and at a higher dose they appear to provide antioxidant 16
Tesi di Dottorato
Dipartimento: Agronomia e Ingegneria del Territorio
Autore: Antonella Bottino Contatta »
Composta da 74 pagine.
Questa tesi ha raggiunto 30 click dal 13/12/2012.
Disponibile in PDF, la consultazione è esclusivamente in formato digitale.