Language, Identity And Gender- Variations In Joseph Boyden's Through Black Spruce.
This thesis is about Joseph Boyden's second novel, Through Black Spruce. It is focused particularly on some themes and on Boyden's narrative style. The work is divided into two chapters, which are different in their scope and contents.
The first chapter aims at demonstrating the power of storytelling and language for cultural revival, self-affirmation and minority groups survival. Through a close reading of some sections of Through Black Spruce, it will be explained what language means for the definition of the novel main characters' personality and to what extent it could be considered a factor affecting the definition of their identity.
The purpose of the second chapter is twofold: on the one hand it aims at demonstrating that Through Black Spruce can be considered a hybrid form of writing which is permeated with traits of orality; on the other it discusses over Boyden's ability to reproduce a female narrative voice. Therefore, it contains a brief analysis of the author's writing style, in terms of structure, language and narrative expedients.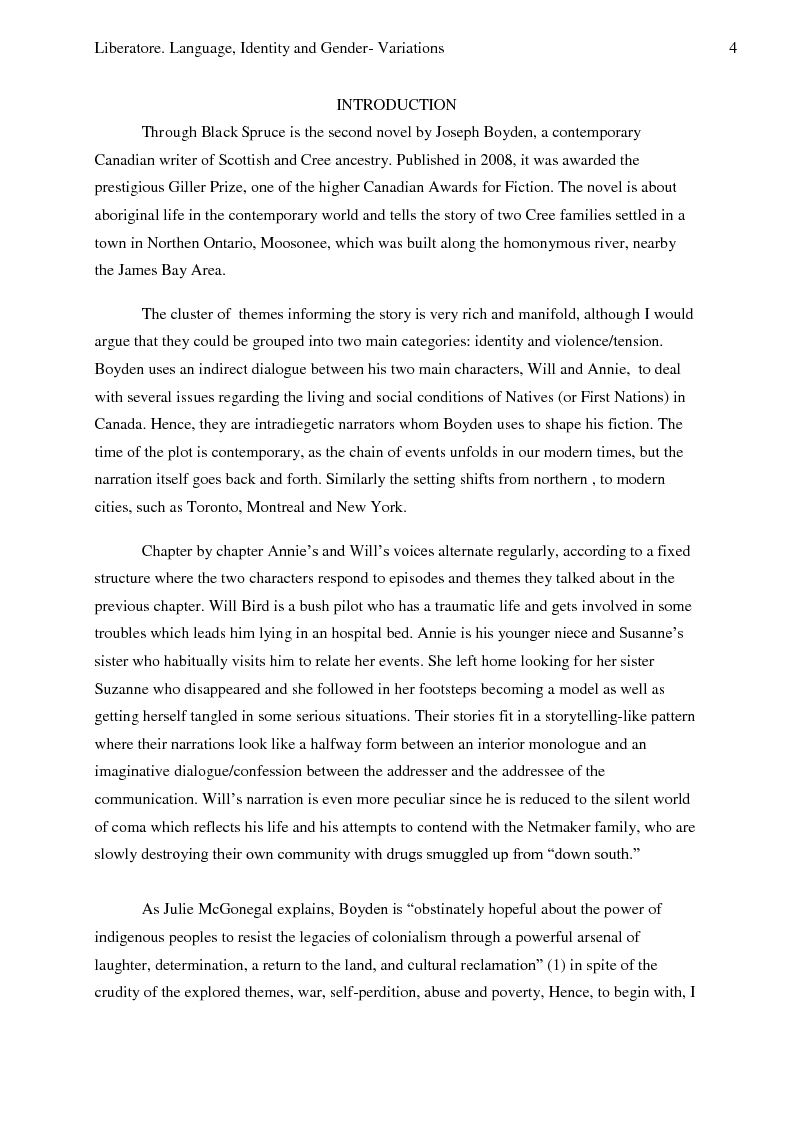 Mostra/Nascondi contenuto.
Liberatore. Language, Identity and Gender- Variations 4 INTRODUCTION Through Black Spruce is the second novel by Joseph Boyden, a contemporary Canadian writer of Scottish and Cree ancestry. Published in 2008, it was awarded the prestigious Giller Prize, one of the higher Canadian Awards for Fiction. The novel is about aboriginal life in the contemporary world and tells the story of two Cree families settled in a town in Northen Ontario, Moosonee, which was built along the homonymous river, nearby the James Bay Area. The cluster of themes informing the story is very rich and manifold, although I would argue that they could be grouped into two main categories: identity and violence/tension. Boyden uses an indirect dialogue between his two main characters, Will and Annie, to deal with several issues regarding the living and social conditions of Natives (or First Nations) in Canada. Hence, they are intradiegetic narrators whom Boyden uses to shape his fiction. The time of the plot is contemporary, as the chain of events unfolds in our modern times, but the narration itself goes back and forth. Similarly the setting shifts from northern , to modern cities, such as Toronto, Montreal and New York. Chapter by chapter Annie's and Will's voices alternate regularly, according to a fixed structure where the two characters respond to episodes and themes they talked about in the previous chapter. Will Bird is a bush pilot who has a traumatic life and gets involved in some troubles which leads him lying in an hospital bed. Annie is his younger niece and Susanne's sister who habitually visits him to relate her events. She left home looking for her sister Suzanne who disappeared and she followed in her footsteps becoming a model as well as getting herself tangled in some serious situations. Their stories fit in a storytelling-like pattern where their narrations look like a halfway form between an interior monologue and an imaginative dialogue/confession between the addresser and the addressee of the communication. Will's narration is even more peculiar since he is reduced to the silent world of coma which reflects his life and his attempts to contend with the Netmaker family, who are slowly destroying their own community with drugs smuggled up from "down south." As Julie McGonegal explains, Boyden is "obstinately hopeful about the power of indigenous peoples to resist the legacies of colonialism through a powerful arsenal of laughter, determination, a return to the land, and cultural reclamation" (1) in spite of the crudity of the explored themes, war, self-perdition, abuse and poverty, Hence, to begin with, I
Tesi di Master
Autore: Daniela Liberatore Contatta »
Composta da 28 pagine.
Questa tesi ha raggiunto 479 click dal 09/01/2013.
Disponibile in PDF, la consultazione è esclusivamente in formato digitale.