The Eyewear Market Luxottica's Leadership, Strategy and Acquisitions
Luxottica, the most profitable eyewear firm in the sunglass and optical market. How is the biggest eyewear distributor firm structured? Does everyone thinks Luxottica is the best firm in the market?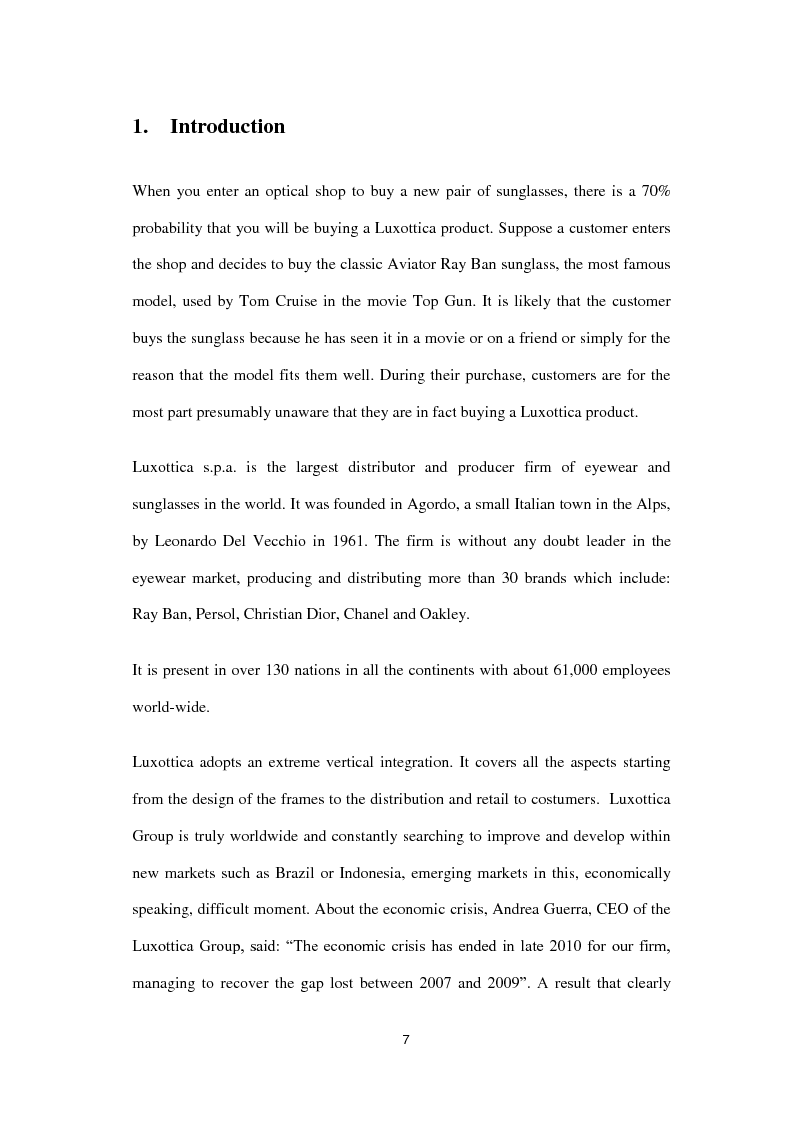 Mostra/Nascondi contenuto.
7 1. Introduction When you enter an optical shop to buy a new pair of sunglasses, there is a 70% probability that you will be buying a Luxottica product. Suppose a customer enters the shop and decides to buy the classic Aviator Ray Ban sunglass, the most famous model, used by Tom Cruise in the movie Top Gun. It is likely that the customer buys the sunglass because he has seen it in a movie or on a friend or simply for the reason that the model fits them well. During their purchase, customers are for the most part presumably unaware that they are in fact buying a Luxottica product. Luxottica s.p.a. is the largest distributor and producer firm of eyewear and sunglasses in the world. It was founded in Agordo, a small Italian town in the Alps, by Leonardo Del Vecchio in 1961. The firm is without any doubt leader in the eyewear market, producing and distributing more than 30 brands which include: Ray Ban, Persol, Christian Dior, Chanel and Oakley. It is present in over 130 nations in all the continents with about 61,000 employees world-wide. Luxottica adopts an extreme vertical integration. It covers all the aspects starting from the design of the frames to the distribution and retail to costumers. Luxottica Group is truly worldwide and constantly searching to improve and develop within new markets such as Brazil or Indonesia, emerging markets in this, economically speaking, difficult moment. About the economic crisis, Andrea Guerra, CEO of the Luxottica Group, said: "The economic crisis has ended in late 2010 for our firm, managing to recover the gap lost between 2007 and 2009". A result that clearly
Laurea liv.I
Facoltà: Economia
Autore: Eric Coppola Contatta »
Composta da 46 pagine.
Questa tesi ha raggiunto 884 click dal 28/03/2013.
Consultata integralmente 3 volte.
Disponibile in PDF, la consultazione è esclusivamente in formato digitale.