Cultural Experiences in Italian Oenogastronomic Tourism: Treviso, The City of Tiramisù
Oenogastronomic tourism is a relatively new phenomenon in which tourists are increasingly interested in local food and wine products not as a simple source of nourishment but as a way to discover and consume the authentic culture of a place. Globalisation's homologation effects on taste and growing concern about food safety: these are some factors that have led to the development of this form of tourism focused on the recovery of our own identity and roots through typical foodstuff products. The degree of interest in this recent theme is also tightly linked with the 21st-century consumer-tourist's profile as well as behavioural aspects, like cultural capital, increasingly demanding necessities and a quest for personal distinction. In order to effectively respond to this tendency, supply tourism has first to guarantee quality and sustainability of the food and wine offer in a geographical space. Once the prerequisites for developing oenogastronomic tourism in a region have been verified, food and wine might be potentially transformed from resource to tourism product; however, to keep the pace of tourism demand dynamic, the supply sector should aim to create an oenogastronomic offer based on authentic, memorable and five-sense experiences. In this field, the province of Treviso excels thanks to its high-quality products and culinary tradition; however, for too long has The March missed the opportunity of benefitting from a local speciality, whose name is renown the world over, but whose real origin is totally ignored. Tiramisù, fruit of the local tradition and culinary creativity, has the right prerequisites to become an attraction for oenogastronomic tourists as well as a means of tourism development in the area. A feasibility study offers the opportunity of examining strengths and weaknesses of the project to activate effective marketing actions that can transform Tiramisù's tourism potentials into a realistic offer.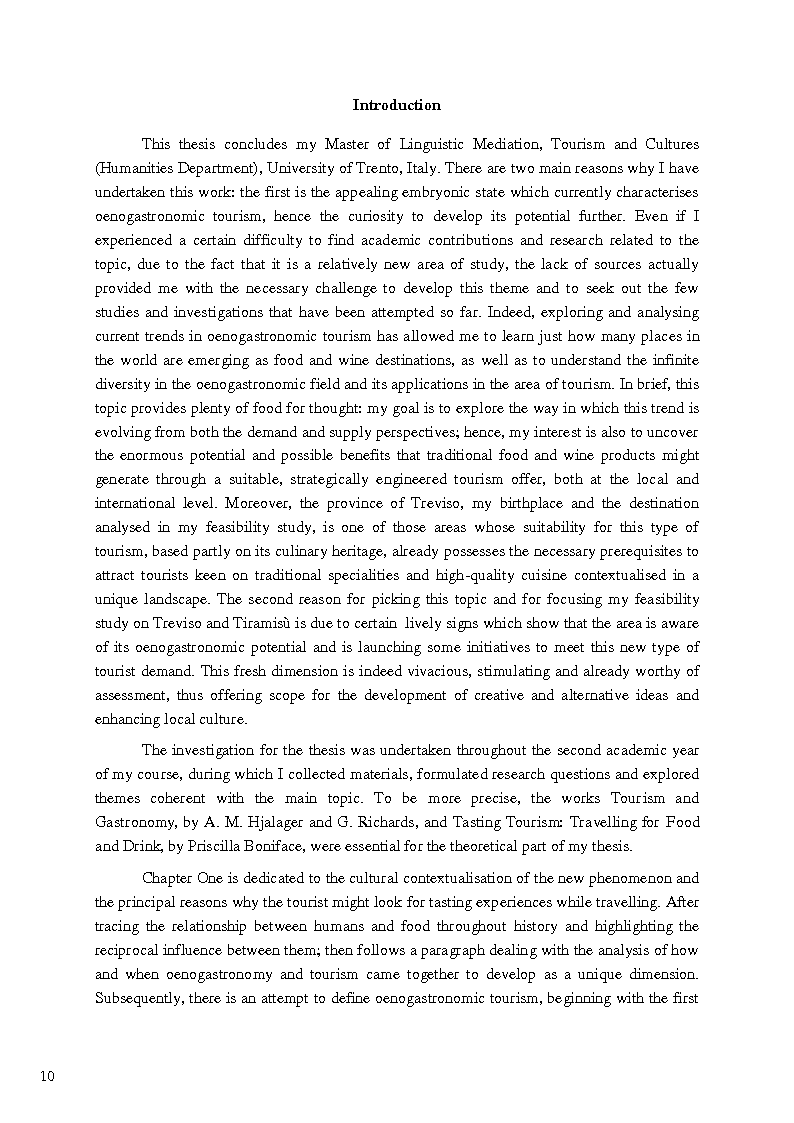 Mostra/Nascondi contenuto.
10 Introduction This thesis concludes my Master of Linguistic Mediation, Tourism and Cultures (Humanities Department), University of Trento, Italy. There are two main reasons why I have undertaken this work: the first is the appealing embryonic state which currently characterises oenogastronomic tourism, hence the curiosity to develop its potential further. Even if I experienced a certain difficulty to find academic contributions and research related to the topic, due to the fact that it is a relatively new area of study, the lack of sources actually provided me with the necessary challenge to develop this theme and to seek out the few studies and investigations that have been attempted so far. Indeed, exploring and analysing current trends in oenogastronomic tourism has allowed me to learn just how many places in the world are emerging as food and wine destinations, as well as to understand the infinite diversity in the oenogastronomic field and its applications in the area of tourism. In brief, this topic provides plenty of food for thought: my goal is to explore the way in which this trend is evolving from both the demand and supply perspectives; hence, my interest is also to uncover the enormous potential and possible benefits that traditional food and wine products might generate through a suitable, strategically engineered tourism offer, both at the local and international level. Moreover, the province of Treviso, my birthplace and the destination analysed in my feasibility study, is one of those areas whose suitability for this type of tourism, based partly on its culinary heritage, already possesses the necessary prerequisites to attract tourists keen on traditional specialities and high-quality cuisine contextualised in a unique landscape. The second reason for picking this topic and for focusing my feasibility study on Treviso and Tiramisù is due to certain lively signs which show that the area is aware of its oenogastronomic potential and is launching some initiatives to meet this new type of tourist demand. This fresh dimension is indeed vivacious, stimulating and already worthy of assessment, thus offering scope for the development of creative and alternative ideas and enhancing local culture. The investigation for the thesis was undertaken throughout the second academic year of my course, during which I collected materials, formulated research questions and explored themes coherent with the main topic. To be more precise, the works Tourism and Gastronomy, by A. M. Hjalager and G. Richards, and Tasting Tourism: Travelling for Food and Drink, by Priscilla Boniface, were essential for the theoretical part of my thesis. Chapter One is dedicated to the cultural contextualisation of the new phenomenon and the principal reasons why the tourist might look for tasting experiences while travelling. After tracing the relationship between humans and food throughout history and highlighting the reciprocal influence between them; then follows a paragraph dealing with the analysis of how and when oenogastronomy and tourism came together to develop as a unique dimension. Subsequently, there is an attempt to define oenogastronomic tourism, beginning with the first
Tesi di Laurea Magistrale
Facoltà: Lettere e Filosofia
Autore: Ilaria Ziliotto Contatta »
Composta da 186 pagine.
Questa tesi ha raggiunto 402 click dal 11/04/2013.
Disponibile in PDF, la consultazione è esclusivamente in formato digitale.