Impact of Global Financial Crisis on Exporting Strategies in Italian Home Appliances Industry
Paper aim. To explore attitude of Italian companies, made by a small sample of five companies, on adapting, changing to global turmoil of 2008-2013 period, focusing on their export strategies.
Methods used. The methodology used was qualitative, applying in-depth interviews.
Research carried out and the results obtained. Results for this paper can't make any assumption due of kind of research, still some connections were found to the theoretical part and were linked on together to better understand why companies do so.
The main conclusions. Some differences arisen from the findings in each company, different culture and different management may lead to different solutions and approaches. Also some similarities were found but are not object of generalizations. Based on this insight, further analysis as quantitative researches are welcome and appropriate.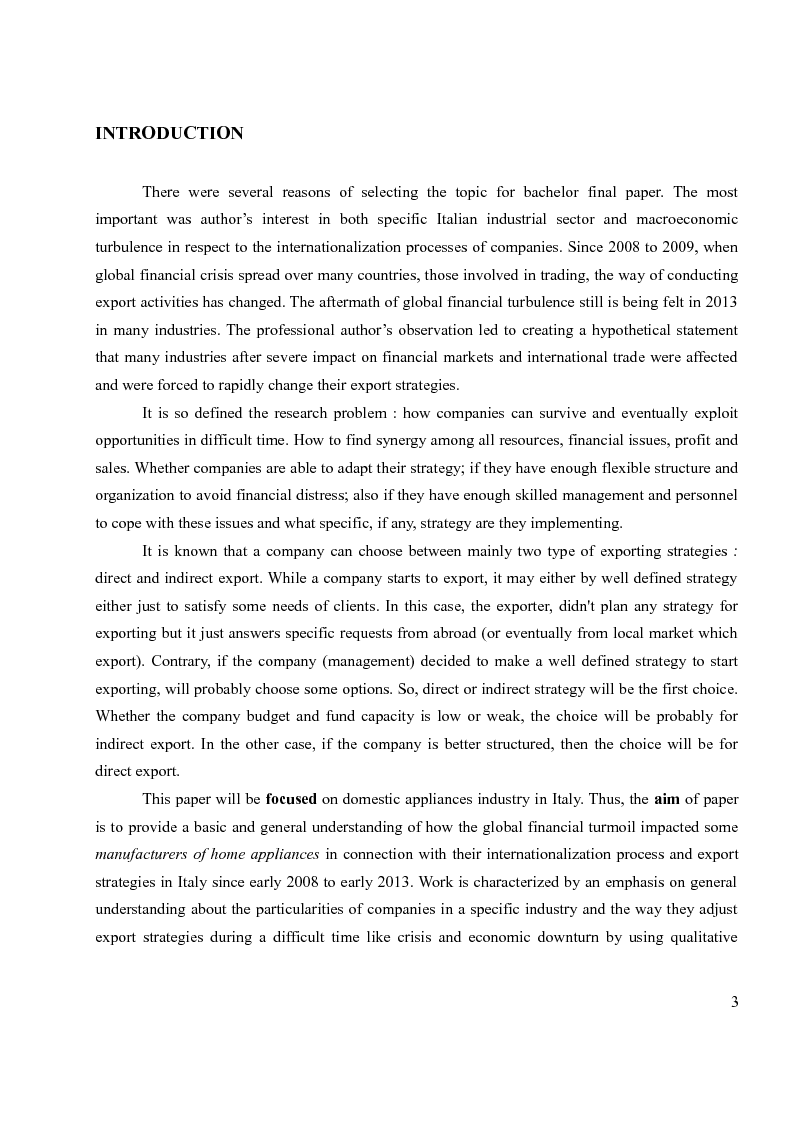 Mostra/Nascondi contenuto.
INTRODUCTION There were several reasons of selecting the topic for bachelor final paper. The most important was author's interest in both specific Italian industrial sector and macroeconomic turbulence in respect to the internationalization processes of companies. Since 2008 to 2009, when global financial crisis spread over many countries, those involved in trading, the way of conducting export activities has changed. The aftermath of global financial turbulence still is being felt in 2013 in many industries. The professional author's observation led to creating a hypothetical statement that many industries after severe impact on financial markets and international trade were affected and were forced to rapidly change their export strategies. It is so defined the research problem : how companies can survive and eventually exploit opportunities in difficult time. How to find synergy among all resources, financial issues, profit and sales. Whether companies are able to adapt their strategy; if they have enough flexible structure and organization to avoid financial distress; also if they have enough skilled management and personnel to cope with these issues and what specific, if any, strategy are they implementing. It is known that a company can choose between mainly two type of exporting strategies : direct and indirect export. While a company starts to export, it may either by well defined strategy either just to satisfy some needs of clients. In this case, the exporter, didn't plan any strategy for exporting but it just answers specific requests from abroad (or eventually from local market which export). Contrary, if the company (management) decided to make a well defined strategy to start exporting, will probably choose some options. So, direct or indirect strategy will be the first choice. Whether the company budget and fund capacity is low or weak, the choice will be probably for indirect export. In the other case, if the company is better structured, then the choice will be for direct export. This paper will be focused on domestic appliances industry in Italy. Thus, the aim of paper is to provide a basic and general understanding of how the global financial turmoil impacted some manufacturers of home appliances in connection with their internationalization process and export strategies in Italy since early 2008 to early 2013. Work is characterized by an emphasis on general understanding about the particularities of companies in a specific industry and the way they adjust export strategies during a difficult time like crisis and economic downturn by using qualitative 3
Tesi di Laurea
Facoltà: International Business School
Autore: Gianluca Crosatti Contatta »
Composta da 49 pagine.
Questa tesi ha raggiunto 111 click dal 06/06/2013.
Consultata integralmente una volta.
Disponibile in PDF, la consultazione è esclusivamente in formato digitale.