Evelina's Reception into the World
The aim of this thesis is to examine how Frances Burney's Evelina was received after its first publication occurred at the end of January 1778 (contemporary reception) and in the late twentieth century (modern reception).
In Chapter One, An 18th Century Reading Experience: Evelina and its Contemporary Reception, I will focus on contemporary literary reviews which appeared in important English magazines in 1778, but also on readers' personal opinions and influential personalities' significant comments trying to show the success Evelina had in Great Britain at that time. Relevant for this part of my research were therefore some biographies on Evelina's author such as those written by Joyce Hemlow and Margaret Anne Doody and, most importantly, Burney's private diaries which provided me with reliable, authentic information which I used to retrace its contemporary literary reception. Also, I have attempted to locate most of Evelina's British editions in order to analyze the novel's reception from a different, 'numeric' perspective thus trying to provide further evidences of its success. Here in particular I used databases such as Open Library and The European Library which allowed me to explore European public libraries catalogues in order to find out how many British editions were printed during that time. WomenWriters database was used particularly as a starting point in order to analyze the novel's foreign reception. In detail, I will dwell on its French and Scandinavian reception also highlighting the importance and the problems raised by Evelina's rare Russian edition, trying therefore to provide also some hypotheses on how the novel entered Russian society. Finally, this chapter will conclude with an analysis of Evelina's Italian reception firstly made through OPAC, the Online Public Access Catalogue which provided me information about Evelina's editions held by Italian public libraries. In particular, I will focus on late eighteenth-early nineteenth century editions dealing briefly with the importance of the purchase of a copy of Evelina by the Biblioteca di Discipline Umanistiche of the University of Bologna, along with the only Italian translation of Burney's work available in Italy. Finally, I will also look at some Italian histories of English literature in order to verify how much attention is given to Evelina within these works.
Evelina's critical reception will be analyzed in Chapter Two, Modern Evelina: Critical reception in the Late 20th Century. During the latter part of the twentieth century Evelina saw a real critical rebirth through the publication of numerous critical essays written by English feminist scholars which examine the novel specifically in light of feminist theory. I will therefore try to highlight their main points in order to understand which elements of the novel are studied most within the English academic field, also including a critical Italian essay which offers a different, 'theatrical' perspective on the novel. In order to do this research, I used electronic databases such as JSTOR, MLA International Bibliography and ProQuest.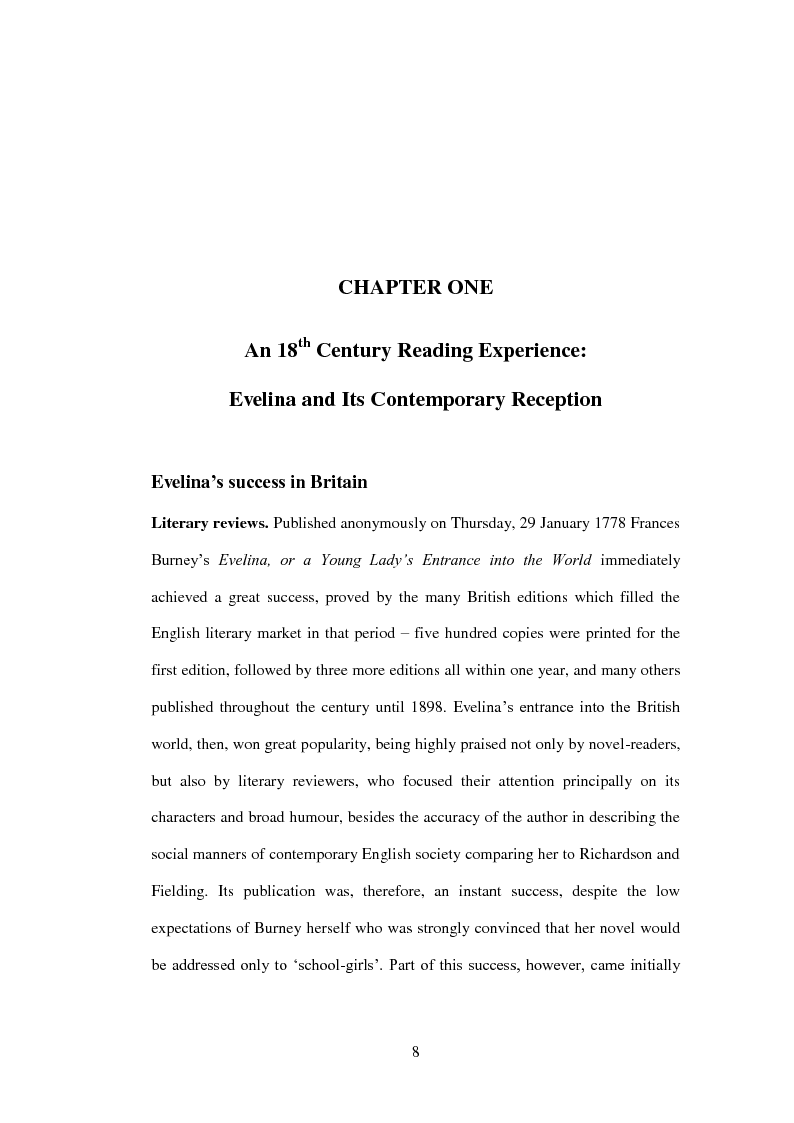 Mostra/Nascondi contenuto.
8 CHAPTER ONE An 18 th Century Reading Experience: Evelina and Its Contemporary Reception Evelina's success in Britain Literary reviews. Published anonymously on Thursday, 29 January 1778 Frances Burney's Evelina, or a Young Lady's Entrance into the World immediately achieved a great success, proved by the many British editions which filled the English literary market in that period – five hundred copies were printed for the first edition, followed by three more editions all within one year, and many others published throughout the century until 1898. Evelina's entrance into the British world, then, won great popularity, being highly praised not only by novel-readers, but also by literary reviewers, who focused their attention principally on its characters and broad humour, besides the accuracy of the author in describing the social manners of contemporary English society comparing her to Richardson and Fielding. Its publication was, therefore, an instant success, despite the low expectations of Burney herself who was strongly convinced that her novel would be addressed only to 'school-girls'. Part of this success, however, came initially
Laurea liv.I
Facoltà: Lettere e Filosofia
Autore: Roberta Carino Contatta »
Composta da 49 pagine.
Questa tesi ha raggiunto 113 click dal 04/09/2013.
Disponibile in PDF, la consultazione è esclusivamente in formato digitale.