Green economy in China
Green economy today represents a new development frontier in the actual economic landscape. It means do better, with less. It means expand possibilities during an economic recession but also assuring a sustainable development without curbing the growth economic rates.
Recently, different countries such as China, have provided a renewed interest in the green economy approach. Featuring the implementation of state-of-the-art technology, China has reached a privileged position within the sector. The entire country, which present a massive rising growth rate, still retains a high controversial environment decling and thereby it shows an urgent and indispensable need of change.
The Tianjin Binhai New Area (TBNA) and Tianjin Economic-Technological Develompent Area (TEDA) represent the new China will to explore, to experiment, to make experiences and to form a new awarness in the present-future economy.
The correct receipt for a green economy is still unknown, but the Sino-Singapore Tianjin eco-city is already a reality from which we cannot escape.

This thesis shows the differences between a theoretical and a practical approach of the green economy. Through a specific focus on the chinese approach, it presents and analyze the main factors that could constitute pilot drivers toward the new economic paradigm. It explains that the necessity of having both demand and offer green sides, is one of the most relevant challenge that is needed to solve not only in China.
Does the actual dominant economic paradigm necessarily need to be reviewed?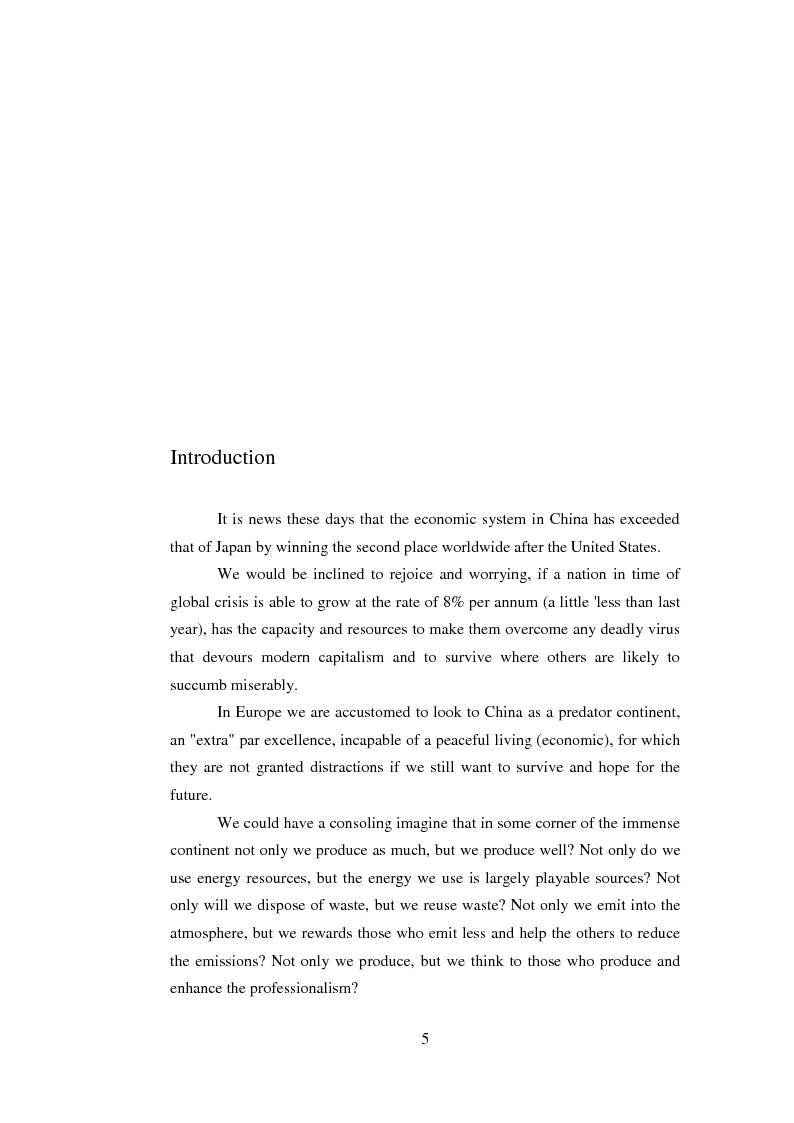 Mostra/Nascondi contenuto.
5 Introduction It is news these days that the economic system in China has exceeded that of Japan by winning the second place worldwide after the United States. We would be inclined to rejoice and worrying, if a nation in time of global crisis is able to grow at the rate of 8% per annum (a little 'less than last year), has the capacity and resources to make them overcome any deadly virus that devours modern capitalism and to survive where others are likely to succumb miserably. In Europe we are accustomed to look to China as a predator continent, an "extra" par excellence, incapable of a peaceful living (economic), for which they are not granted distractions if we still want to survive and hope for the future. We could have a consoling imagine that in some corner of the immense continent not only we produce as much, but we produce well? Not only do we use energy resources, but the energy we use is largely playable sources? Not only will we dispose of waste, but we reuse waste? Not only we emit into the atmosphere, but we rewards those who emit less and help the others to reduce the emissions? Not only we produce, but we think to those who produce and enhance the professionalism?
Laurea liv.I
Facoltà: Economia
Autore: Michele Marini Contatta »
Composta da 86 pagine.
Questa tesi ha raggiunto 1292 click dal 18/10/2013.
Consultata integralmente una volta.
Disponibile in PDF, la consultazione è esclusivamente in formato digitale.