Strategic Corporate Social Responsibility: Effects on Business Performance
Purpose – This research aims at gaining an understanding of the field of Corporate Social Responsibility (CSR) and its integration in today's companies. Moreover, the research attempts to comprehend whether and how the engagement in CSR affects public opinion and consumers. Finally, it examines the influence of CSR performance on Business performance, in the specific case of Nike.

Design/ Methodology/ Approach – The research assumes the form of a case study and, considering data from Nike CSR and financial disclosure, as well as data obtained from external sources, formulates qualitative conclusions about the company's performance.

Findings – This study argues that it has been worth engaging in CSR in the case of Nike. The company has redeemed itself from its tarnished reputation and has embedded social responsibility in its core business, bringing benefits both to its business and to society, especially in the long term.

Research Limitations – This study does not take a rigorous approach, e.g. analysis through statistical correlation, which would have given more concreteness to the results. Moreover, given the case study strategy, the generalization of the findings could be limited.

Practical Implications – This research suggests the worthiness of committing to social investments. Companies, especially large ones, should not underestimate the opportunity of multiplying their benefits. Moreover, companies should give more consistency to their CSR strategy, integrating it in the core of the business and promoting a further development of reporting guidelines and standards, in order to make CSR more reliable and, thus, widely accepted.

Originality/ Value – Not plenty of research has been carried out about the relationship between CSR and Business performance. Thus, this study takes an unusual perspective, trying to find a link between these two measures.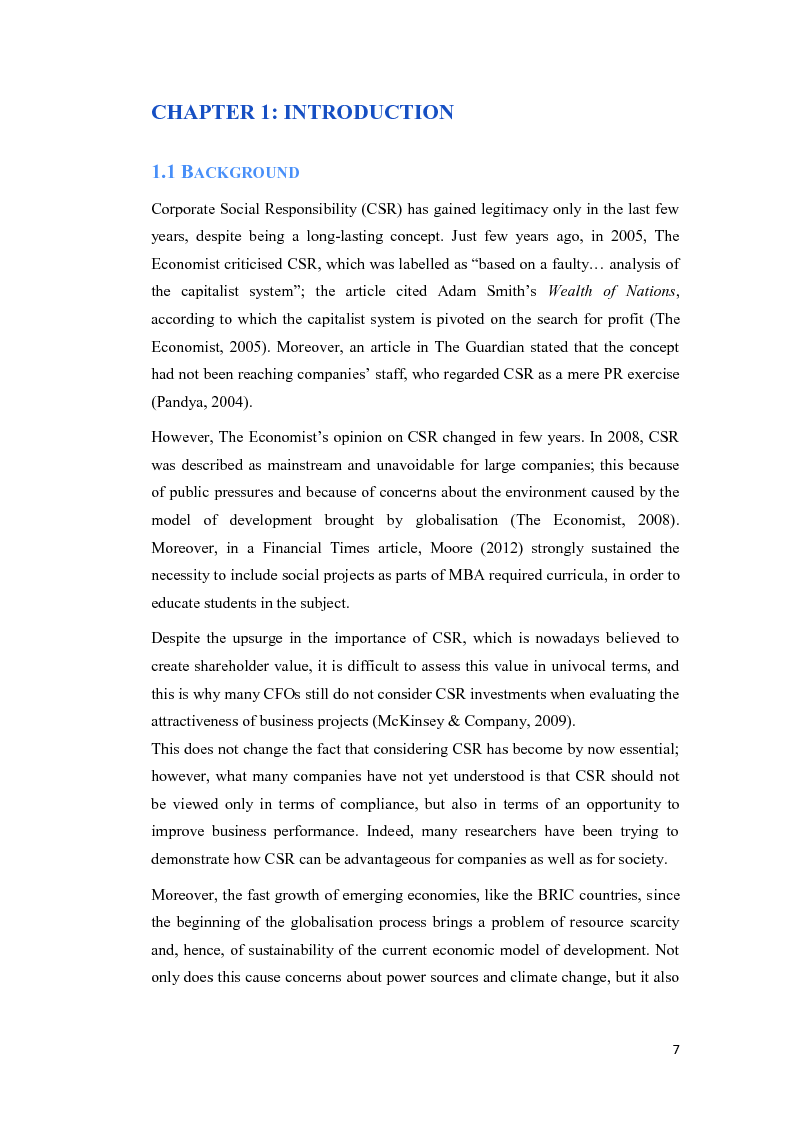 Mostra/Nascondi contenuto.
7 CHAPTER 1: INTRODUCTION 1.1 BACKGROUND Corporate Social Responsibility (CSR) has gained legitimacy only in the last few years, despite being a long-lasting concept. Just few years ago, in 2005, The Economist criticised CSR, which was labelled as "based on a faulty… analysis of the capitalist system"; the article cited Adam Smith's Wealth of Nations, according to which the capitalist system is pivoted on the search for profit (The Economist, 2005). Moreover, an article in The Guardian stated that the concept had not been reaching companies' staff, who regarded CSR as a mere PR exercise (Pandya, 2004). However, The Economist's opinion on CSR changed in few years. In 2008, CSR was described as mainstream and unavoidable for large companies; this because of public pressures and because of concerns about the environment caused by the model of development brought by globalisation (The Economist, 2008). Moreover, in a Financial Times article, Moore (2012) strongly sustained the necessity to include social projects as parts of MBA required curricula, in order to educate students in the subject. Despite the upsurge in the importance of CSR, which is nowadays believed to create shareholder value, it is difficult to assess this value in univocal terms, and this is why many CFOs still do not consider CSR investments when evaluating the attractiveness of business projects (McKinsey & Company, 2009). This does not change the fact that considering CSR has become by now essential; however, what many companies have not yet understood is that CSR should not be viewed only in terms of compliance, but also in terms of an opportunity to improve business performance. Indeed, many researchers have been trying to demonstrate how CSR can be advantageous for companies as well as for society. Moreover, the fast growth of emerging economies, like the BRIC countries, since the beginning of the globalisation process brings a problem of resource scarcity and, hence, of sustainability of the current economic model of development. Not only does this cause concerns about power sources and climate change, but it also
Laurea liv.I
Facoltà: Economia
Autore: Alessandro Bettiol Contatta »
Composta da 61 pagine.
Questa tesi ha raggiunto 187 click dal 22/10/2013.
Disponibile in PDF, la consultazione è esclusivamente in formato digitale.