Leadership in human resources management: the ENEL case
Leadership can be considered as a driving tool in the human resources management. The leader is able to innovate in terms of product and organizational culture. A leader makes stimulating the workday by creating meaning and purpose for and with his employees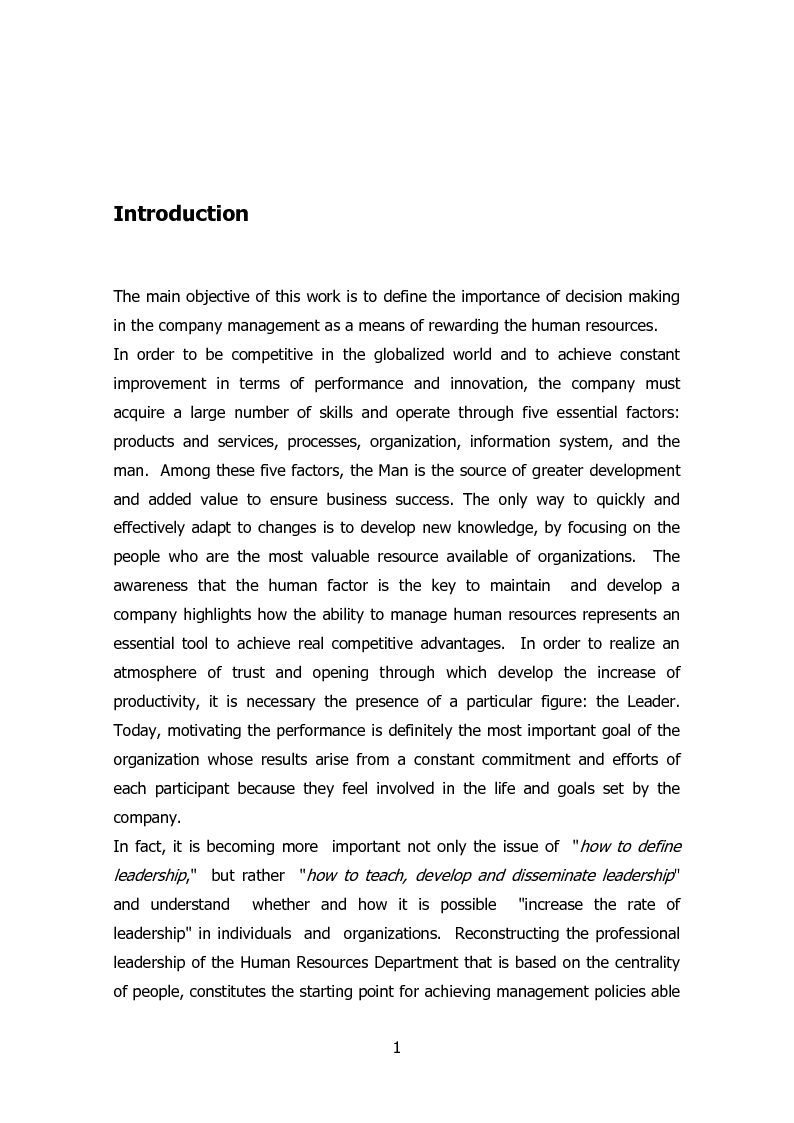 Mostra/Nascondi contenuto.
1 Introduction The main objective of this work is to define the importance of decision making in the company management as a means of rewarding the human resources. In order to be competitive in the globalized world and to achieve constant improvement in terms of performance and innovation, the company must acquire a large number of skills and operate through five essential factors: products and services, processes, organization, information system, and the man. Among these five factors, the Man is the source of greater development and added value to ensure business success. The only way to quickly and effectively adapt to changes is to develop new knowledge, by focusing on the people who are the most valuable resource available of organizations. The awareness that the human factor is the key to maintain and develop a company highlights how the ability to manage human resources represents an essential tool to achieve real competitive advantages. In order to realize an atmosphere of trust and opening through which develop the increase of productivity, it is necessary the presence of a particular figure: the Leader. Today, motivating the performance is definitely the most important goal of the organization whose results arise from a constant commitment and efforts of each participant because they feel involved in the life and goals set by the company. In fact, it is becoming more important not only the issue of "how to define leadership," but rather "how to teach, develop and disseminate leadership" and understand whether and how it is possible "increase the rate of leadership" in individuals and organizations. Reconstructing the professional leadership of the Human Resources Department that is based on the centrality of people, constitutes the starting point for achieving management policies able
Tesi di Master
Autore: Silvia Verrecchia Contatta »
Composta da 98 pagine.
Questa tesi ha raggiunto 284 click dal 29/11/2013.
Disponibile in PDF, la consultazione è esclusivamente in formato digitale.