Marketing plan: My Biological Business
The following marketing plan is going to provide direction and focus for my (hypothetical) idea of biological business products. The idea is launching (in Italy) 100% biological product of high quality at a fair price. This means help people to live better bringing in their lives the well-being and joy to eating well. To develop a good strategy and action program I've analysed the macro, the micro and my competitive environment. After that I've emphasized the external and internal factors (most relevant) through the swot analysis. So I've done some marketing researches showing results through graphs. Finally I've develop my marketing strategy using the marketing mix tools.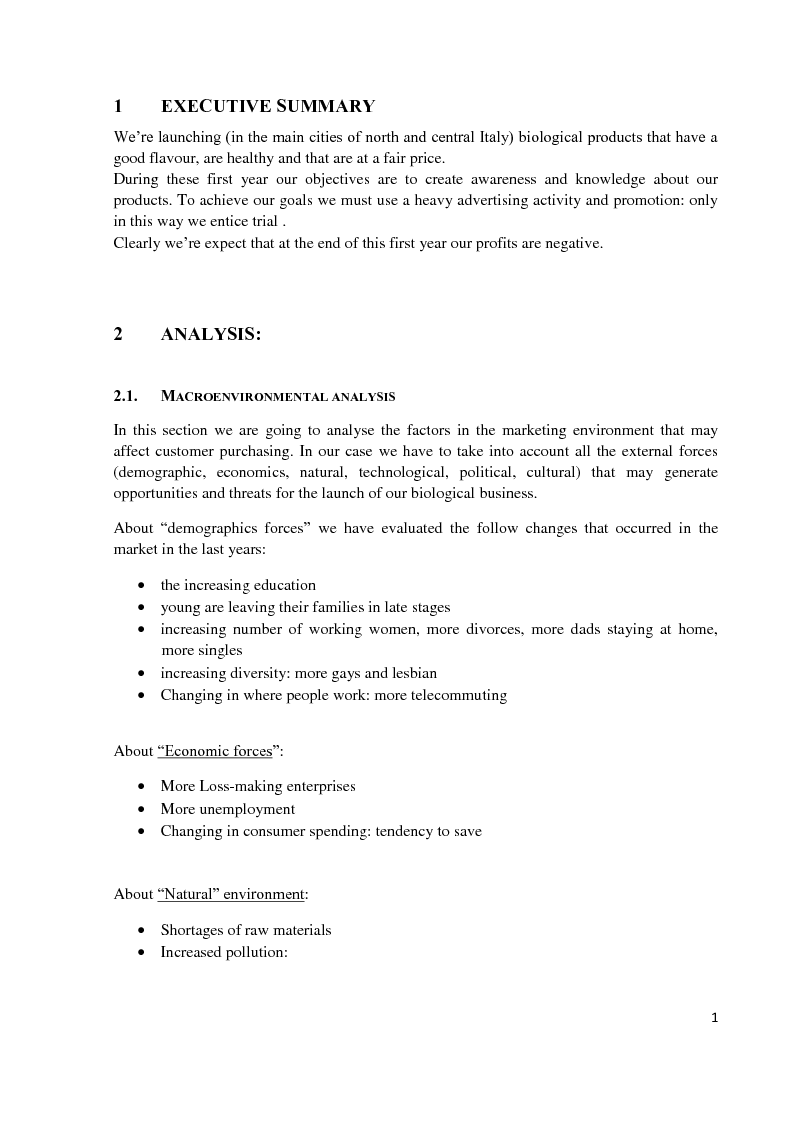 Mostra/Nascondi contenuto.
1 1 EXECUTIVE SUMMARY We're launching (in the main cities of north and central Italy) biological products that have a good flavour, are healthy and that are at a fair price. During these first year our objectives are to create awareness and knowledge about our products. To achieve our goals we must use a heavy advertising activity and promotion: only in this way we entice trial . Clearly we're expect that at the end of this first year our profits are negative. 2 ANALYSIS: 2.1. MACROENVIRONMENTAL ANALYSIS In this section we are going to analyse the factors in the marketing environment that may affect customer purchasing. In our case we have to take into account all the external forces (demographic, economics, natural, technological, political, cultural) that may generate opportunities and threats for the launch of our biological business. About "demographics forces" we have evaluated the follow changes that occurred in the market in the last years:  the increasing education  young are leaving their families in late stages  increasing number of working women, more divorces, more dads staying at home, more singles  increasing diversity: more gays and lesbian  Changing in where people work: more telecommuting About "Economic forces":  More Loss-making enterprises  More unemployment  Changing in consumer spending: tendency to save About "Natural" environment:  Shortages of raw materials  Increased pollution:
Tesi di Master
Autore: Noemi Patete Contatta »
Composta da 47 pagine.
Questa tesi ha raggiunto 131 click dal 29/11/2013.
Disponibile in PDF, la consultazione è esclusivamente in formato digitale.