TNFα Induced Cell Death in Skin Cells: possible role in Diabetic Wound Healing
We have already recognised the importance of the neuropeptide–immune axis mediators in diabetic wound healing.
In this study we evalueted the role of neuropeptides in the skin, in particular on keratinocytes and macropaghes activity because their application on skin wounds could be a potential therapy for skin pathologies, like DFUs, a problematic and prevalent skin disease that can lead to a final amputation.
These results reveal the importance of NT in wound healing and its role in skin inflammation and in skin cells activity.
We found that neurotensin inhibits TNFα-induced cell death and increases cells viability.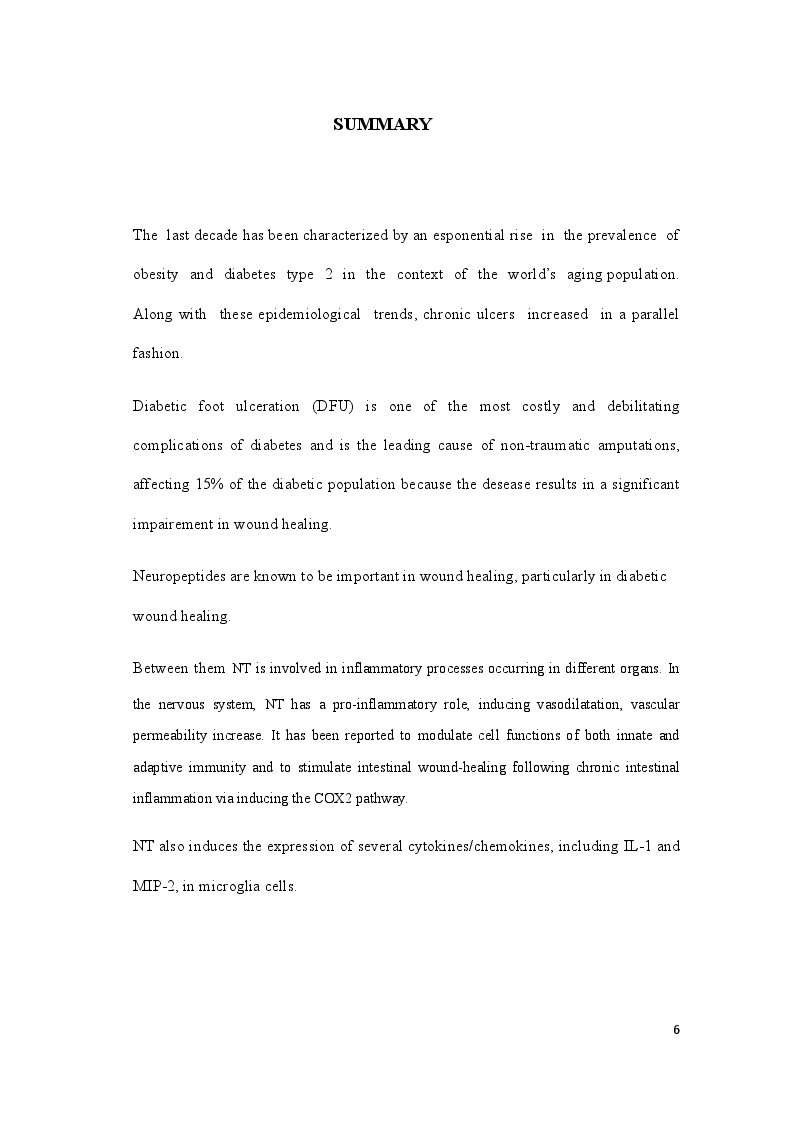 Mostra/Nascondi contenuto.
SUMMARY The last decade has been characterized by an esponential rise in the prevalence of obesity and diabetes type 2 in the context of the world's aging population. Along with these epidemiological trends, chronic ulcers increased in a parallel fashion. Diabetic foot ulceration (DFU) is one of the most costly and debilitating complications of diabetes and is the leading cause of non-traumatic amputations, affecting 15% of the diabetic population because the desease results in a significant impairement in wound healing. Neuropeptides are known to be important in wound healing, particularly in diabetic wound healing. Between them NT is involved in inflammatory processes occurring in different organs. In the nervous system, NT has a pro-inflammatory role, inducing vasodilatation, vascular permeability increase. It has been reported to modulate cell functions of both innate and adaptive immunity and to stimulate intestinal wound-healing following chronic intestinal inflammation via inducing the COX2 pathway. NT also induces the expression of several cytokines/chemokines, including IL-1 and MIP-2, in microglia cells. 6
Laurea liv.II (specialistica)
Facoltà: Scienze Matematiche, Fisiche e Naturali
Autore: Valentina Maio Contatta »
Composta da 63 pagine.
Questa tesi ha raggiunto 34 click dal 28/07/2015.
Disponibile in PDF, la consultazione è esclusivamente in formato digitale.