Performance management in public administration: an Italian overview
Nowadays, Public Administration are constantly under the pressure of public speculation. As a matter of fact, in order to offer social services to its population, public Organizations are connected with a consistent and various group of stakeholders. Governments, Citizens, Corporates, international Organizations are mutually demanding high standards of public services, forcing the organization's management to enhance their accuracy and efficiency.
Over the past few decades the solution has been identified as the adoption of an instrument usually implemented only in private companies: the Performance Management.
Performance Management is an ongoing process developed to support the achievement of strategic objectives and organizational learning through managerial and human resources instruments. Despite its success over the years is still object of debating, Performance Management still constitute a challenge for Public administrations that are involved in it.
As a result of an extended research and explanation of Performance Management content and diffusion in the Public Sector, the purpose of the Thesis is to offer some suggestions for future application focusing on the Italian setting.
In order to achieve our goal, the Thesis will be structured into four chapters:
1. Chapter 1 offers a whole panoramic of the performance management early diffusion, in particular suffering on the NPM paradigm. In fact, NPM has represented the first performance management's application in the public sector. The chapter concludes stating the necessity of going beyond the NPM framework introducing alternative models.
2. Chapter 2 describes the main components of the performance cycle. In particular, for each, it explains what are the peculiarities of the public sector to consider for its implementation. The chapter concludes offering an overview of its execution in the OECD countries.
3. Chapter 3 analyzes the performance management related to the Italian public administration. Firstly, describing the Italian normative path towards its adoption and then, explaining the main innovations included in the law 150/2009 that has introduced, for the first time, the concept of "performance". Lastly, it offers an overview of its application in the central and local administration.
4. Chapter 4 is the critical analysis of the performance's state of art in a regional health entity: the ASUR Marche. Examining the documents available on its website, the chapter highlights its implementation and build some conclusions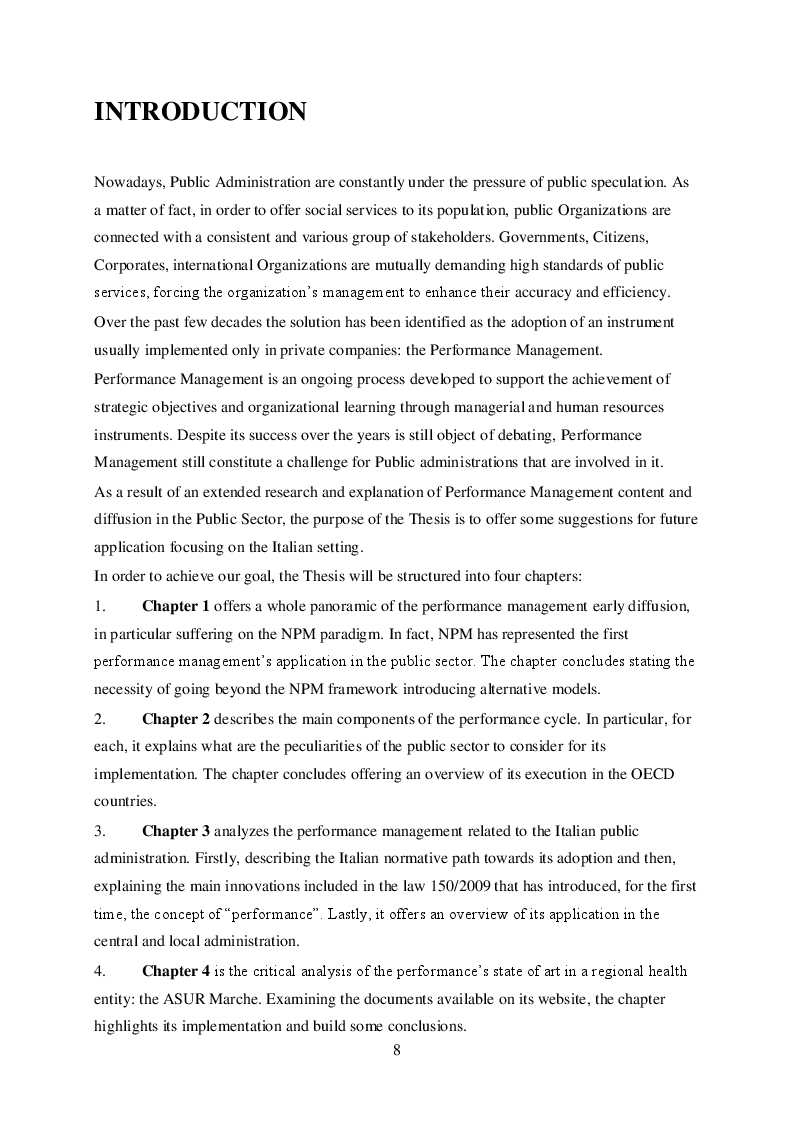 Mostra/Nascondi contenuto.
8 INTRODUCTION Nowadays, Public Administration are constantly under the pressure of public speculation. As a matter of fact, in order to offer social services to its population, public Organizations are connected with a consistent and various group of stakeholders. Governments, Citizens, Corporates, international Organizations are mutually demanding high standards of public services, forcing the organization's management to enhance their accuracy and efficiency. Over the past few decades the solution has been identified as the adoption of an instrument usually implemented only in private companies: the Performance Management. Performance Management is an ongoing process developed to support the achievement of strategic objectives and organizational learning through managerial and human resources instruments. Despite its success over the years is still object of debating, Performance Management still constitute a challenge for Public administrations that are involved in it. As a result of an extended research and explanation of Performance Management content and diffusion in the Public Sector, the purpose of the Thesis is to offer some suggestions for future application focusing on the Italian setting. In order to achieve our goal, the Thesis will be structured into four chapters: 1. Chapter 1 offers a whole panoramic of the performance management early diffusion, in particular suffering on the NPM paradigm. In fact, NPM has represented the first performance management's application in the public sector. The chapter concludes stating the necessity of going beyond the NPM framework introducing alternative models. 2. Chapter 2 describes the main components of the performance cycle. In particular, for each, it explains what are the peculiarities of the public sector to consider for its implementation. The chapter concludes offering an overview of its execution in the OECD countries. 3. Chapter 3 analyzes the performance management related to the Italian public administration. Firstly, describing the Italian normative path towards its adoption and then, explaining the main innovations included in the law 150/2009 that has introduced, for the first time, the concept of "performance". Lastly, it offers an overview of its application in the central and local administration. 4. Chapter 4 is the critical analysis of the performance's state of art in a regional health entity: the ASUR Marche. Examining the documents available on its website, the chapter highlights its implementation and build some conclusions.
Tesi di Laurea Magistrale
Facoltà: Economia
Autore: Alessandro Ferracuti Contatta »
Composta da 119 pagine.
Questa tesi ha raggiunto 699 click dal 19/05/2016.
Disponibile in PDF, la consultazione è esclusivamente in formato digitale.