Cross-border mergers and acquisitions in the European banking sector
This thesis aims at analyzing the key drivers and success factors for external growth through Mergers and Acquisitions (M&A) in the European banking sector.
After explaining the theoretical background of Mergers and Acquisitions (Chapter 2), it examines the risks of consolidation (Chapter 3), followed by a look at the post-merger integration (Chapter 4) as a key success factor.

In Chapter 6, the UCI/HVB and Banco Santander/Abbey acquisitions are analyzed as examples of cross border mergers. Emphasis is put on the logic behind the operations, recent results and strategic impact. Key observations from the case studies are summarized.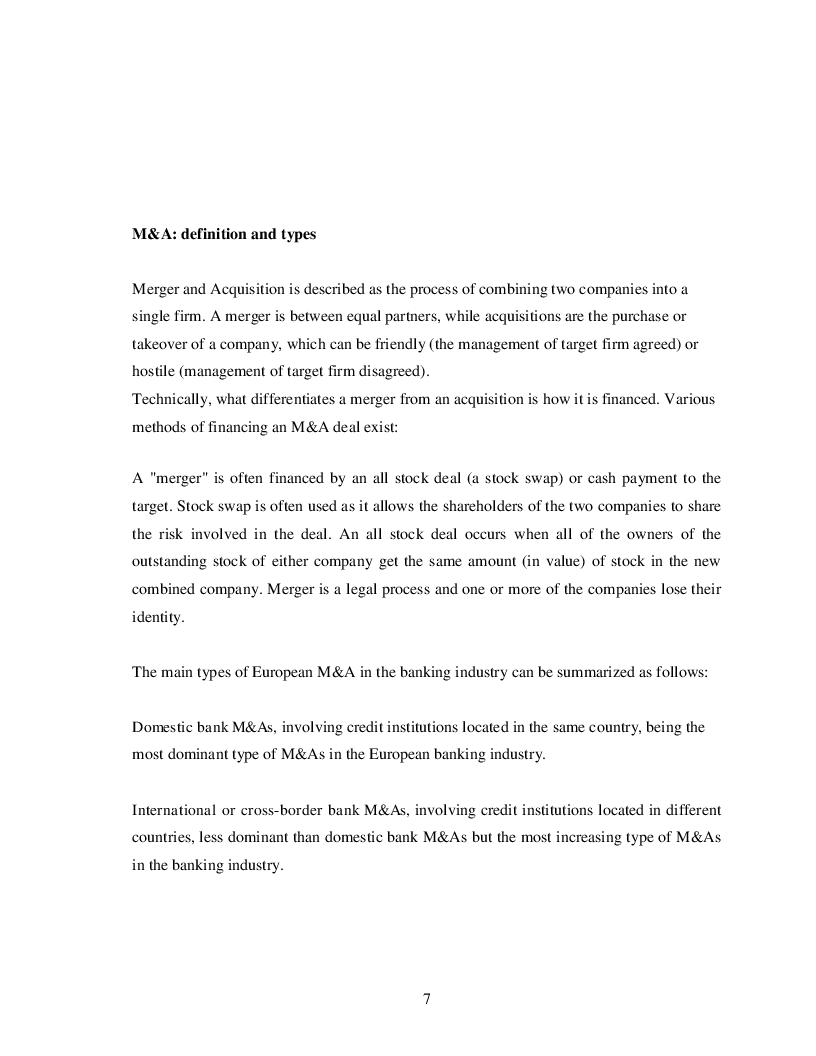 Mostra/Nascondi contenuto.
7 M&A: definition and types Merger and Acquisition is described as the process of combining two companies into a single firm. A merger is between equal partners, while acquisitions are the purchase or takeover of a company, which can be friendly (the management of target firm agreed) or hostile (management of target firm disagreed). Technically, what differentiates a merger from an acquisition is how it is financed. Various methods of financing an M&A deal exist: A "merger" is often financed by an all stock deal (a stock swap) or cash payment to the target. Stock swap is often used as it allows the shareholders of the two companies to share the risk involved in the deal. An all stock deal occurs when all of the owners of the outstanding stock of either company get the same amount (in value) of stock in the new combined company. Merger is a legal process and one or more of the companies lose their identity. The main types of European M&A in the banking industry can be summarized as follows: Domestic bank M&As, involving credit institutions located in the same country, being the most dominant type of M&As in the European banking industry. International or cross-border bank M&As, involving credit institutions located in different countries, less dominant than domestic bank M&As but the most increasing type of M&As in the banking industry.
Tesi di Master
Autore: Daniela Kostadinova Mladenova Contatta »
Composta da 66 pagine.
Questa tesi ha raggiunto 95 click dal 14/10/2016.
Disponibile in PDF, la consultazione è esclusivamente in formato digitale.