Economists' suggestions: how they influence people and social behavior
People do not always react to economic issues in a logical way and they often select their preferred choice that is not the best outcome
They may have. Economists developed behavioral economics to understand reasons behind this kind of choices and to push people to select the best option for them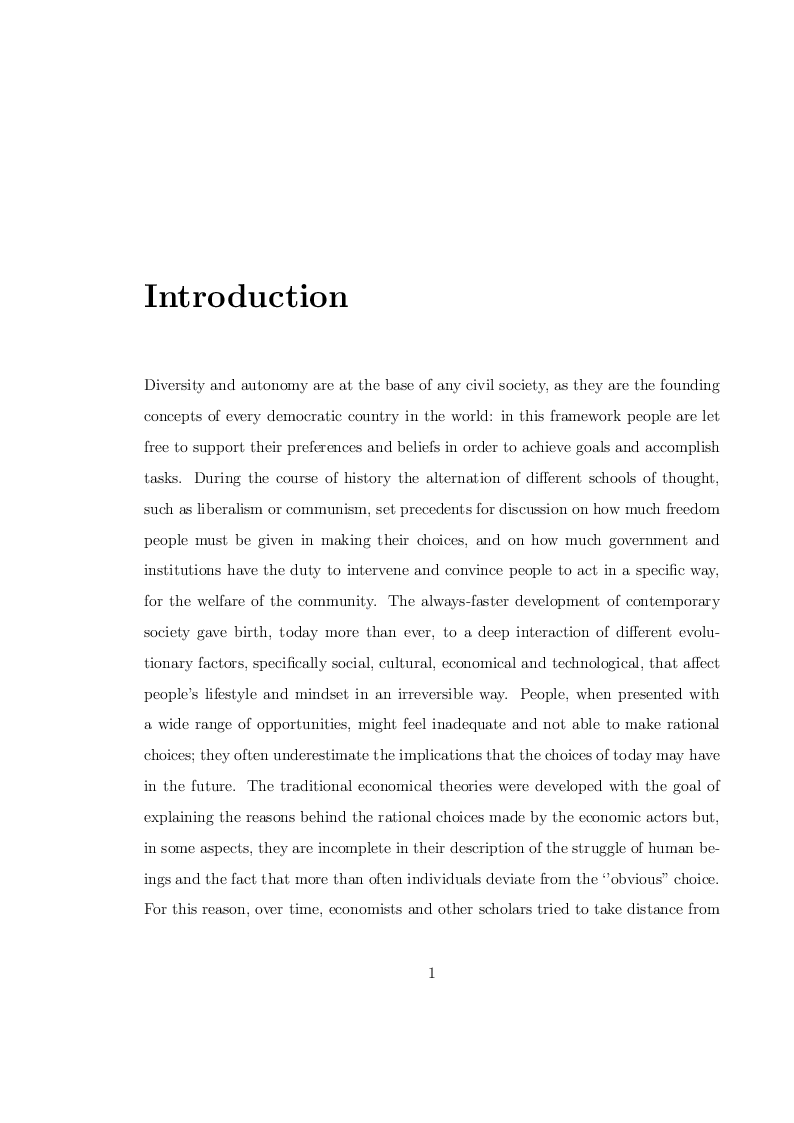 Mostra/Nascondi contenuto.
Introduction Diversity and autonomy are at the base of any civil society, as they are the founding concepts of every democratic country in the world: in this framework people are let free to support their preferences and beliefs in order to achieve goals and accomplish tasks. During the course of history the alternation of dierent schools of thought, such as liberalism or communism, set precedents for discussion on how much freedom people must be given in making their choices, and on how much government and institutions have the duty to intervene and convince people to act in a specic way, for the welfare of the community. The always-faster development of contemporary society gave birth, today more than ever, to a deep interaction of dierent evolu- tionary factors, specically social, cultural, economical and technological, that aect people's lifestyle and mindset in an irreversible way. People, when presented with a wide range of opportunities, might feel inadequate and not able to make rational choices; they often underestimate the implications that the choices of today may have in the future. The traditional economical theories were developed with the goal of explaining the reasons behind the rational choices made by the economic actors but, in some aspects, they are incomplete in their description of the struggle of human be- ings and the fact that more than often individuals deviate from the ''obvious" choice. For this reason, over time, economists and other scholars tried to take distance from 1
Tesi di Laurea
Facoltà: Scienze Politiche
Autore: Benedetta Piersante Contatta »
Composta da 50 pagine.
Questa tesi ha raggiunto 56 click dal 18/07/2017.
Consultata integralmente una volta.
Disponibile in PDF, la consultazione è esclusivamente in formato digitale.