Rise and fall of the musical instruments district. A focus on the Marches and its district
This dissertation is organized as follows.
Chapter I examines classic and recent theories of industrial districts in order to define the main features of the musical instruments sector within the district of Castelfidardo-Osimo-Recanati.
Chapter II draws the evolution of the musical instruments sector from its artisan origins to golden ages. This chapter will explain how during particular periods the district adapted to new challenges of production.
Chapter III presents the crisis of the sector and underlines the different causes through the analysis of some factors. Particular attention will be given to technology and innovation.
Finally, Chapter IV points out what has remained of the sector nowadays and how some companies survived to the crisis.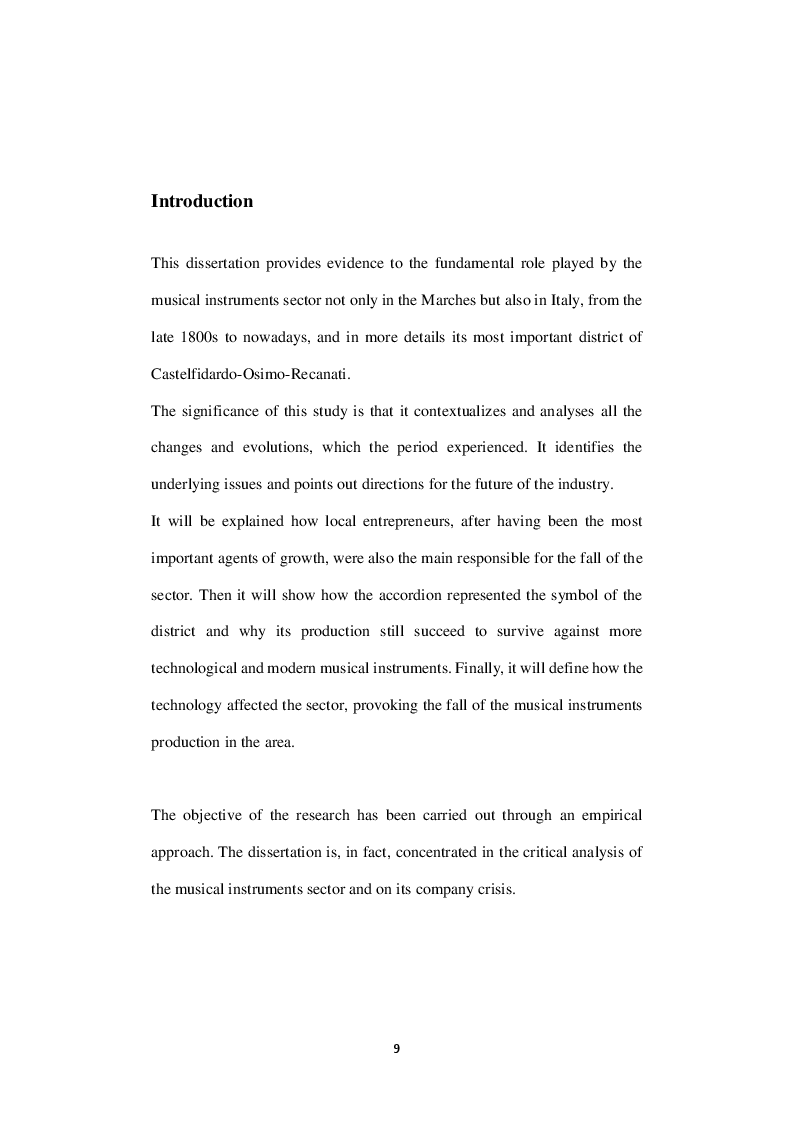 Mostra/Nascondi contenuto.
9 Introduction This dissertation provides evidence to the fundamental role played by the musical instruments sector not only in the Marches but also in Italy, from the late 1800s to nowadays, and in more details its most important district of Castelfidardo-Osimo-Recanati. The significance of this study is that it contextualizes and analyses all the changes and evolutions, which the period experienced. It identifies the underlying issues and points out directions for the future of the industry. It will be explained how local entrepreneurs, after having been the most important agents of growth, were also the main responsible for the fall of the sector. Then it will show how the accordion represented the symbol of the district and why its production still succeed to survive against more technological and modern musical instruments. Finally, it will define how the technology affected the sector, provoking the fall of the musical instruments production in the area. The objective of the research has been carried out through an empirical approach. The dissertation is, in fact, concentrated in the critical analysis of the musical instruments sector and on its company crisis.
Tesi di Laurea Magistrale
Facoltà: Economia
Autore: Gianluca Prudenza Contatta »
Composta da 118 pagine.
Questa tesi ha raggiunto 55 click dal 10/01/2018.
Disponibile in PDF, la consultazione è esclusivamente in formato digitale.