How Destination Image Is Enhanced by Online Travel Agencies
Online Travel Market, turismo, viaggiare, Internet, destinazioni turistiche, agenzie di viaggio online, immagine di una destinazione. Research in travel and tourism has shown how travelers' perception of destination image is relevant in understanding and forecasting tourist behavior. Tourist destinations have become increasingly competitive because of the growing flow of tourism in the last ten years (Bagoglu and McCleary, 1999). The study of the image that a destination has among domestic and international travelers has attracted researchers and academicians as well as destination marketers. However, destination image is a varied concept that relates to features and benefits as underlined in most studies (Dodni and Zinkhan, 1990). According to Dodni and Zinkhan, the combination of features and benefits gives value to travelers' destination image when they select it. Value has also an intrinsic significance and might enhance self-esteem (Ward and Russell, 1981). To understand the role that destination image plays in decision making can also help destination marketers to forecast demand. The e-travel world has begun to realize the importance of destination image in decision making and most online travel agencies are enhancing the use of streaming videos, e-cards, information, pictures, and travel experts to deliver suitable marketing messages to their current as well as potential customers.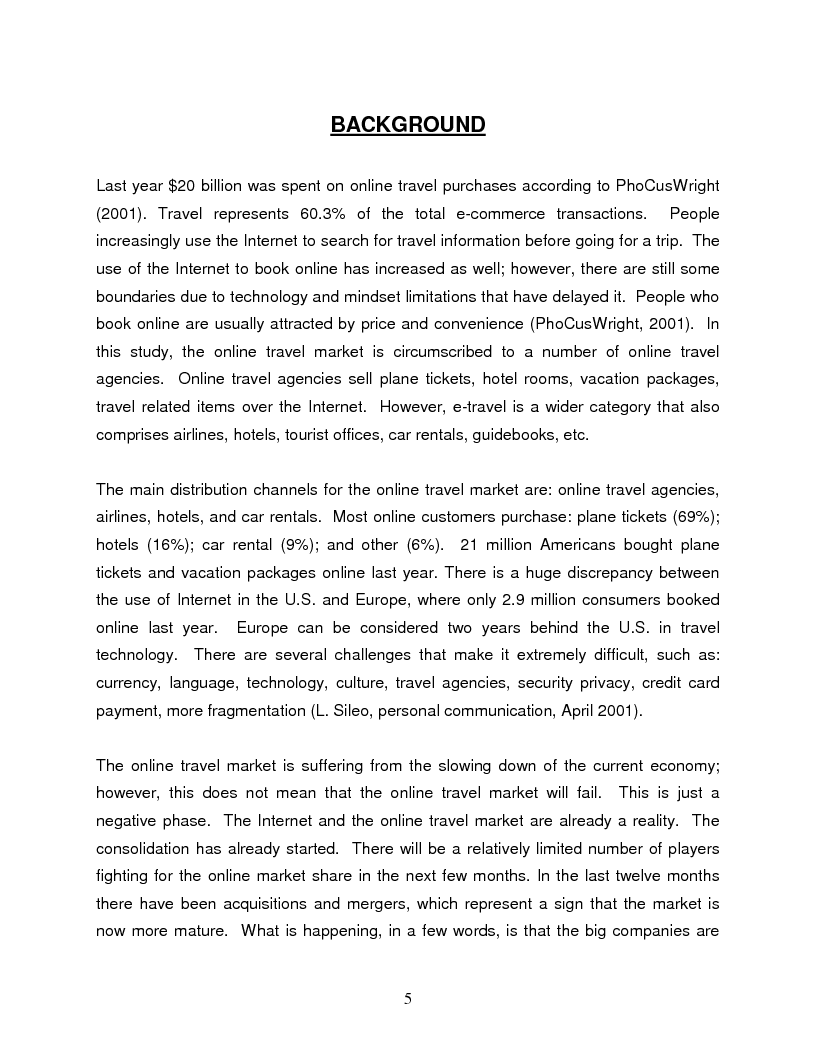 Mostra/Nascondi contenuto.
5 BACKGROUND Last year $20 billion was spent on online travel purchases according to PhoCusWright (2001). Travel represents 60.3% of the total e-commerce transactions. People increasingly use the Internet to search for travel information before going for a trip. The use of the Internet to book online has increased as well; however, there are still some boundaries due to technology and mindset limitations that have delayed it. People who book online are usually attracted by price and convenience (PhoCusWright, 2001). In this study, the online travel market is circumscribed to a number of online travel agencies. Online travel agencies sell plane tickets, hotel rooms, vacation packages, travel related items over the Internet. However, e-travel is a wider category that also comprises airlines, hotels, tourist offices, car rentals, guidebooks, etc. The main distribution channels for the online travel market are: online travel agencies, airlines, hotels, and car rentals. Most online customers purchase: plane tickets (69%); hotels (16%); car rental (9%); and other (6%). 21 million Americans bought plane tickets and vacation packages online last year. There is a huge discrepancy between the use of Internet in the U.S. and Europe, where only 2.9 million consumers booked online last year. Europe can be considered two years behind the U.S. in travel technology. There are several challenges that make it extremely difficult, such as: currency, language, technology, culture, travel agencies, security privacy, credit card payment, more fragmentation (L. Sileo, personal communication, April 2001). The online travel market is suffering from the slowing down of the current economy; however, this does not mean that the online travel market will fail. This is just a negative phase. The Internet and the online travel market are already a reality. The consolidation has already started. There will be a relatively limited number of players fighting for the online market share in the next few months. In the last twelve months there have been acquisitions and mergers, which represent a sign that the market is now more mature. What is happening, in a few words, is that the big companies are
Tesi di Master
Autore: Maria Grazia Tuttocuore Contatta »
Composta da 51 pagine.
Questa tesi ha raggiunto 1356 click dal 20/03/2004.
Consultata integralmente 4 volte.
Disponibile in PDF, la consultazione è esclusivamente in formato digitale.