The Contemporary World Seen through the Dystopian Novels of Huxley and Orwell
My thesis deals with the history of mass media, their influence on people, the relationship between the self and the society, the obsession with well-being, the recent developments of techniques and technology, and the evolution of language in the modern world (computers, satellites, text, etc..) I have addressed these issues from a comparison between two novels: Brave New World(Aldous Huxley) and 1984 (George Orwell).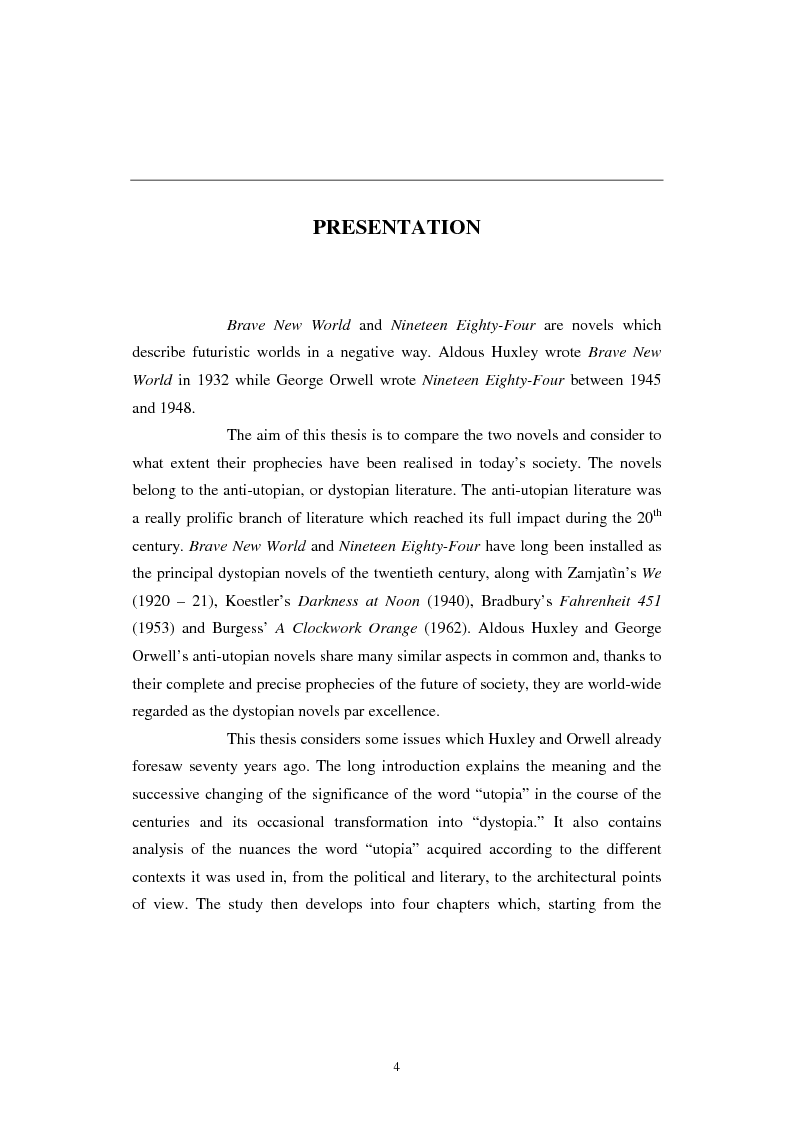 Mostra/Nascondi contenuto.
4 PRESENTATION Brave New World and Nineteen Eighty-Four are novels which describe futuristic worlds in a negative way. Aldous Huxley wrote Brave New World in 1932 while George Orwell wrote Nineteen Eighty-Four between 1945 and 1948. The aim of this thesis is to compare the two novels and consider to what extent their prophecies have been realised in today's society. The novels belong to the anti-utopian, or dystopian literature. The anti-utopian literature was a really prolific branch of literature which reached its full impact during the 20 th century. Brave New World and Nineteen Eighty-Four have long been installed as the principal dystopian novels of the twentieth century, along with Zamjatìn's We (1920 – 21), Koestler's Darkness at Noon (1940), Bradbury's Fahrenheit 451 (1953) and Burgess' A Clockwork Orange (1962). Aldous Huxley and George Orwell's anti-utopian novels share many similar aspects in common and, thanks to their complete and precise prophecies of the future of society, they are world-wide regarded as the dystopian novels par excellence. This thesis considers some issues which Huxley and Orwell already foresaw seventy years ago. The long introduction explains the meaning and the successive changing of the significance of the word "utopia" in the course of the centuries and its occasional transformation into "dystopia." It also contains analysis of the nuances the word "utopia" acquired according to the different contexts it was used in, from the political and literary, to the architectural points of view. The study then develops into four chapters which, starting from the
Tesi di Laurea
Facoltà: Lettere e Filosofia
Autore: Paolo Bernuzzi Contatta »
Composta da 172 pagine.
Questa tesi ha raggiunto 3139 click dal 20/03/2004.
Consultata integralmente 14 volte.
Disponibile in PDF, la consultazione è esclusivamente in formato digitale.