The effects of line-side supply on individuals employed in satellite operations within automotive maunfacturers
The adoption of just-in-time in satellite operations within an automotive manufacturer, is rapidly becoming a trend within motor industry clusters. This type of organisation within an organisation adopts a lean structure to operate effectively and efficiently. The objective of this paper is to unveil factors which influence this type of workplace, particularly focusing on which factors which are relevant to Faurecia East London Plant. The literature study was used to illustrate the various theories relevant to manufacturing techniques, employee motivational and job satisfaction theories. The empirical study tested factors illustrated in the literature study. The empirical study was also used to develop a specific model suitable for satellite organisations. The model presented together with the literature and empirical study was used to formulate findings and solve the main and sub-problems.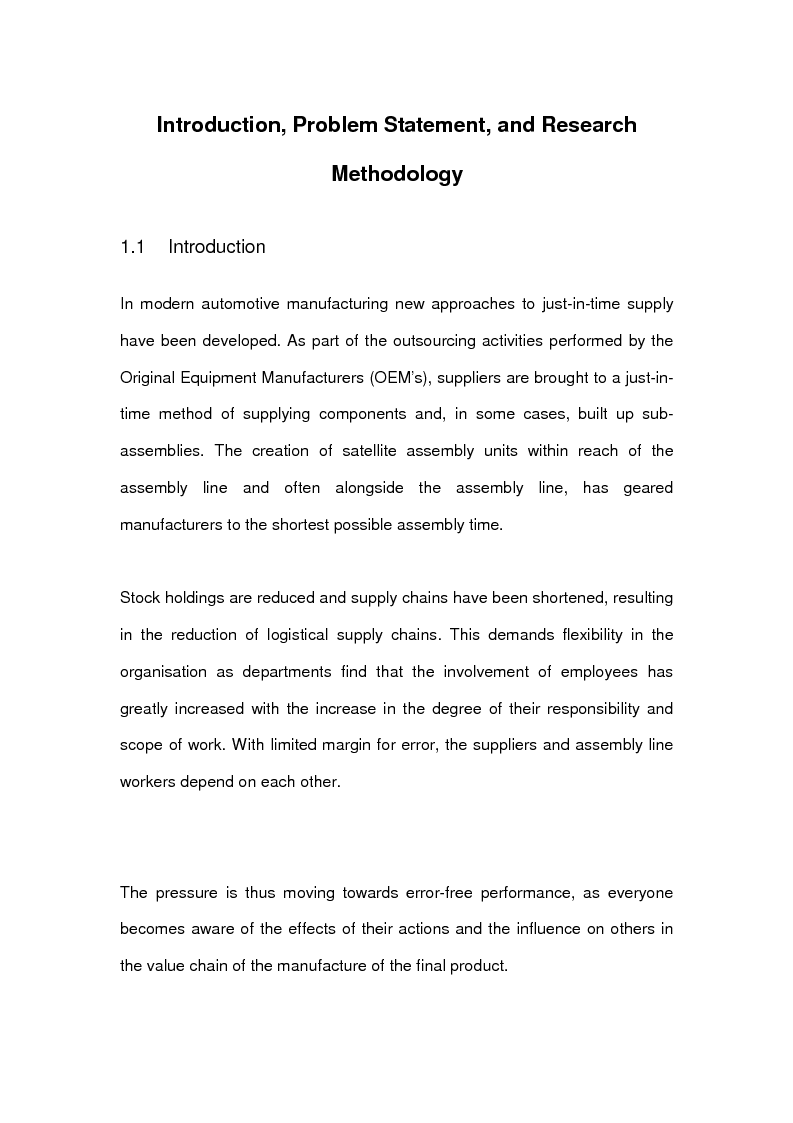 Mostra/Nascondi contenuto.
Introduction, Problem Statement, and Research Methodology 1.1 Introduction In modern automotive manufacturing new approaches to just-in-time supply have been developed. As part of the outsourcing activities performed by the Original Equipment Manufacturers (OEM's), suppliers are brought to a just-in- time method of supplying components and, in some cases, built up sub- assemblies. The creation of satellite assembly units within reach of the assembly line and often alongside the assembly line, has geared manufacturers to the shortest possible assembly time. Stock holdings are reduced and supply chains have been shortened, resulting in the reduction of logistical supply chains. This demands flexibility in the organisation as departments find that the involvement of employees has greatly increased with the increase in the degree of their responsibility and scope of work. With limited margin for error, the suppliers and assembly line workers depend on each other. The pressure is thus moving towards error-free performance, as everyone becomes aware of the effects of their actions and the influence on others in the value chain of the manufacture of the final product.
Tesi estera
Autore: Carlo Bocchi Contatta »
Composta da 108 pagine.
Questa tesi ha raggiunto 263 click dal 20/03/2004.
Disponibile in PDF, la consultazione è esclusivamente in formato digitale.