The Customer Relationship Management (CRM) Software Market in Italy. Key Trends and Dynamics.
The research question that this paper wants to investigate is to understand why Italy is a laggard adopter of CRM software. My key findings relate the low penetration of CRM software in Italy, on one side to the small numbers of large enterprises, on the other side to the fact that Italian SMEs are fundamentally non-interested in CRM. The business culture and the lack of adequate IT infrastructure are also explored as the main reasons for the low uptake of front office solutions.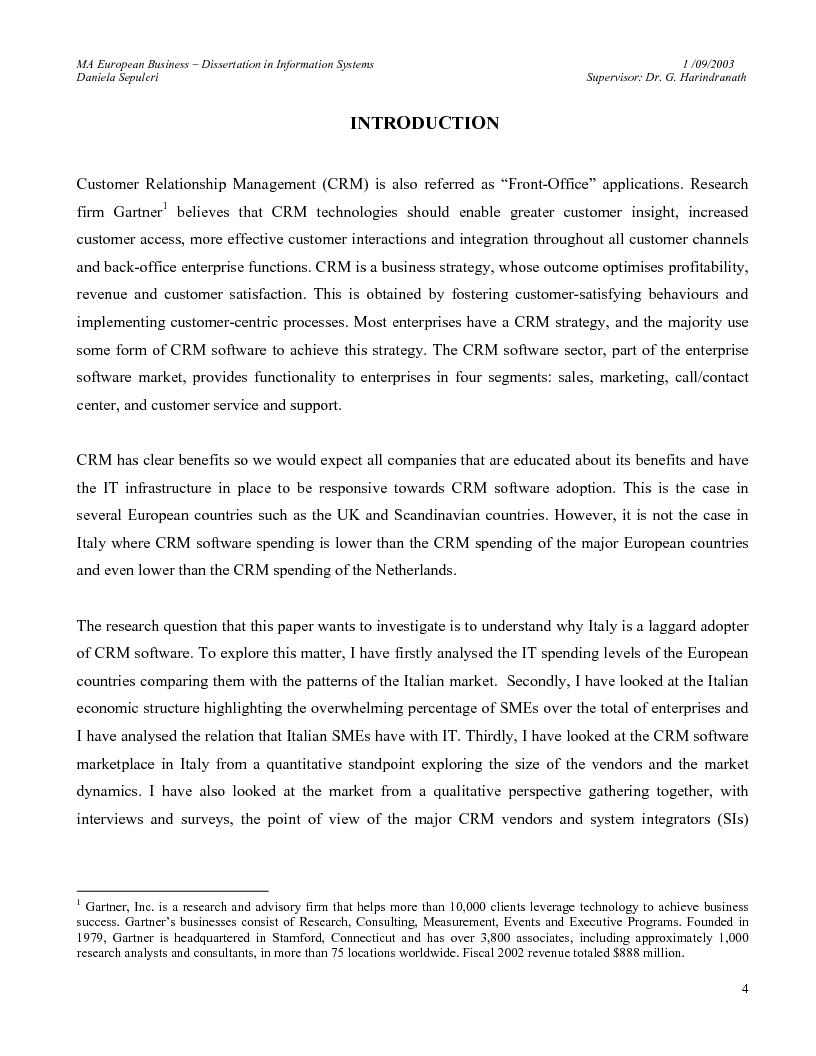 Mostra/Nascondi contenuto.
MA European Business – Dissertation in Information Systems 1 /09/2003 Daniela Sepulcri Supervisor: Dr. G. Harindranath 4 INTRODUCTION Customer Relationship Management (CRM) is also referred as "Front-Office" applications. Research firm Gartner 1 believes that CRM technologies should enable greater customer insight, increased customer access, more effective customer interactions and integration throughout all customer channels and back-office enterprise functions. CRM is a business strategy, whose outcome optimises profitability, revenue and customer satisfaction. This is obtained by fostering customer-satisfying behaviours and implementing customer-centric processes. Most enterprises have a CRM strategy, and the majority use some form of CRM software to achieve this strategy. The CRM software sector, part of the enterprise software market, provides functionality to enterprises in four segments: sales, marketing, call/contact center, and customer service and support. CRM has clear benefits so we would expect all companies that are educated about its benefits and have the IT infrastructure in place to be responsive towards CRM software adoption. This is the case in several European countries such as the UK and Scandinavian countries. However, it is not the case in Italy where CRM software spending is lower than the CRM spending of the major European countries and even lower than the CRM spending of the Netherlands. The research question that this paper wants to investigate is to understand why Italy is a laggard adopter of CRM software. To explore this matter, I have firstly analysed the IT spending levels of the European countries comparing them with the patterns of the Italian market. Secondly, I have looked at the Italian economic structure highlighting the overwhelming percentage of SMEs over the total of enterprises and I have analysed the relation that Italian SMEs have with IT. Thirdly, I have looked at the CRM software marketplace in Italy from a quantitative standpoint exploring the size of the vendors and the market dynamics. I have also looked at the market from a qualitative perspective gathering together, with interviews and surveys, the point of view of the major CRM vendors and system integrators (SIs) 1 Gartner, Inc. is a research and advisory firm that helps more than 10,000 clients leverage technology to achieve business success. Gartner's businesses consist of Research, Consulting, Measurement, Events and Executive Programs. Founded in 1979, Gartner is headquartered in Stamford, Connecticut and has over 3,800 associates, including approximately 1,000 research analysts and consultants, in more than 75 locations worldwide. Fiscal 2002 revenue totaled $888 million.
Tesi di Master
Autore: Daniela Sepulcri Contatta »
Composta da 94 pagine.
Questa tesi ha raggiunto 2565 click dal 20/03/2004.
Consultata integralmente 5 volte.
Disponibile in PDF, la consultazione è esclusivamente in formato digitale.