Monetary shock in Brazil
Lula's election on October 2002 signified a radical social and cultural change for Brazil. But the whole economy of the country suffered a heavy shock due to uncertainness related to the new government policy. This shock continued during year 2003 but expectations for 2004 say that the negative aspects of the process of political transition could finish.

The Monetary Policy Committee and 2002's Shock

Monetary policy in Brazil is structured on the basis of one objective, inflation target, and one instrument, interest rate. The Monetary Policy Committee (COPOM) was created to reach this aim.

When the new president Lula was elected in the second half of 2002, COPOM's policy was unable to hit the target fixed at the beginning of the year. Political changes produced a confidence crisis in performances of the Brazilian economy and an increase in risk aversion in international markets. These were the main causes for non fulfilment of the target in year 2002.

Technically IPCA's (Enlarged Consumer Price Index) target was not reached because of the exchange rate depreciation and the deterioration in inflation expectation.

Shock continues on 2003

IPCA's shock occurred in the fourth quarter of 2002 has been felt by the entire economy in the whole 2003. Brazilian's economy knew heavy losses in activity level, in retail sales, in industrial output. The only sectors that were not damaged after Lula's election were crop and livestock production. Unemployment rate strongly increased as well as real average earnings strongly decreased. Investments were reduced as a consequence of uncertainness.

Takeover and expectations for 2004

However, IPCA started a downward curve in year 2003, evincing the fact that the process of political transition had been absorbed. At the same time, monetary aggregates increased slowly, stopping the atypical growth registered in 2002. As well the San Paulo Stock Exchange had a positive gain. These points permitted COPOM to cut official rate of interest following the main trend of international monetary policy. Expectations for 2004's IPCA plan the return at pre-election's level.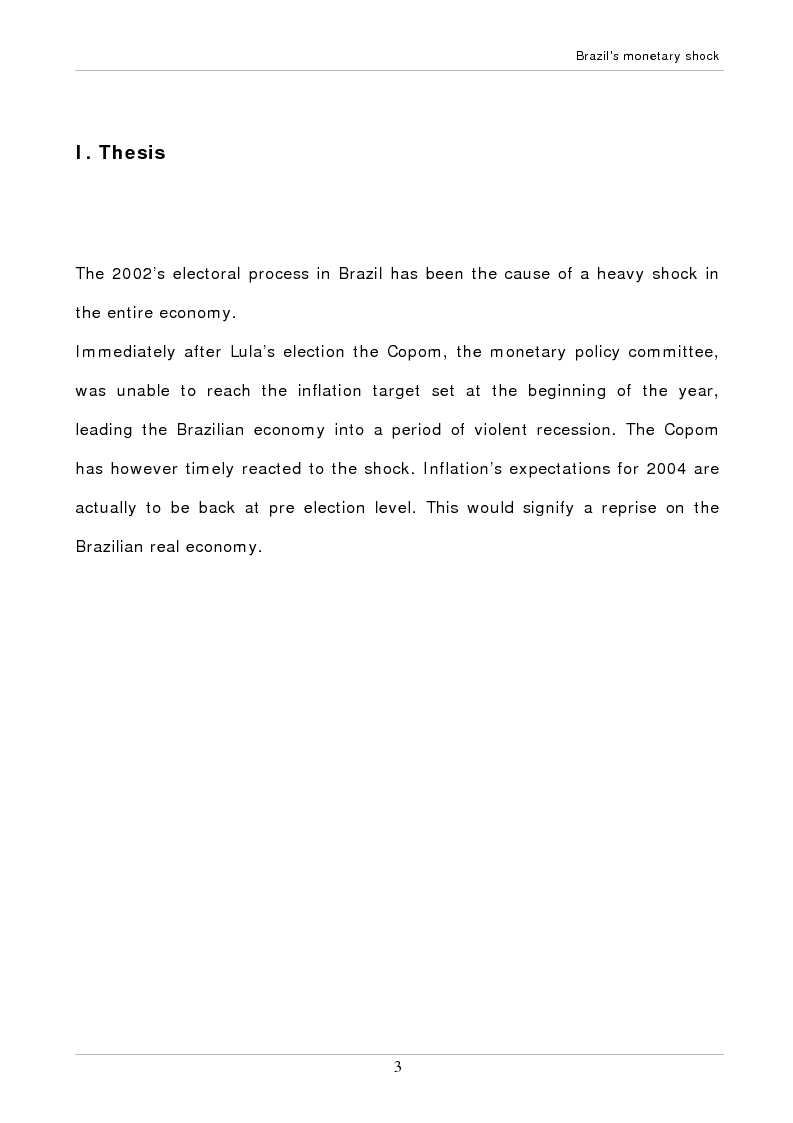 Mostra/Nascondi contenuto.
Brazil's monetary shock 3 I. Thesis The 2002's electoral process in Brazil has been the cause of a heavy shock in the entire economy. Immediately after Lula's election the Copom, the monetary policy committee, was unable to reach the inflation target set at the beginning of the year, leading the Brazilian economy into a period of violent recession. The Copom has however timely reacted to the shock. Inflation's expectations for 2004 are actually to be back at pre election level. This would signify a reprise on the Brazilian real economy.
Tesi di Laurea
Autore: Alessandro Lombardi Contatta »
Composta da 28 pagine.
Questa tesi ha raggiunto 504 click dal 11/01/2006.
Consultata integralmente una volta.
Disponibile in PDF, la consultazione è esclusivamente in formato digitale.