Why do children work? An analisys of child labour in the carpet-belt industry
L'anteprima di questa tesi è scaricabile in PDF gratuitamente.
Per scaricare il file PDF è necessario essere iscritto a Tesionline.
L'iscrizione non comporta alcun costo. Mostra/Nascondi contenuto.
4 INTRODUCTION In recent years the child labour problem and its impact have received increasing attention, which has been manifested at international level in the adoption of the UN Convention on the Rights of the Child in 1989 as well as in the creation of the International Programme for the Elimination of Child Labour of the ILO in 1992 and in the adoption of the Worst Form of Child Labour Convention (N.182) in 1999. Moreover, from the beginnings of 1990s, institutions as UNICEF and ILO have set up their own research projects with the intention of deepening their understanding on this evil and of working out effective solutions. Figures on the global magnitude of child labour, recently published by the UNICEF, estimates that 211 million children between the ages of five to fourteen are involved in some economic activity. Among them, 182 million are engaged in hazardous works 1 (UNICEF, 2004). The Asian-Pacific region harbours the largest number of child labourers (60 per cent), followed by Sub-Saharan Africa (23 per cent), Latin America and the Caribbean (8 per cent) and the Middle East and North Africa (6 per cent). Analyzed in relative terms, Sub- Saharan Africa has the highest proportion of working children. The child-work ratio for this region, in fact, shows that almost one child in three is economically active (UNICEF, 2004). However, child labour is not just confined to developing countries. ILO's estimates indicate that about 4 per cent of children in transition economies and nearly 3 per cent in rich countries are economically active (ILO, 2002a). 1 ILO Convention N.182 defines hazardous works as activities that are "likely to harm the health, safety or morals of children" (Article 3).
Anteprima della Tesi di Marco Stella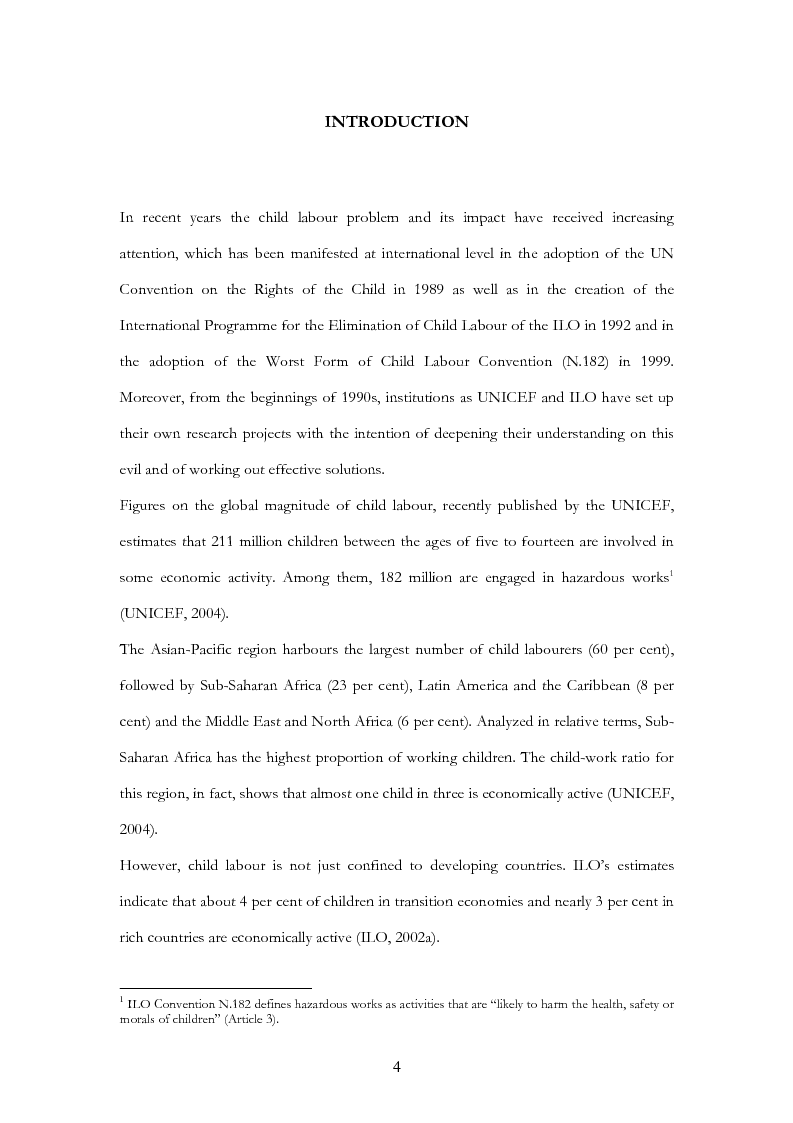 Tesi di Master
Autore: Marco Stella Contatta »
Composta da 53 pagine.
Questa tesi ha raggiunto 609 click dal 26/10/2004.
Consultata integralmente 2 volte.
Disponibile in PDF, la consultazione è esclusivamente in formato digitale.