The Blues Tree - l'Albero del Blues
L'anteprima di questa tesi è scaricabile in PDF gratuitamente.
Per scaricare il file PDF è necessario essere iscritto a Tesionline.
L'iscrizione non comporta alcun costo. Mostra/Nascondi contenuto.
1 INTRODUCTION "Blues is the root of all music, jazz, ballads, rock'n'roll, everything comes from blues. Just stepped it up and changed it a little bit, but it's all, it all comes from the blues." "When Adam and Eve first saw each other, that's when the blues started. No matter what anybody says, it all comes down to the same thing: a man and a woman, a broken heart, and a broken home – you know what I mean?" "The blues don't make you poor, the blues don't bring you down. [The] blues is a thing, you get sad, like when things ain't going right… the blues picks you up. Blues is a pick-up, it's not a let-down." JOHN LEE HOOKER "We were always singing in the fields. Not real singing, you know, just hollerin', but we made up our songs about things that was happening to us at the time, and I think that's where the blues started." SON HOUSE The blues, a musical genre I consider fundamental from a historical, artistic and cultural viewpoint, has given me the inspiration for this glossary. Why have I decided to write about the blues? Essentially for two reasons. In the first place, because I am very fond of this genre, I grew up listening to the blues, and I feel sure when I state that its influence on me has been so deep that, in a sense, it has given me a particular outlook on the world and moulded my character. In the second place, it had precisely shaped my tastes and orientations as regards music, because I had approached an artist in particular: John Lee Hooker. The 21 st of June 2001 he passed away.
Anteprima della Tesi di Iacopo Stigliano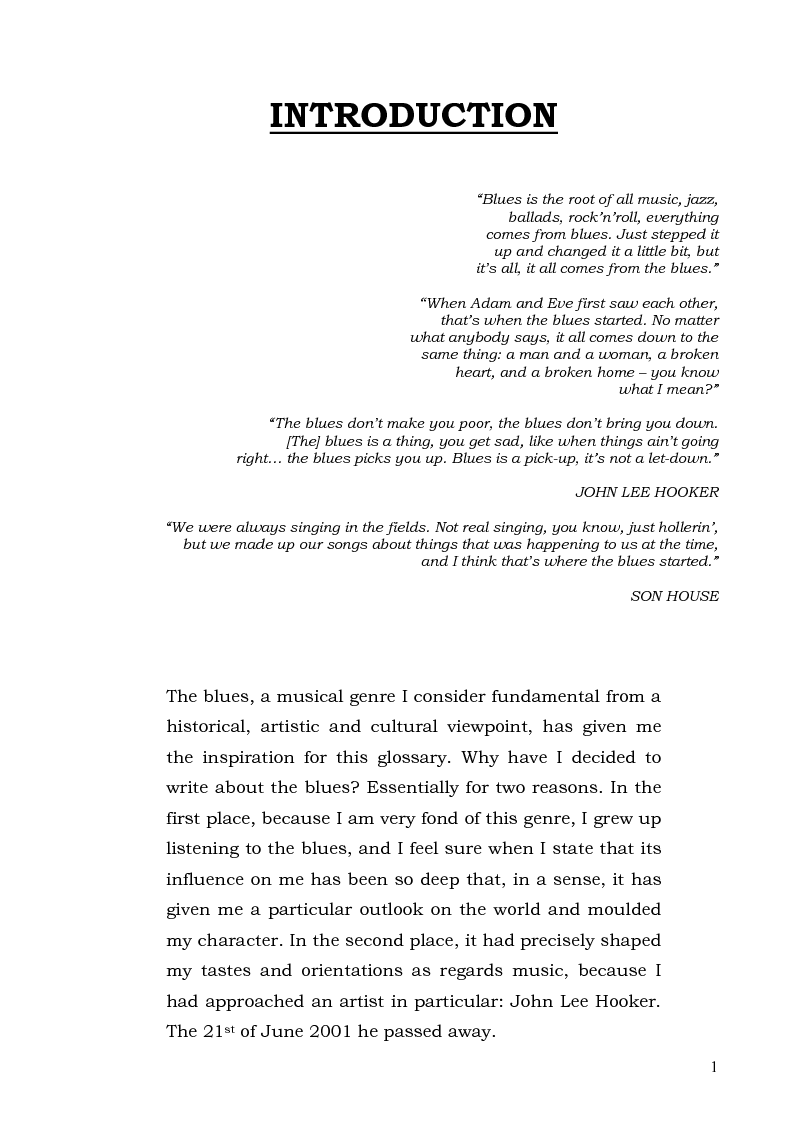 Tesi di Specializzazione/Perfezionamento
Autore: Iacopo Stigliano Contatta »
Composta da 66 pagine.
Questa tesi ha raggiunto 2030 click dal 08/11/2004.
Disponibile in PDF, la consultazione è esclusivamente in formato digitale.