The Blues Tree - l'Albero del Blues
L'anteprima di questa tesi è scaricabile in PDF gratuitamente.
Per scaricare il file PDF è necessario essere iscritto a Tesionline.
L'iscrizione non comporta alcun costo. Mostra/Nascondi contenuto.
3 When we talk not only about blues, but also about Afro- American music in general, it is interesting to set up the characteristics of the black aesthetics against those of the European tonal music. In the European classical tradition, the musical sound tends in general to eliminate every "uncleanliness" that would connect it to noise: in short, it is a sound which wants to be clear-cut, clean, distinct both in intonation and timbre; on the contrary, in the Afro-American tradition, the "beauty" of the sound seems to be linked to its timbric peculiarities – even to those which are seemingly discordant – and the intonation – both of voice and instruments – tends to oscillate freely between a semitone and another (they are the famous "blue notes", the characteristic blues intervals small third and small seventh. Since the '40s – with the arising of the jazz style bebop – the reduced quinte is also regarded as blue note. The intonation of the blue notes is by any means exactly on the intervals mentioned, but usually slightly higher. Keyboard instruments such as piano and Hammond organ by nature are not able to do this). Without entering into technical details, suffice it to think about a typical black voice, such as that of Louis Armstrong, or about the intentionally distorted timbre of Jimi Hendrix's guitar, to understand what is the idea of pleasant sound that guides the black ear. The sound is good not so much on the basis of the relations it establishes with other sounds in a compositional structure or a musical language, but rather in itself, thanks to the timbric peculiarities that characterize it, even to those which seem to be defects or deformations.
Anteprima della Tesi di Iacopo Stigliano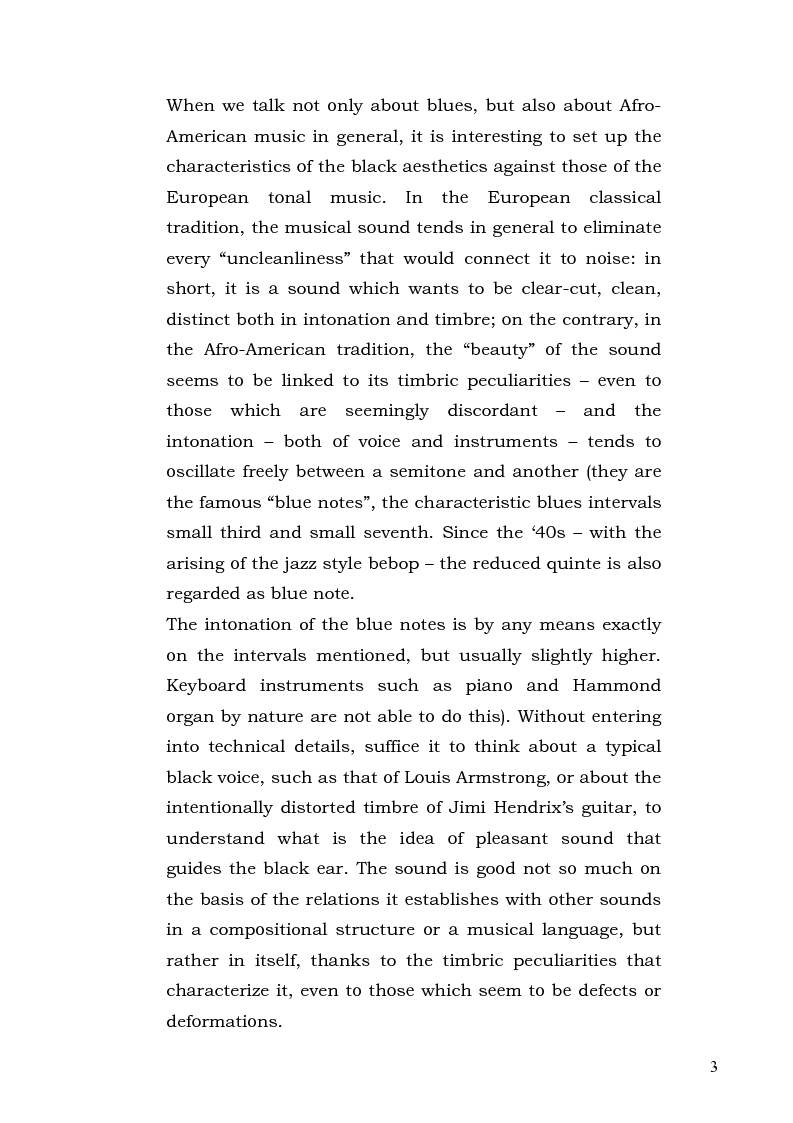 Tesi di Specializzazione/Perfezionamento
Autore: Iacopo Stigliano Contatta »
Composta da 66 pagine.
Questa tesi ha raggiunto 2030 click dal 08/11/2004.
Disponibile in PDF, la consultazione è esclusivamente in formato digitale.