Design of Analog Integrated Circuits Robust to RF Interference
L'anteprima di questa tesi è scaricabile in PDF gratuitamente.
Per scaricare il file PDF è necessario essere iscritto a Tesionline.
L'iscrizione non comporta alcun costo. Mostra/Nascondi contenuto.
1.2 – RFI Aspects in Analog IC Design Flow This work is aimed to provide some of the tools which are required in the design of analog integrated circuits robust to EMI. In Chapter II, in particular, the aspects related to the nonlinear effects of RFI in analog ICs are generally considered and the main techniques which are employed in the analysis of nonlinear electronic cir- cuits and systems are shortly revised in order to highlight the advantages and the drawbacks of these techniques in the investigation of the effects of EMI in analog circuits. In Chapter III the analytical modelling of the susceptibility to EMI of operational amplifiers is dealt with. In particular, two Volterra series analytical models which are suitable to predict the behavior of integrated opamp circuits in the presence of RFI superimposed onto nominal signals and/or onto the power supply voltages are proposed and these models are validated by experimental tests. Furthermore, the numerical model which has been proposed by Fiori in [20] for the prediction of the RFI-induced offset voltage in opamp circuits under large-signal excitation is extended. In particular, a closed-form expression of the RFI-induced offset volt- age is derived and the dependence on RFI frequency of the RFI-induced offset is highlighted. In Chapter IV, the analytical tools which have been proposed are employed in order to derive design criteria to enhance the immunity to EMI of opamp circuits. To this purpose, the influence of the feedback configuration in the susceptibility to EMI of opamp circuits is discussed, the dependence of the intrinsic susceptibility to EMI of IC opamps on design parameters and parasitic elements is highlighted and the design tradeoffs which should be considered in order to enhance the immunity to EMI are discussed. Furthermore, in Chapter IV a new opamp topology which has been designed to achieve a high immunity to EMI is presented and its operation principle is discussed. Moreover, the extension of the high immunity design criteria, which have been proposed, to analog circuits and subsystems is considered. Finally, in Chapter V, the main results which have been obtained in this research are summarized, the topics which deserve further investigations are focused and some concluding remarks are drawn. 9
Anteprima della Tesi di Paolo Stefano Crovetti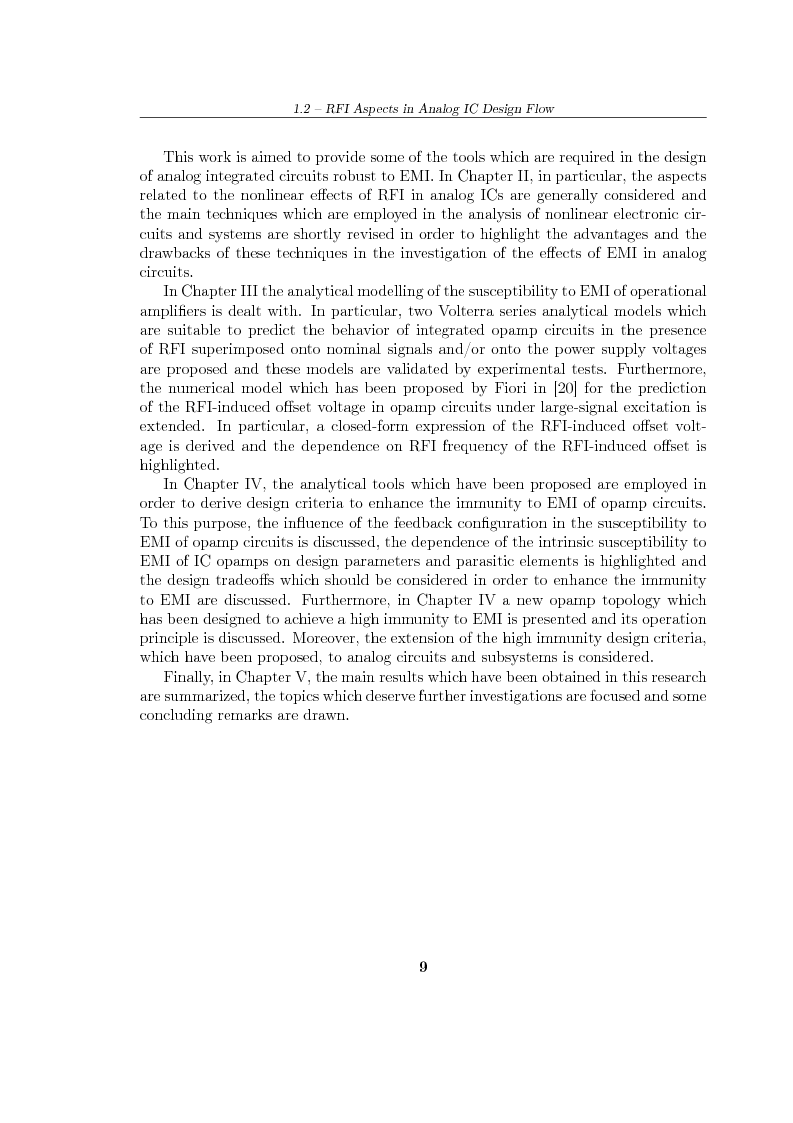 Tesi di Dottorato
Dipartimento: Elettronica
Autore: Paolo Stefano Crovetti Contatta »
Composta da 158 pagine.
Questa tesi ha raggiunto 1216 click dal 10/01/2005.
Consultata integralmente 7 volte.
Disponibile in PDF, la consultazione è esclusivamente in formato digitale.