Analysis, Modelling and Application of Advanced Power Semiconductor Devices
L'anteprima di questa tesi è scaricabile in PDF gratuitamente.
Per scaricare il file PDF è necessario essere iscritto a Tesionline.
L'iscrizione non comporta alcun costo. Mostra/Nascondi contenuto.
8 the current magnitude is beyond the rating of the device and moreover it sustains all the bus voltage. To this aim, the transistor 2 Q is switched on after a settable delay time, which depends on the current level, and it allows the safe turn off operation. I.3 FAULT UNDER LOAD ON IGBT DEVICES The FUL behavior is by definition the short circuit transient occurring while the device is in its on-state condition. The test circuit depicted in Fig. 1.8.a) allows simulating the operative condition of an actual undesired transient, which causes the short circuit of the load during the normal loaded conditions. This fault submits the collector to a voltage transient while the device is conducting and the gate-emitter voltage is high cause the collector-gate current injected through the Miller capacitance to the gate side. The current increases from the initial value and experiences a short circuit transient of the current. Exhausted this one, since the collector voltage reaches the bus voltage, the collector current settles to the static regime value corresponding to the on-state gate-emitter voltage of 15 V. The qualitative waveforms during the FUL condition are reported in Fig. 1.8.b). The influence of some electrical parameters involved with the transient behavior have been highlighted in such a figure. The IGBT parasitic capacitance has the playing role in determining the amplitude of the gate voltage and as a consequence of the collector current peak. R G1 T AUX T 1 L C Driver Driver AUX t V G 0 V G_AUX 0 t V G V G_AUX a) t V CE L s I C t 0 t GE V Ci=f(CGD ,CGS) 0 0 Ic,peak V DC b) Fig. 1.8. a) Electrical circuit of the laboratory workbench, and timing of the gate driving signals and b) traces depicting in principle the FUL operative conditions.
Anteprima della Tesi di Rosario Pagano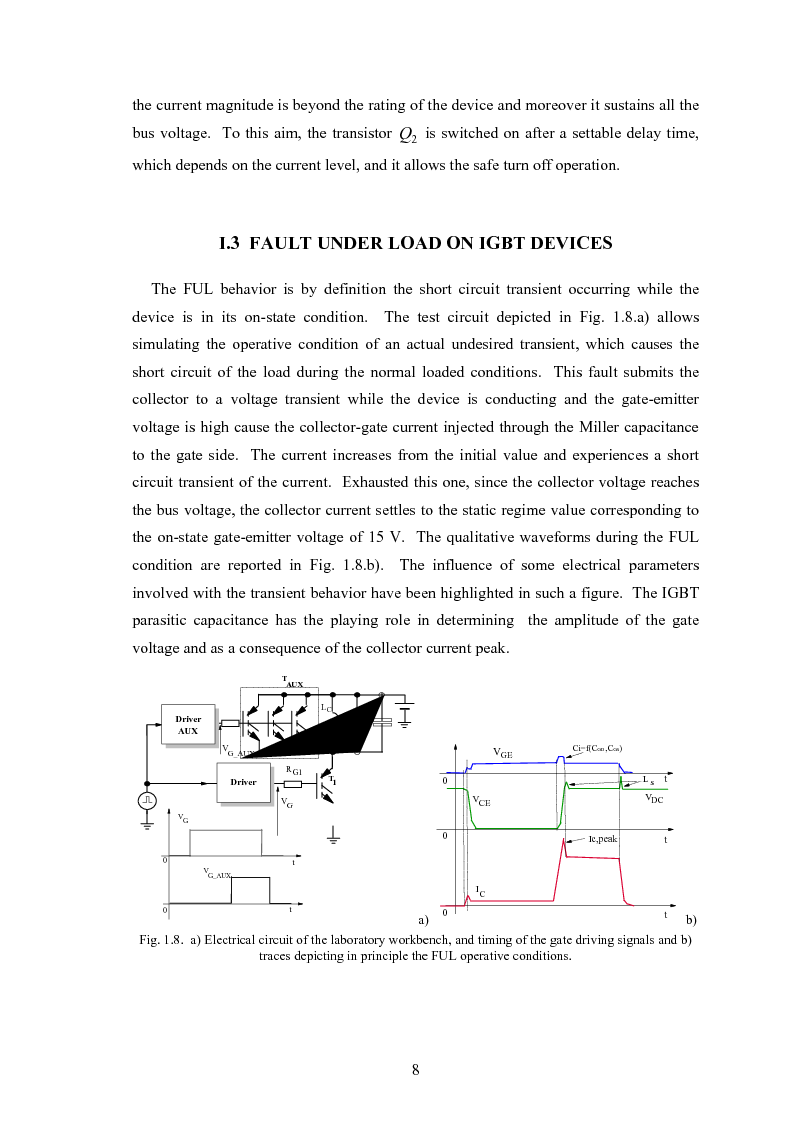 Tesi di Dottorato
Dipartimento: Dip. Ing. Elettrica Elettronica e dei Sistemi
Autore: Rosario Pagano Contatta »
Composta da 208 pagine.
Questa tesi ha raggiunto 1260 click dal 13/01/2005.
Consultata integralmente una volta.
Disponibile in PDF, la consultazione è esclusivamente in formato digitale.