Analysis, Modelling and Application of Advanced Power Semiconductor Devices
L'anteprima di questa tesi è scaricabile in PDF gratuitamente.
Per scaricare il file PDF è necessario essere iscritto a Tesionline.
L'iscrizione non comporta alcun costo. Mostra/Nascondi contenuto.
4 body of IGBT) where + N -doped strips, which are directly diffused and representing the emitter of the IGBT, change the more traditional approach with cells [4]. A three- dimensional representation of the described IGBT is shown in Fig. 1.3.a). This new technological solution allows to manufacture IGBTs with a reduced on-state voltage drop, which is obtained thanks to a decrease of the on-state resistance (till to 20% of reduction). The presence of a deep body + P -layer makes the device free from the static latch-up problem. The short circuit ruggedness has been improved with the technique of ballast resistance. Two strip sections, together with an overview and the equivalent electrical circuit of the manufactured device are shown in Figs. 1.3.b) and 1.3.c), respectively. The extension of the + P -layer over the metallic contact increases the path of the electron current from the MOSFET source to the cathode, thus creating a ballast resistance b R , as it is shown in the equivalent circuit of Fig. 1.3.c). In short circuit conditions the increase of the voltage b V , across the ballast resistance, leads to a negative feedback on the gate-source voltage of the intrinsic MOSFET, consequently reducing its drain current. In turns, that means the limitation of the IGBT collector current. Fig. 1.3. IGBT with mesh layout: a) three-axis view of the device structure, b) details on the strip layout, c) equivalent electrical circuit with the ballast resistance. The electrical parameters that mainly influence the current behavior are related to the driving circuit. In particular, the gate voltage magnitude determines the collector
Anteprima della Tesi di Rosario Pagano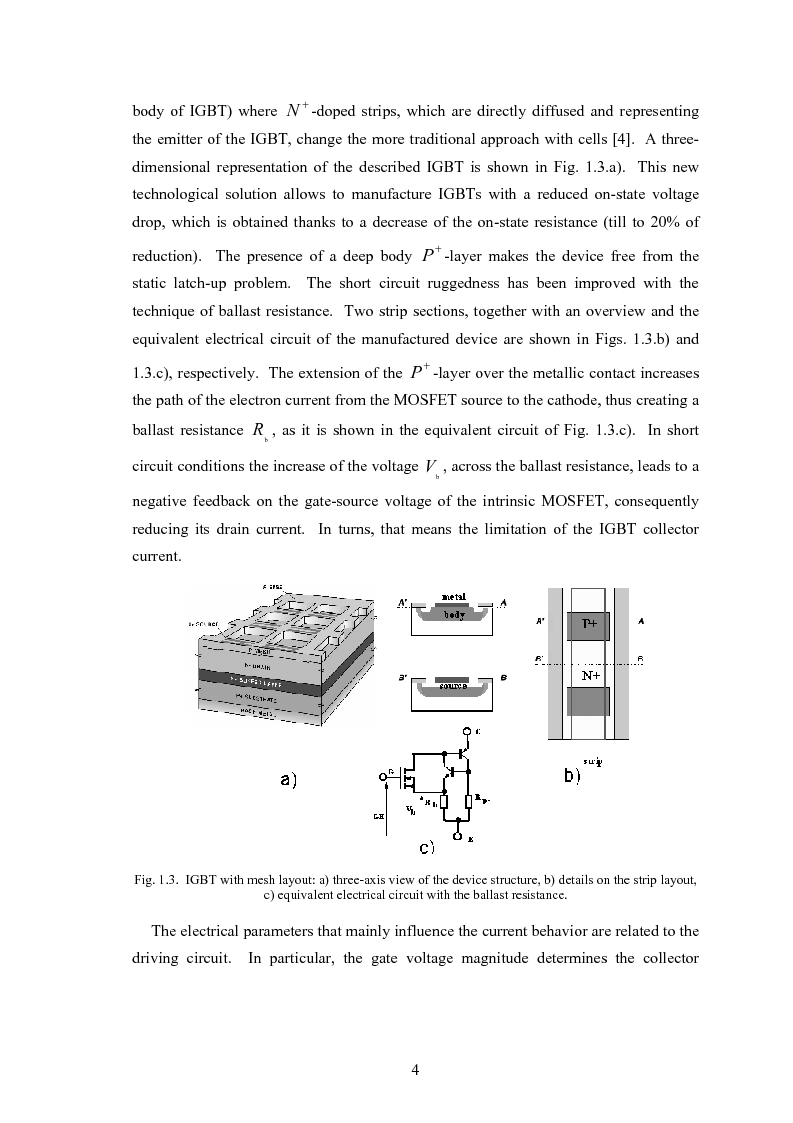 Tesi di Dottorato
Dipartimento: Dip. Ing. Elettrica Elettronica e dei Sistemi
Autore: Rosario Pagano Contatta »
Composta da 208 pagine.
Questa tesi ha raggiunto 1260 click dal 13/01/2005.
Consultata integralmente una volta.
Disponibile in PDF, la consultazione è esclusivamente in formato digitale.