Dynamics of Shuttle Devices
L'anteprima di questa tesi è scaricabile in PDF gratuitamente.
Per scaricare il file PDF è necessario essere iscritto a Tesionline.
L'iscrizione non comporta alcun costo. Mostra/Nascondi contenuto.
CHAPTER 3. GENERALIZED MASTER EQUATION derive the equation of Liouville-von Neumann: dρ dt = − i ~ [H, ρ] (3.2) where ρ ≡ |ψ〉〈ψ|, [A,B] ≡ AB − BA is the commutator of the operators A and B. The operator ρ is usually called density operator. For each basis of the Hilbert space all the operators have a matrix representation. The matrix that corresponds to the density operator is called density matrix. Each vector of the basis of the Hilbert space corresponds to a particular eigenstate of the system defined by a set of quantum numbers. The diagonal elements of the density matrix are called populations. Each population represents the probability that the system in the pure state |ψ〉〈ψ| is in the eigenstate defined by the corresponding set of quantum numbers. The trace of the density matrix is one and supports this probabilistic interpretation. The off-diagonal terms of the density matrix are the coherencies of the system. They reflect the linear structure of the Hilbert space. A linear combination of eigenvectors gives rise to a pure state with non-zero coherencies. Not all density operators correspond to pure states. A convex linear combination of pure states |ψn〉〈ψn|, n = 1, ..., N is called statistical mixture: ρ = N∑ n=1 Pn|ψn〉〈ψn| (3.3) where Pn ∈ [0, 1), ∑ n Pn = 1. This is an incoherent superposition of pure states. Also statistical mixtures obey the Liuoville-von Neumann equation of motion (3.2). The master equation is an equation of motion for the populations. It is a coarse grained1 equation that neglects coherencies. It was derived the first time by Pauli under the assumption that coherencies have random phases in time due to fast molecular dynamics. It reads: dPn(t) dt = ∑ m [ΓnmPm(t)− ΓmnPn(t)] (3.4) where Pn is the population2 of the eigenstate n and Γnm is the rate of prob- ability flow from eigenstate n to m [26]. 1 In the sense that it describes the effective dynamics on a time scale long compared to the typical times of the fastest processes in the physical system. 2Since a density matrix without coherencies is a statistical mixture of eigenstates we have adopted the notation Pn ≡ ρnn 26
Anteprima della Tesi di Andrea Donarini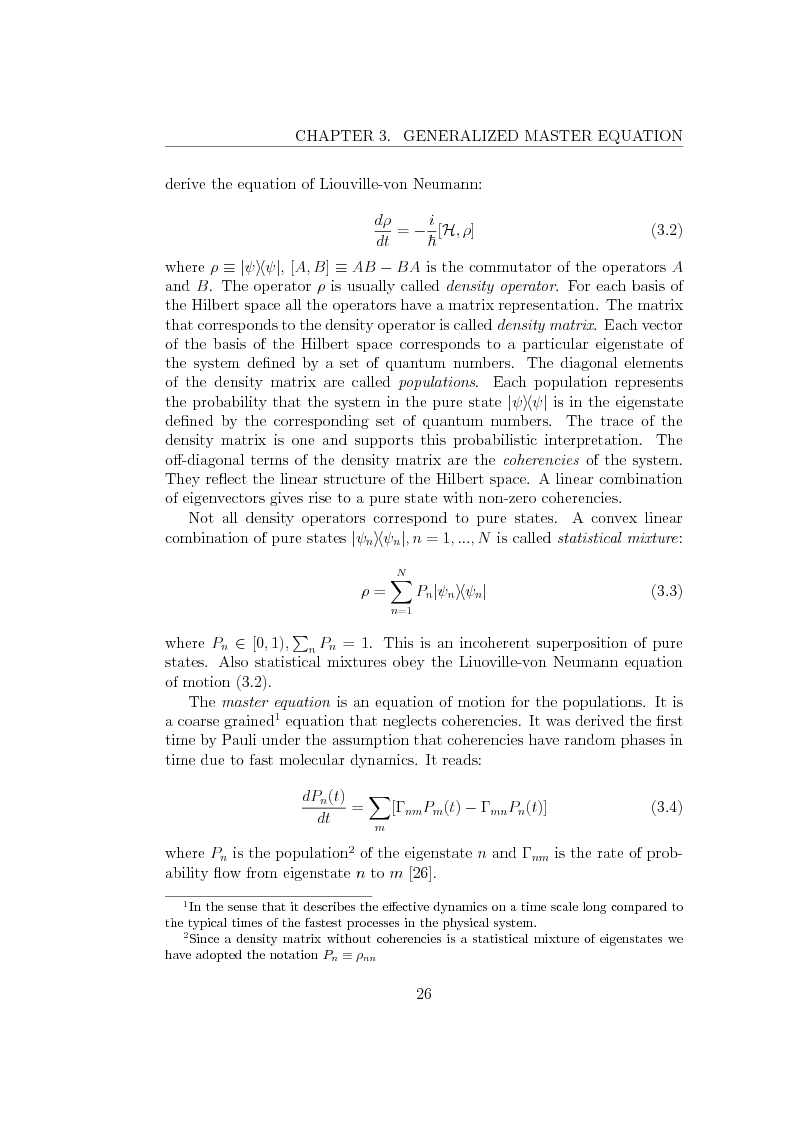 Tesi di Dottorato
Dipartimento: Department if Micro and Nanotechnologies
Autore: Andrea Donarini Contatta »
Composta da 158 pagine.
Questa tesi ha raggiunto 319 click dal 01/02/2005.
Disponibile in PDF, la consultazione è esclusivamente in formato digitale.