Culture, tourism and Fascism in Venice 1919-1945
L'anteprima di questa tesi è scaricabile in PDF gratuitamente.
Per scaricare il file PDF è necessario essere iscritto a Tesionline.
L'iscrizione non comporta alcun costo. Mostra/Nascondi contenuto.
10 The mythological reworking of Fascist ideals and ethics, acted out and given life through various rituals, provided a far more effective set of tools for the manufacture of consent towards the regime than the conduct of more conventional propaganda could ever hope to achieve: '(…) Il Duce called for a new kind of theatre altogether; a theatre for the masses if not of the masses. The ground for a mass theatre was prepared in Italy and elsewhere. Apart from open-air theatre, the thespian cars, a fleet of mobile modular theatres, were already in operation throughout the country. The primary purpose of these productions was hardly to advance the theatrical repertory. Rather, as Schnapp shows, it was to bind a disparate people into a linguistic group that was also a political mass, one national-ideological body. And in this binding, the medium was the message: these productions presented the fascist regime as a ubiquitous agent committed to modernizing the nation, to turning Italy into a totality at once aesthetic, technological and political –in a word spectacular'. 43 If this 'new cultural history' has a major flaw, it is its willingness to take at face value Fascist rhetoric about the construction of a 'totalitarian society' in which the regime had accessed every aspect of the Italian nation. An interesting set of questions arise when, having taken on board many of the arguments and methods of the new cultural historians, other scholars have tended to examine life under the regime in a systematic way. 44 This study will utilise detailed archival research to look at one aspect of Fascist cultural politics. It will examine the cultural policies of Venice between the two world wars. Its focus will be upon Venice, a town caught between the Fascist regime and the demands of the local economy. Venice, under Fascism, represented an outstanding example of a cultural resort existing between local economic interests, national directives and the European tourist economy. The history of the relationship between the Fascist state and Venetian cultural politics tells us much about the ambiguous nature of the project to 'nationalise the Italian masses'. 45 43 Hal Foster, 'Foreword', in Schnapp, Staging Fascism, p. XIII. 44 See for instance, Bosworth, ''Venice between Fascism and international tourism 1911-45', Modern Italy, 4, 1, 1999. 45 The term 'nationalisation' indicates the process through which a population is integrated by the state into the nation also in order to achieve its consensus to rule.
Anteprima della Tesi di Stefania Longo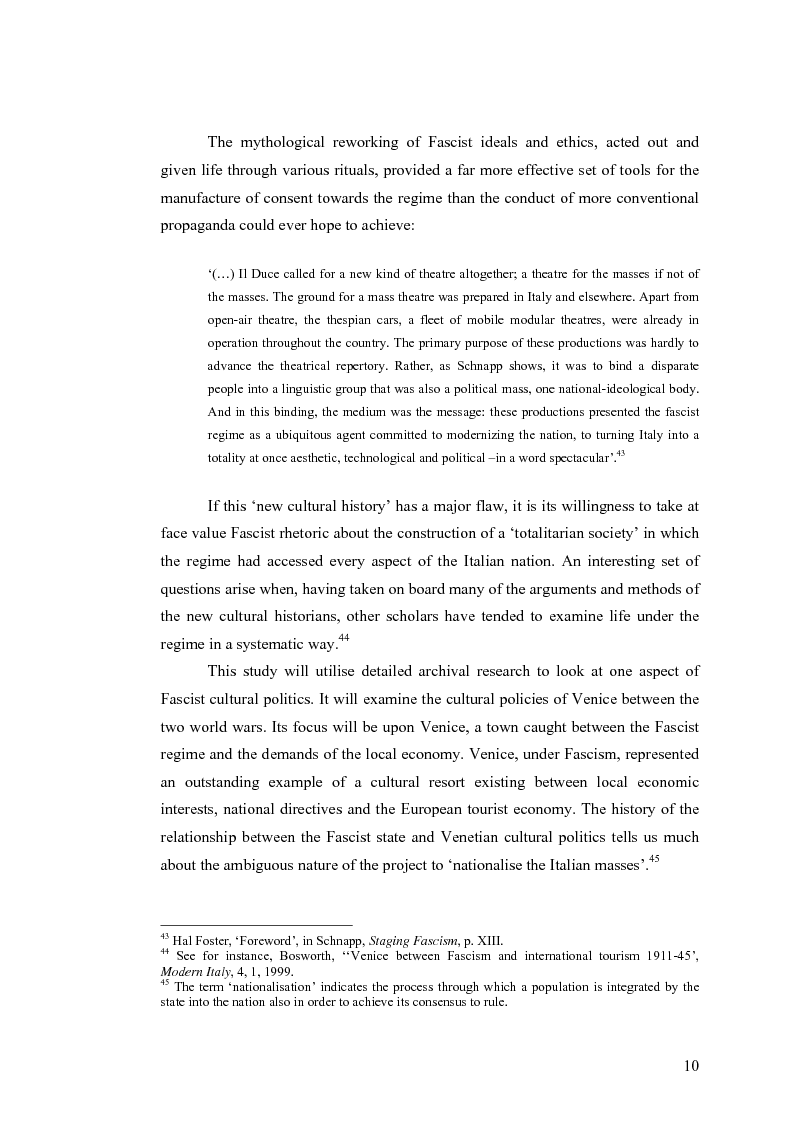 Tesi di Dottorato
Dipartimento: Dipartimento Storia
Autore: Stefania Longo Contatta »
Composta da 274 pagine.
Questa tesi ha raggiunto 905 click dal 02/03/2005.
Consultata integralmente 4 volte.
Disponibile in PDF, la consultazione è esclusivamente in formato digitale.