Culture, tourism and Fascism in Venice 1919-1945
L'anteprima di questa tesi è scaricabile in PDF gratuitamente.
Per scaricare il file PDF è necessario essere iscritto a Tesionline.
L'iscrizione non comporta alcun costo. Mostra/Nascondi contenuto.
14 Nevertheless, for Bosworth, after 1925, the fortunes of the Italian tourist industry began to decline. An overvalued lira in 1927 acted as a strong disincentive to foreign travellers, and in 1929 there were only 900,000 tourist visitors, spending just 2,418 million lire (equivalent to just 35 per cent of the balance of payments deficit). 54 While such statistics were being digested by treasury officials and tourist industry bureaucrats, further economic and financial woes struck the United States and Germany, both major sources of visitors to Venice. The crisis reached its low point in 1932, when tourism's contribution to the national budget was estimated to be only 1,004 million lire. Industry spokesmen pointed out that this sum still amounted to 58 per cent of the budget deficit, but this can be easily explained if one considers the contracting size of the Italian economy and budget expenditure levels. Nevertheless, as Bosworth argues, tourism could still be said to be making an important contribution to the national economy, and industry insiders were proud to declare that Italy had confirmed its standing as the third most popular tourist venue in the world, behind France and Canada. 55 In 1934, as part of the complex processes of bureaucratic enlargement and reorganisation of the Fascist state, responsibility for the national tourist industry had come under the control of Mussolini's son-in-law Galeazzo Ciano, and it was his drive towards administrative centralisation that led to the establishment of the Direzione Generale del Turismo. 56 In 1936, Mussolini reaffirmed his own commitment, delivering a forthright speech stressing the importance of tourism in Italy and declaring bluntly that 'Tourism [was] an ideology' and part of the path to an Italian modernity. 57 Tourism brought benefits for hotels, summer and winter resorts, sport facilities, railway and road services; all industries 'in need of modernisation'. The industry could also boast of a role in recruiting thousands of Italians, promoting a series of prestigious cultural and leisure activities as well as providing the impetus for the construction of new theatres, concert halls, cinemas, beach and skiing establishments. 58 Essentially, however, tourism, for Mussolini, 54 Ibid. 55 Ibid. 56 Ibidem, 'The Touring Club Italiano', p. 394. 57 Raffaele Calzini, 'Invito a rivedere l'Italia', Il Popolo d'Italia, 6 August 1936. 58 Ibid.
Anteprima della Tesi di Stefania Longo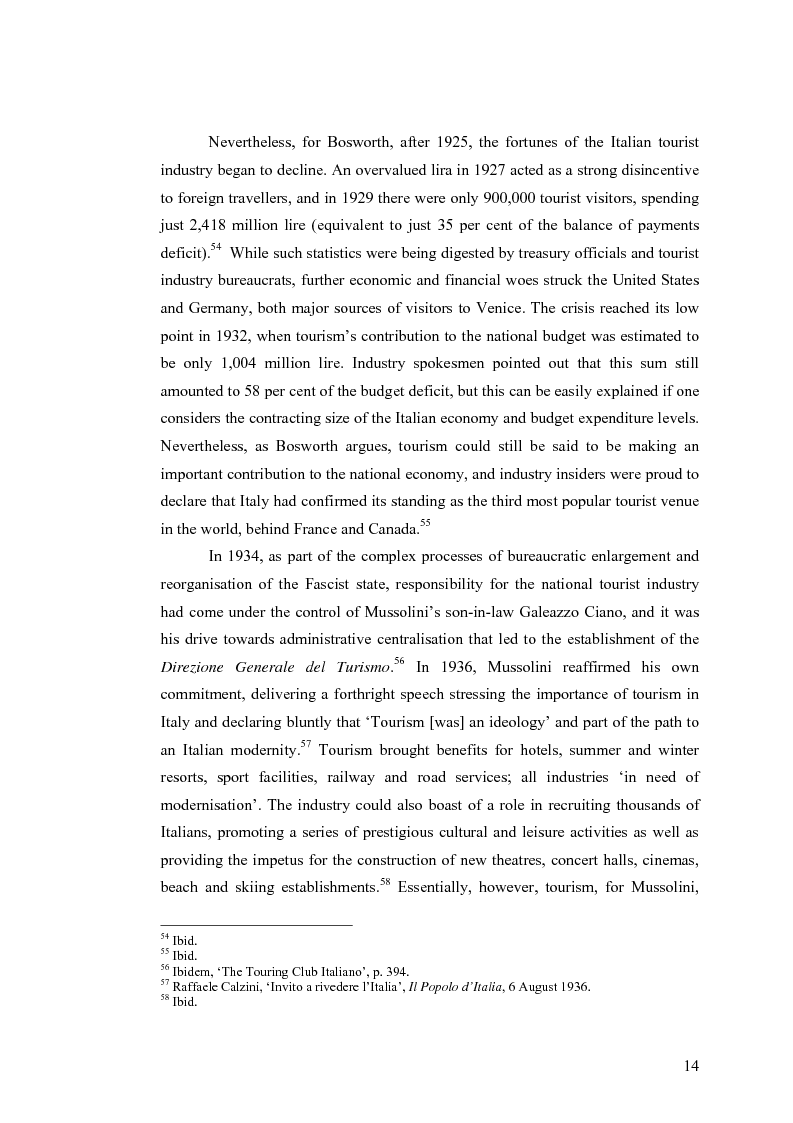 Tesi di Dottorato
Dipartimento: Dipartimento Storia
Autore: Stefania Longo Contatta »
Composta da 274 pagine.
Questa tesi ha raggiunto 905 click dal 02/03/2005.
Consultata integralmente 4 volte.
Disponibile in PDF, la consultazione è esclusivamente in formato digitale.