Culture, tourism and Fascism in Venice 1919-1945
L'anteprima di questa tesi è scaricabile in PDF gratuitamente.
Per scaricare il file PDF è necessario essere iscritto a Tesionline.
L'iscrizione non comporta alcun costo. Mostra/Nascondi contenuto.
6 In contrast to earlier interpretations in which Fascism was denied any viable cultural value of its own, Gregor considers the phenomenon to have viewed itself as part of a general 'cultural rebirth' 26 committed to the regeneration of the nation involving an ideological preparation of the ground by elites keen to mobilise the power of language, culture and rhetoric in order to redefine the nation and reconstitute the people in keeping with the predominant myth of 'rebirth'. 27 Therefore, it might be argued that any valuable reassessment of Fascism in acknowledging the recent historiographical developments must take into account the fact that the Fascist phenomenon did at least seek to forge a political culture of its own. Only in this way is it possible to produce a serious contribution to the existing scholarship. Building on Antonio Gramsci's distinction between 'force' and 'consent', Axel Körner, in his work on Bologna after the Unification, points to the paramount importance of cultural activities in the process of formation of social realities. The symbolic language of visual arts, music, theatre, architecture and their social meaning can be used, he argues, to build up and consolidate political consensus. Social historians, Körner claims, should recognize the very real role of cultural production in the formation of groups and constituencies favourable to the ruling class. 28 The usage of culture made by Fascism has been explored by Emilio Gentile, too, who has centred on the importance of 'theatricality' in Fascist politics, and the collective function assigned to symbols, myths, festivals, parades and ceremonies in winning mass popularity for the regime. 29 According to Gentile, this 26 As cited in Griffin, 'The primacy of culture', p. 29: James Gregor, Phoenix: Fascism in our Time, New Brunswick, NJ, Transaction Pub., 1999, p. 189. 27 Ibid. 28 Axel Körner, 'The construction of bourgeois identity in national and urban contexts: Bologna after the Unification', in Strath B., Witoszek N., (eds.), The postmodern challenge: perspective East and West, Postmodern Studies, 27, 1999, pp. 171-5. 29 See for instance, Emilio Gentile, Il Culto del Littorio: la Sacralizzazione della Politica nell'Italia Fascista, Bari, Laterza, 1993; Ibidem, Le Religioni della Politica. Fra Democrazie e Totalitarismi, Bari, Laterza, 2001.
Anteprima della Tesi di Stefania Longo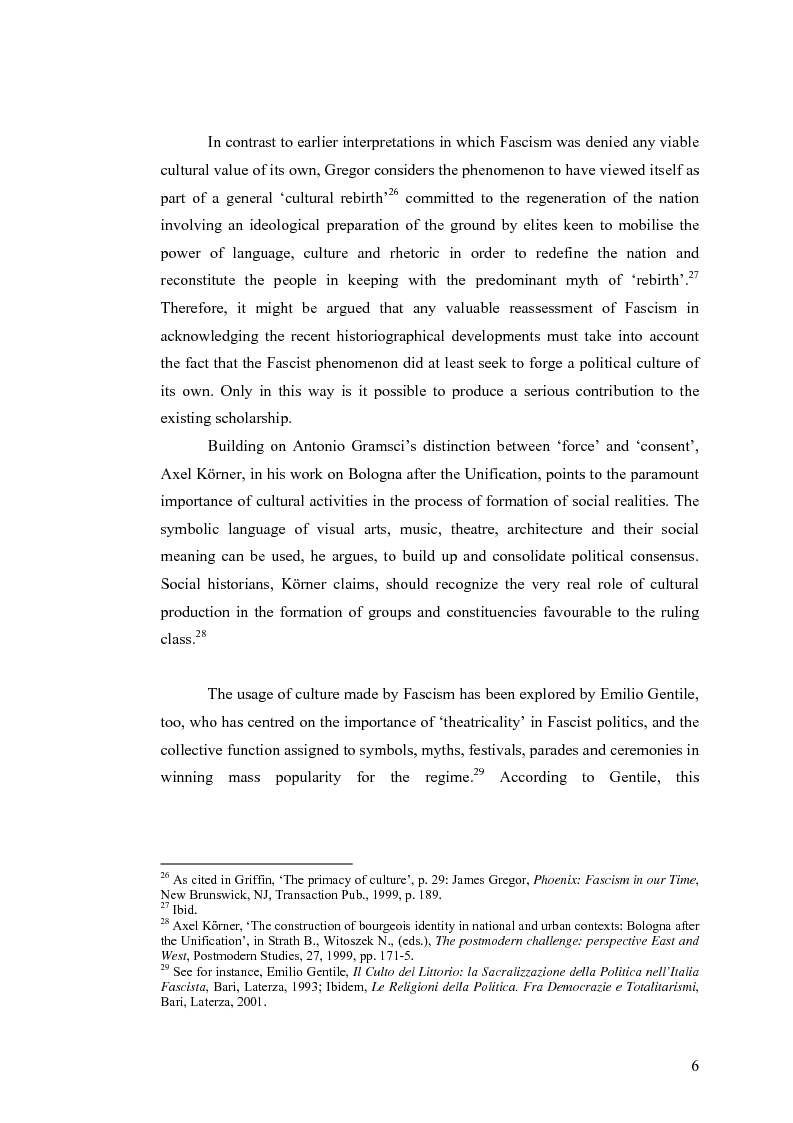 Tesi di Dottorato
Dipartimento: Dipartimento Storia
Autore: Stefania Longo Contatta »
Composta da 274 pagine.
Questa tesi ha raggiunto 905 click dal 02/03/2005.
Consultata integralmente 4 volte.
Disponibile in PDF, la consultazione è esclusivamente in formato digitale.